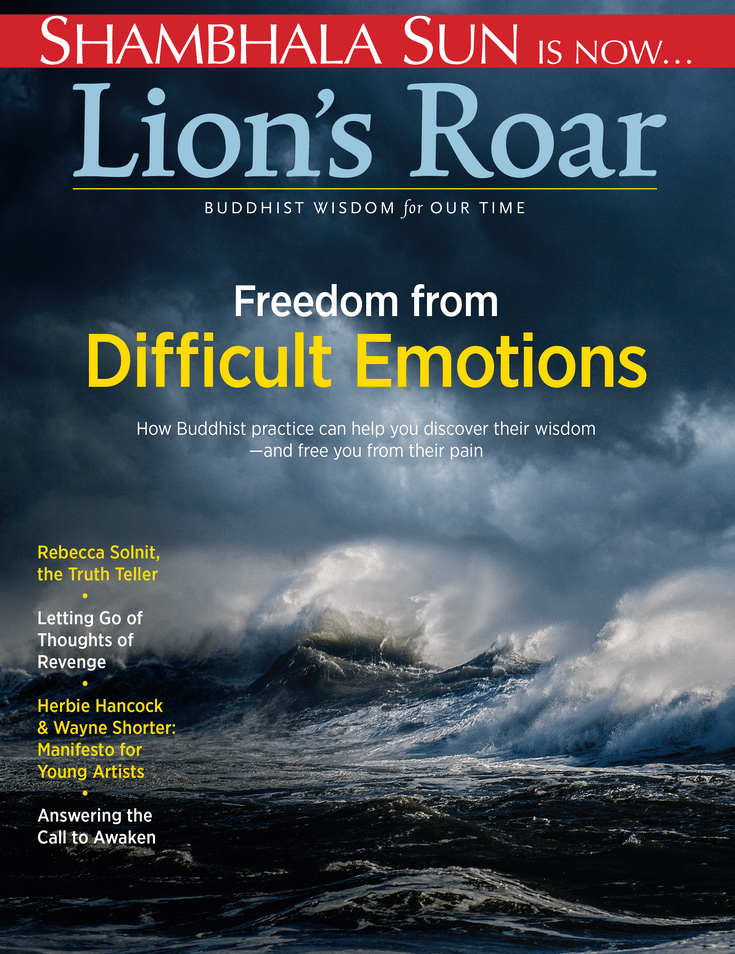 Our July 2016 magazine is the third issue of Lion's Roar (the leading Buddhist magazine formerly known as the Shambhala Sun), and it's now available. It's theme surrounds difficult emotions, featured on the cover — and looks into how a Buddhist practice can help you find their wisdom and release you from their pain inside. Here's a preview of what else you'll find, along with some online Lion's Roar exclusives.
How to Find Freedom from Difficult Emotions
So much of your happiness depends on how well you work with your emotions. Three leading Buddhist teachers offer insights and techniques to understand the energy of your emotions, free yourself from negative emotional patterns, and discover the wisdom in even the most difficult emotions.
Join Karen Maezen Miller, Anyen Rinpoche, and Josh Korda at "Finding Freedom from Painful Emotions," this year's Lion's Roar retreat at the Garrison Institute, July 29-31. Click here for info and to register.
You Can't Get Rid of Your Anger—and That's OK
Both denying painful emotions and giving in to them only makes things worse. The middle way, says Dharma Punx teacher Josh Korda, is to live with your emotions skillfully so you don't harm yourself or others.
How Do I Put My Mind to Rest?
The only real answer, says Zen teacher Karen Maezen Miller, is to cut off your conflicting emotions at their root.
The 4 Noble Truths of Emotional Suffering
The Buddha laid down a four-step path to freedom from difficult emotions. Once we understand the cause of our emotional suffering, says Anyen Rinpoche, the path to freedom becomes clear.
Plus
The Truth Teller
Renowned writer and activist Rebecca Solnit fearlessly tells the truth about misogyny, injustice, and environmental destruction. As Lindsay Kyte reports, Solnit tells us another important truth: we have hope, and it is found in uncertainty.
Answering the Call to Awaken
Like the Buddha, we all get our call to wake up, and it often comes when life isn't going well. Buddhist teacher Spring Washam tells us the moving story of how she answered her own call to awaken.
Dharma 24/7
Most Buddhists today are lay practitioners with jobs and families, but a few still pursue enlightenment the old-fashioned way. Koun Franz asks Sister Peace, Caroline Leinster, Myoyu Malvern Costelloe, and Elizabeth Callahan why they gave it all up for the dharma. Read about Sister Peace online.
…and, in the magazine's front section, The Moment:
From Where I Sit
To the Next Generation of Artists, by Herbie Hancock and Wayne Shorter
Q&A
Does Complexity = Consciousness?: Neuroscientist Christof Koch
Bodhisattvas
All Part of Being Human: Dr. BJ Miller
Bodhi Chatter
Dharma, pop culture, and good-natured gossip. Featuring Iron Fist, Conan O'Brien, this issue's Devo Dharma-Burger, and more.
Heart & Mind
EnJOY Your Life!, by Ari Goldfield and Rose Taylor Goldfield
Advice for Difficult Times
I Want Revenge!, by Lewis Richmond
This Dharma Life
Why Bother?, by Steven Schwartzberg
Share Your Wisdom
What's your favorite film with a Buddhist message?
How to Practice
Embodied Mindfulness, by Cyndi Lee
Beginner's Mind
Buddhism by the Numbers: The 3 Jewels
FAQs: Bodhisattva Vow, Avoiding Meditation, Wine Bar
Who, What, Where: Tassajara Zen Mountain Center
Meet a Teacher
Thanissaro Bhikkhu
DEPARTMENTS
Editorial
Keep It Simple, by Melvin McLeod
Hot Off the Press
Reports from the Zen Wars, by Steve Antinoff
We review Mark Gerzon's The Reunited States of America, Dzogchen Ponlop's Emotional Rescue, a Buddhist baby book, and more.