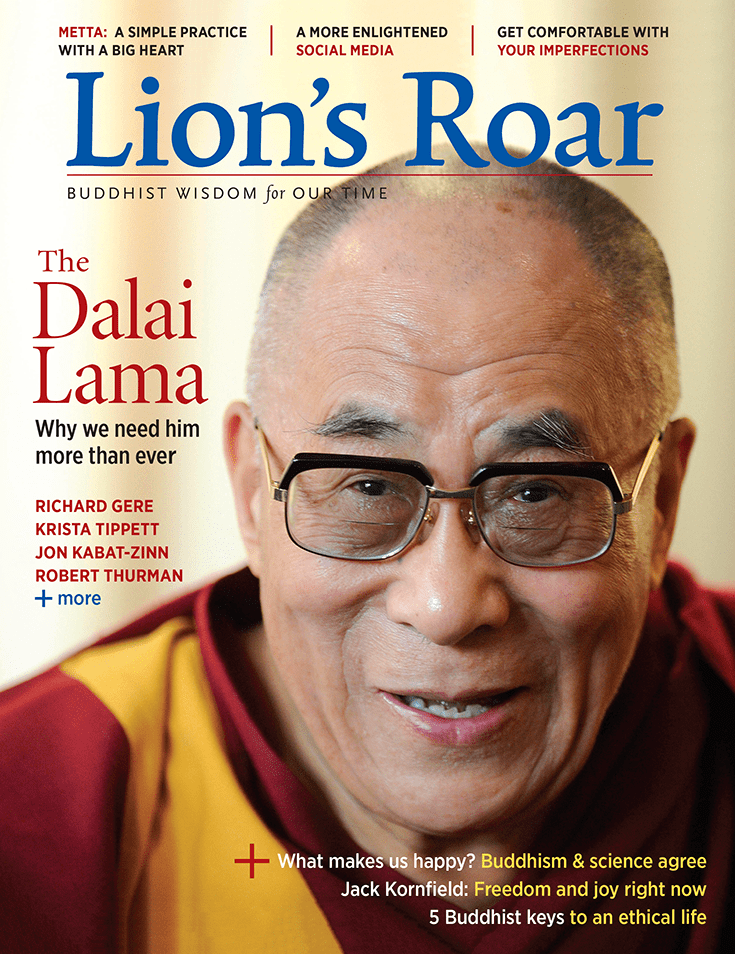 The July 2017 Lion's Roar magazine features 12 leading teachers, writers, and activists reflecting on why the world needs the Dalai Lama more than ever, a teaching on freedom and joy from Jack Kornfield, advice on getting comfortable with imperfection, and much more.
The Dalai Lama: Why we need him more than ever
Ethics, Service, and a Meaningful Life
by Melvin McLeod
The Dalai Lama: Why the World Needs Him More Than Ever
At a time when so much hangs in the balance, 12 leading teachers, writers, and activists reflect on why we need the Dalai Lama and his message of compassion, nonviolence, and caring for the earth more than ever.
The Visionary, by Daniel Goleman
The Unifier, by Krista Tippett
The Teacher for All God's Children, by Rev. Dr. Joan Brown Campbell
The Beacon of Love, by Jack Kornfield
The Bodhisattva, by Robert Thurman
The Voice of Tibetan Freedom, by Thupten Jinpa
The Ethicist, by Sylvia Boorstein
The Ordinary Become Extraordinary, by Jon Kabat-Zinn
The Heart of Compassion, by Roshi Joan Halifax
The Spiritual Revolutionary, by Adam Bucko

The Extraordinary Journey of a Simple Buddhist Monk
From village child to Nobel laureate — a photobiography of the 14th Dalai Lama.
Plus
Love — It's What Really Makes Us Happy
Robert Waldinger is a Zen priest and leader of the longest-running study of human happiness. As Andrea Miller tells us, he's found that science and Buddhism agree on what makes life happy and meaningful.
Jack Kornfield: Be Free Now
One of the leading Buddhist teachers of our time talks with editor-in-chief Melvin McLeod about his hopeful new message: We can have joy and freedom — right here, right now.
Jack Kornfield on how to rest in the open awareness that's the true nature of your mind.
Don't Wait to Be Happy!
A heartfelt message to us from Jack Kornfield
Crisis on the Roof of the World
Repression, economics, demographics — John DeMont reports that China's three-pronged campaign to assimilate Tibet has entered a critical new stage.
The Moment
From Where I Sit
Yes, Buddhism Is a Religion by Scott Mitchell
Q&A
The Middle Way of Social Media: Dan Zigmond
Bodhisattvas
Heart & Mind
Meals that Heal the Heart by Elissa Altman
Advice for Difficult Times
A Testy Relationship by Karen Maezen Miller
This Dharma Life
How I Got Comfortable with My Imperfections by John Manderino
Share Your Wisdom
What's Your Facebook-to-Meditation Ratio?
How to Practice
Loving-Kindness by Joanna Harper
Beginner's Mind
Buddhism by the Numbers: The 5 Precepts
FAQs: Zen vs. "Zen," Meditating on the Bus, Guru Devotion
Who, What, Where: San Francisco Zen Center
Meet a Teacher
Josh Korda of Dharmapunx NYC

Books/Reviews
Hot Off the Press
The Sacred Desire to Exist — Excerpted from Embracing Each Moment: A Guide to the Awakened Life by Anam Thubten
We review All Our Waves Are Water by Jaimal Yogis, A Really Big Lunch by Jim Harrison, The Dharma of Dogs, and more.