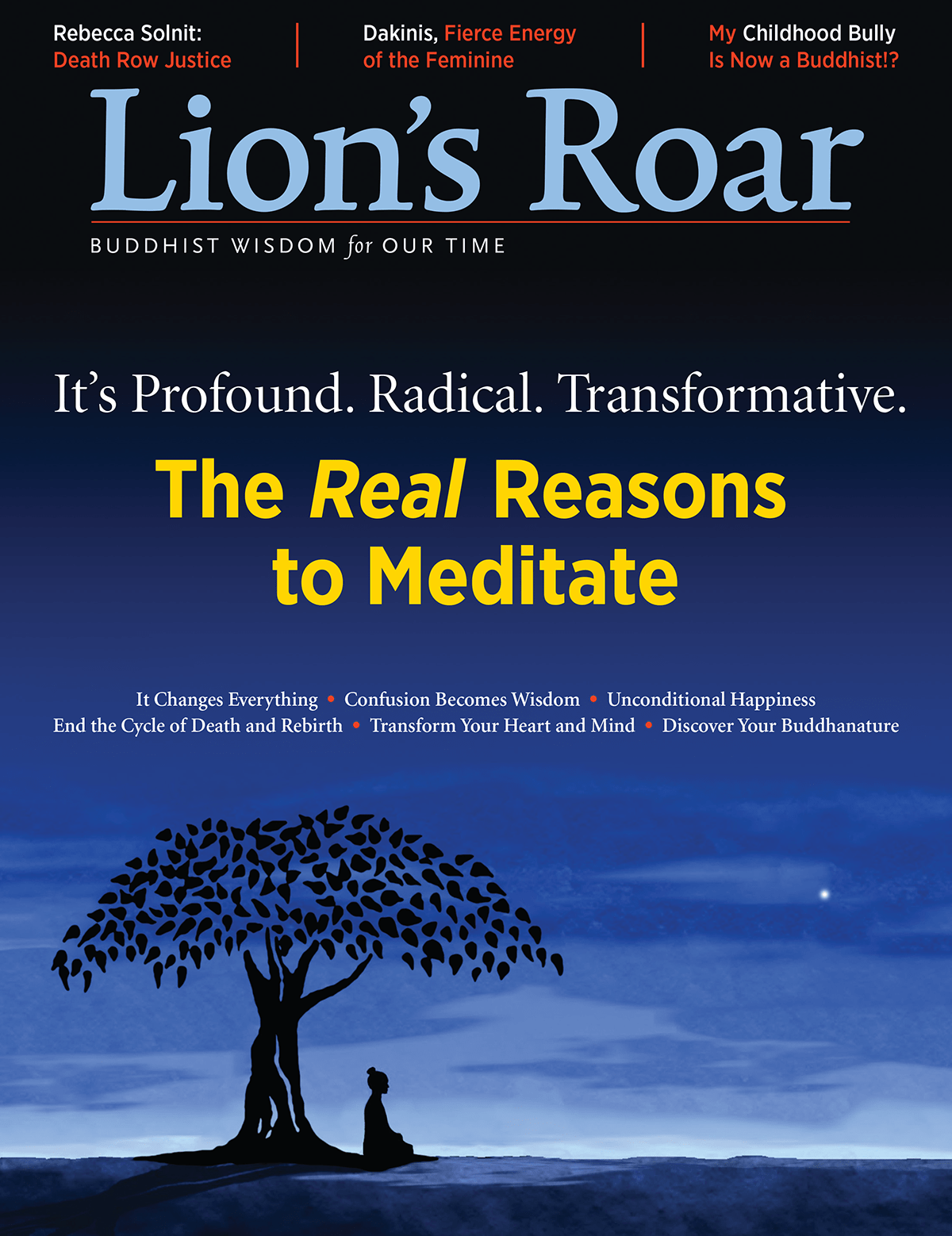 The July 2018 issue of Lion's Roar magazine features Buddhist teachings on the real reasons to meditate. Inside, you'll also find a profile of Oakland's East Bay Meditation Center, the story of a childhood bully-turned-Buddhist, Roshi Joan Halifax on the five "edge states," and more.
Special Section
6 Ways to Step in a Bucket by Melvin McLeod
The Real Reasons to Meditate
Buddhist meditation is about more than just improving your life (although it does that too). It goes to the heart of who you are, the way you live, and how you see reality.
Unconditional Happiness by Thanissaro Bhikkhu
It Changes Everything by Norman Fischer
Confusion Becomes Wisdom by Judy Lief
You're Caught in a Dream. Wake Up! by Pema Khandro
End the Cycle of Death and Rebirth by Bhikkhu Bodhi
Liberation for All by Rev. angel Kyodo Williams
Just Get Lost by John Tarrant
Transform Your Heart and Mind by Thupten Jinpa
You've Had Enlightenment Experiences by Melissa Myozen Blacker
Sacred and Perfect by Gaylon Ferguson
Don't Flinch by Koun Franz
The One Teaching of All the Buddhas by Jan Willis
Plus
Where Everyone Can Thrive
East Bay Meditation Center in Oakland is a Buddhist leader in diversity and inclusion. Lindsay Kyte explores EBMC's focus on respect, safety, and the joy of being seen for who you are.
My Bully Became a Buddhist
When Eric Steuer discovered—to his amazement—that his childhood bully was now a Buddhist teacher, he asked him the question he'd always wanted to: Why did you treat me that way?
Painting Peace
Kazuaki Tanahashi is an activist, translator, and renowned calligrapher. His art and Buddhist wisdom offer us hope in a time of global crisis.
Life on the Edge
Buddhist teacher Joan Halifax describes five "edge states" where courage meets fear and freedom meets suffering.
The Moment
FROM WHERE I SIT
The Key to Freedom by Rebecca Solnit
BODHISATTVAS
Our Own Way to Well Being: Public Health Expert Bonnie Duran
HEART & MIND
A Friend Until the End by Frank Ostaseski
ADVICE FOR DIFFICULT TIMES
Worried About Worrying by Susan Piver
THIS DHARMA LIFE
Learning the Truth About My Father by David Rynick
HOW TO PRACTICE
Reading Dharma by Judy Lief
SHARE YOUR WISDOM
What makes you a Buddhist?
BEGINNER'S MIND
Buddhism by the Numbers: The 3 Minds
FAQs: Suffering, Religion, Discipline
Who, What, Where: Bodhgaya
You'll find more Dharma FAQs and other articles for your beginner's mind here.
MEET A TEACHER
JoAnna Hardy
Books/Reviews
HOT OFF THE PRESS
Wisdom Rising: A Journey into the Mandala of the Empowered Feminine
by Lama Tsultrim Allione
BOOK BRIEFS
We review The Day the Buddha Woke Up by Andrea Miller, Zen Koans by James Ishmael Ford, Mindful of Race by Ruth King, and more.
Thank you for reading Lion
'

s Roar. Now can we ask for your help?

Lion's Roar is a nonprofit. Our mission is to share the wisdom of the Buddha's teachings—to inspire, comfort, support, and enlighten readers around the world. Our aspiration is to keep LionsRoar.com available to everyone, providing a supportive, inspiring Buddhist community that anyone can access, from curious beginners to committed meditators. Do you share our aspiration? We can't do this without your help.

Lion's Roar reaches more readers like you than ever before. Unfortunately, advertising and other revenues are falling for print and online media. We know we have something deeply precious to share with the world, and we want to continue this important work. Can you help support our efforts now?

Lion's Roar is independent, unbiased, not-for-profit, and supported by readers like you. Please donate today and help the lion's roar echo for readers around the world.