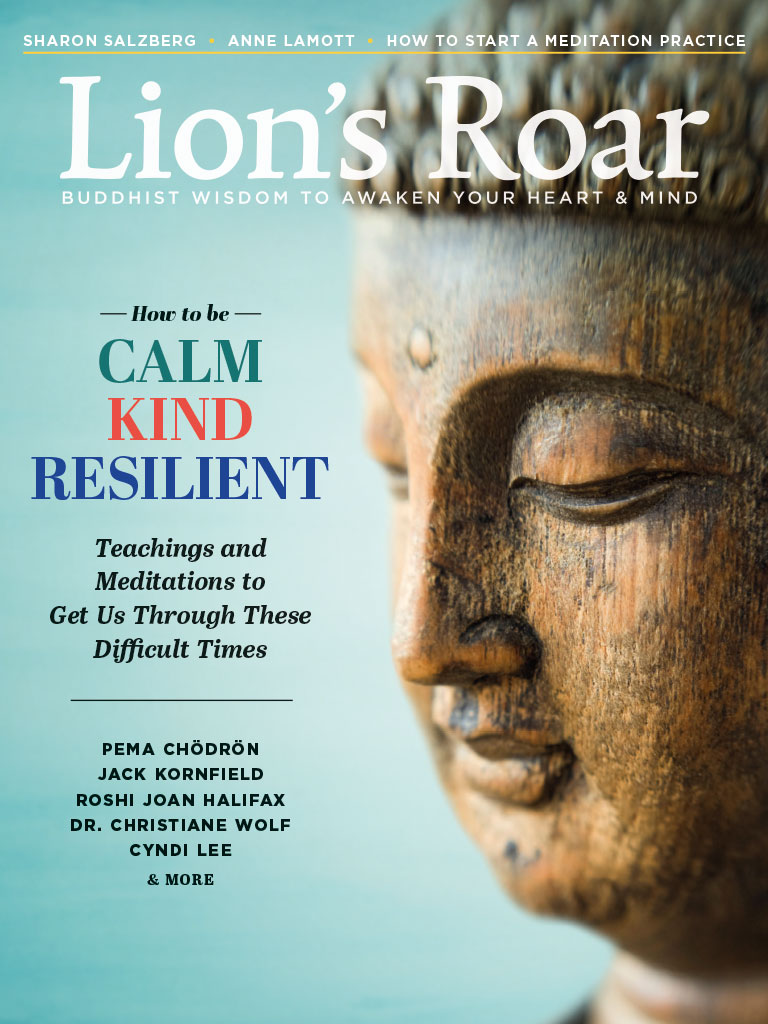 The July 2020 issue of Lion's Roar magazine features teachings and meditations from leading dharma teachers to help us get through these difficult times. Inside, you'll also find an exploration of the dharma of fashion by Otto von Busch; a profile of Christian writer Anne Lamott and her husband; Buddhist teacher Sharon Salzberg on how we can have the world we want; Buddhist book reviews; and much more.
Editorial / Welcome to the Issue
There's Always a Light by Andrea Miller
Calm, Kind, Resilient: Buddhist Wisdom to Get Us Through
Buddhist teachings and meditations are made for times like these. When we need it most, they help us access the best of who we are as human beings. Calm, kind, and resilient, we can help ourselves and others get through this.
The Healing Power in Your Heart by Pema Chödrön
A Time for Remembering by Amana Brembry Johnson
3 Short Practices for This Time by Bonnie Myotai Treace, Sensei
How to Have Wise Hope by Roshi Joan Halifax
Remove the Second Arrow of Suffering by Toni Bernhard
Give Yourself a Little T & B by Cyndi Lee
Omitting None, the Deep Practice of Community by Mushim Patricia Ikeda
3 Ways to Work with Your Money Worries by Spencer Sherman
Keep Our Mindfulness Going by Dr. Christiane Wolf
Plus
Christian writer Anne Lamott and her husband Neal have found the sweet spot where their spiritual paths meet.
The Healing Power of the Truth
Eve Ensler, creator of The Vagina Monologues, on why it's so important to tell the true story of our trauma.
How to Have the World — and the Life — We Want
Buddhist teacher Sharon Salzberg on caring for ourselves, for others—and for the future. Because we're in this for the long haul. Plus: 5 Tips for Spiritual Activists and economist Clair Brown on Changing the System.
5 Ways to Get into the Meditation Habit
Zen Buddhist Jesse Jiryu Davis on five ways you can make meditation a helpful part of your daily routine.
In the world of fashion, there's no old age, suffering, or death. Design expert Otto von Busch breaks down the mass marketing of denial.
Heart & Mind
The Right Way to Reach the Top
We have a whole system built on striving and it causes a lot of su ering—anxiety, competition, misplaced priorities. Brad Stulberg looks at ways we can change our stressful striving into right e ort.
This Dharma Life
Love in the Time of Coronavirus
How does a three-year-old make sense of viruses, social distancing, and talking pandas? Ira Sukrungruang on caring for his son while sheltering in place.
First Thought
"Hungry Ghost, Let Go of This Woman!"
Zen priest Renshin Bunce tells the dramatic story of the time she performed a successful exorcism. The key was respect and compassion — for both the haunted woman and the spirits.
Inside Buddhadharma
Steadfast in the Midst of Turmoil
Humanity has always been plagued by ignorance, greed, and bigotry. But, says Shinshu Roberts, we've also been rescued by people dedicated to the truth of interconnection.
Advice for Difficult Times
Not Too Strict, Not Too Loose
"As a parent, I don't want to be too strict, but I also don't want to be too lenient. How do I nd a good balance, and how do I know when I've found it?" Nuanprang Snitbhan answers.
Share Your Wisdom
What's the Most Helpful Teaching Now? 
Meet A Teacher
Rev. Doyeon Park
Books/Reviews
Hot off the press
Firefighter Zen: A Field Guide to Thriving in Tough Times by
Book Reviews
We review A Bigger Sky by Pamela Weiss, Mop Rides the Waves of Life by Jaimal Yogis, Creating a Life of Integrity by Gail Stark, and more.