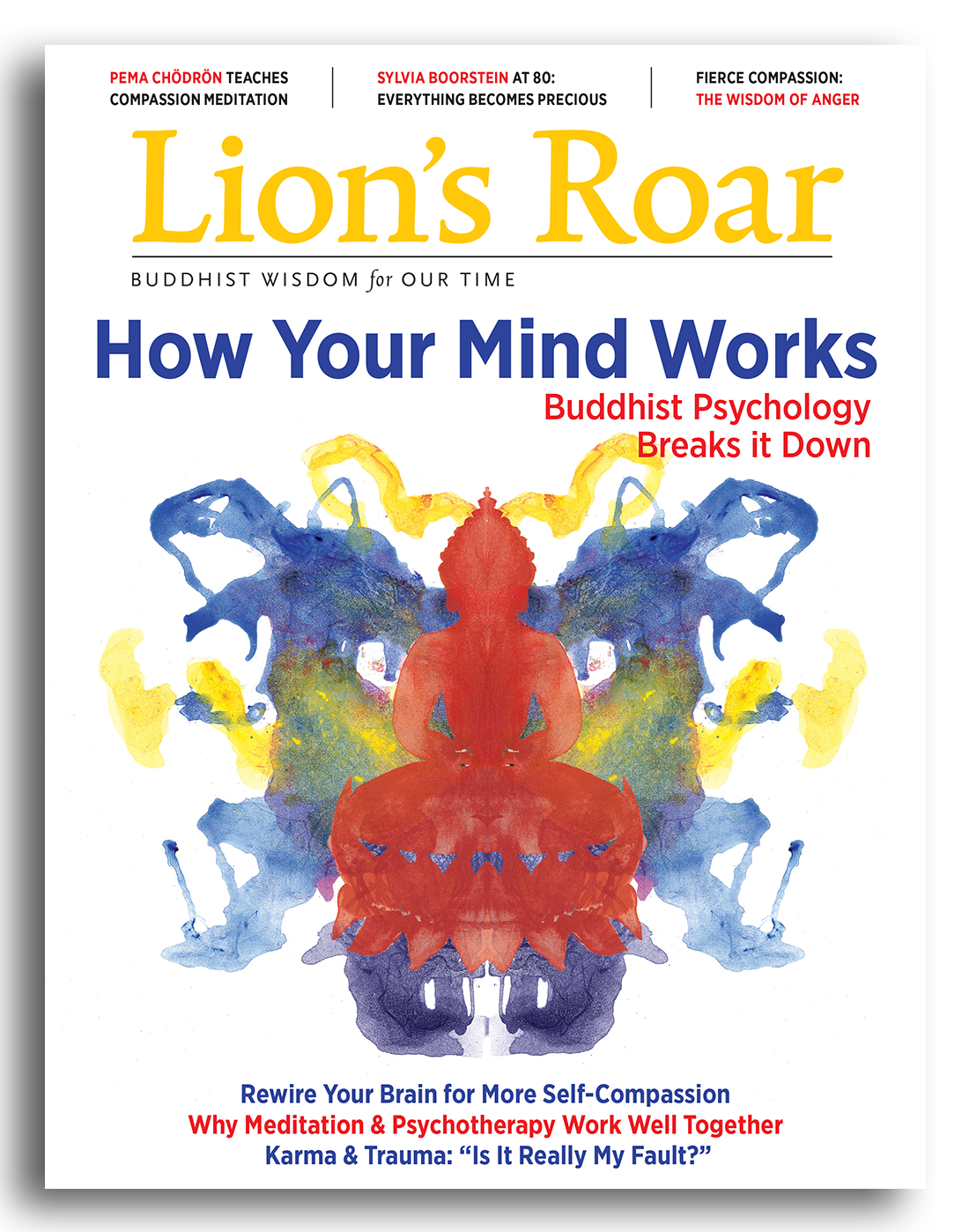 The March 2017 Lion's Roar magazine includes a look at how Buddhism and psychology work together, practical advice for working with with difficult mind-states and circumstances, the Buddhist explanation of how your mind works, and much more.
How Your Mind Works
Just Another Pesky Human, by Lindsay Kyte
How Your Mind Works: Buddhist Psychology Breaks It Down
What is this thing we call the self? We assemble it ourselves, according to Buddhist psychology. Gaylon Ferguson breaks down the five-step process of ego development.
You're Basically Good: The Benefits of Contemplative Psychotherapy
Karen Kissel Wegela on therapy that starts with your basic sanity, not your neuroses.
Plus
How a Hollywood Mogul Found Happiness
Scott Neeson found his heart—and life's true riches—in a Phnom Penh garbage dump. Lindsay Kyte profiles the founder of the Cambodian Children's Fund.
Buy Less, Live More: The Promise of Buddhist Economics
Economist Clair Brown argues for an economic system based on altruism, sustainability, and a meaningful life. Because even economics is about more than money.
Happy Together
How economics can bring out the best in people, not just the most self-centered and shortsighted.
The Art of Living
Six Buddhist therapists offer practical advice for overcoming obstacles and enhancing your life.
Self-Care: Thérèse Jacobs-Stewart on how to rewire your brain to develop more self-compassion.
Anxiety: Bruce Tift explains how you can use anxiety on the path to waking up.
Relationships: David Richo teaches four ways to drop "big ego" and get closer.
Depression: Josh Bartok offers us an inner-dialogue practice for accessing more patience, courage, and acceptance in the face of depression.
Grief: The struggle to distance ourselves from our grief only adds to our suffering. Acceptance, says Cheryl A. Giles, is the only true way to heal.
Spiritual Bypassing: Meditation isn't about creating a comfortable little mental oasis for yourself. Zen teacher Barry Magid on staying with the feelings you practice to escape from.
If you know how to use it, says Melvin McLeod, the energy of anger becomes fierce and compassionate wisdom. Because even the buddhas get angry about suffering and injustice.
The Moment
From Where I Sit
May All Beings Be Safe by Pablo Das
Bodhisattvas
Making It Right Again: sujatha baliga
Heart & Mind
5 Ways Not to Bite the Trump Hook by Susan Piver
Advice for Difficult Times
Is It All My Karma? by Judy Lief
This Dharma Life
Life at 80: Everything Is Precious by Sylvia Boorstein
How to Practice
Tonglen by Pema Chödrön
Beginner's Mind
Buddhism by the Numbers: The 3 Poisons
FAQs: Do I Have to Believe in Reincarnation? My Family Thinks Buddhism Is Weird. Will Meditation Ever Feel Good?
Who, What, Where: Who are Kwan Yin, Avalokiteshvara, Kannon, and Quan Am?
Meet a Teacher
Norman Fischer
Books/Reviews
Hot Off the Press
Love Hurts: Buddhist Advice for the Heartbroken by Lodro Rinzler
We review May Cause Love by Kassi Underwood, The Awakening Body by Reginald Ray, Khyentse Norbu's latest film, Hema Hema, and more.