The March 2019 issue of Lion's Roar magazine features Buddhist insights on how meditation works, and why it's so transformative. Inside, you'll find teachings from Gaylon Ferguson, Kate Lila Wheeler, and Norman Fischer; a look at the dharma of online dating; a remembrance of the late Buddhist teacher Roshi Bernie Glassman; and much more.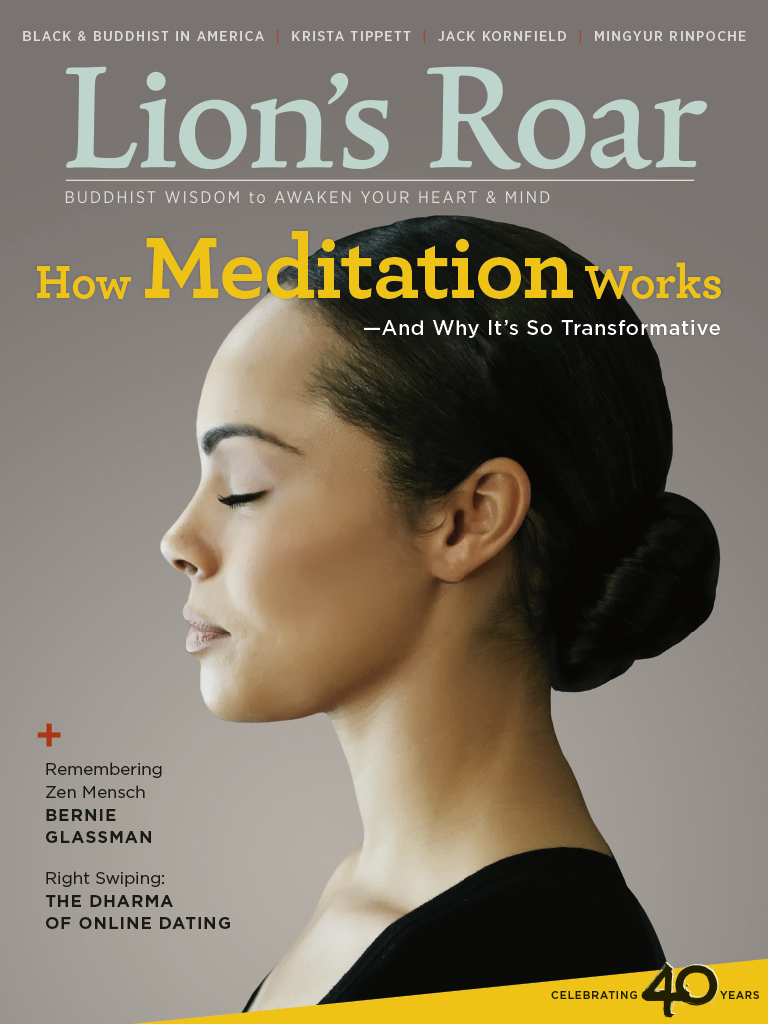 How Meditation Works and Why It's So Transformative
Meditation works with the mind — and mind is so much more than we think it is.
40 More Years of Benefit by Ben Moore
Everything's Made of Mind
All that we are and experience is mind, explains Norman Fischer. That mind is original enlightenment itself.
What Mind is Made of
Gaylon Ferguson breaks down the different components of consciousness and how they create your outer and inner world.
How Meditation Works (In My Life, Anyway)
Practice along as Kate Lila Wheeler takes us on her journey to becoming "a tender, flawed, slightly braver human being."
Plus
Fourteen leading African American teachers talk about the joys and hard realities of being black and Buddhist in America today.
Zen is All of Life: Remembering Bernie Glassman
Andrea Miller on the extraordinary life of Roshi Bernie Glassman, the innovative Zen teacher who broke open our ideas of what Buddhism could be.
Lindsay Kyte follows her friend Alicia as she navigates the world of online dating with advice from two Buddhist relationship experts.
Buddhism: The Next 40 Years
To celebrate Lion's Roar's 40th anniversary, we look ahead to the next 40 years. In this issue we ask: What message or Buddhist teaching will be of most benefit?
Let's Just Call It Love by Jack Kornfield
Heal the Wounds and Trauma by Noliwe Alexander, Devin Berry, Rosetta Saunders, and DaRa Williams
You Already Have What You're Looking For by Yongey Mingyur Rinpoche
Tools to Wake Up and Grow Up by Krista Tippett
Meet the Blue Dragon by John Tarrant
The Moment
FROM WHERE I SIT
Will We Open the Door or Close It? by Serene Jones
ADVICE FOR DIFFICULT TIMES
Time to Say Goodbye by Trudy Goodman
Weekend Wisdom
Silencing Your Inner Critic by Lilly Greenblatt
THIS DHARMA LIFE
How to Make a Spectacular Mistake by Anita Feng
Inside Buddhadharma
Was There a Fifth Noble Truth? by Richard Salomon
HOW TO PRACTICE
Chanting by Mark Unno
SHARE YOUR WISDOM
Is Buddhism Helping You Keep Up Hope?
BEGINNER'S MIND
Buddhism by the Numbers: The 4 Brahmaviharas
FAQs: Karma, Breathing while Meditating, Malas
Who, What, Where: Naropa University
You'll find more Dharma FAQs and other articles for your beginner's mind here.
MEET A TEACHER
Sensei Dorothy Dai-En Friedman
Books/Reviews
BOOK BRIEFS
We review Ecodharma by David R. Loy, Matters of Vital Interest by Eric Lerner, Where's Buddha? by Marisa Aragón Ware, and more.
Thank you for reading Lion
'

s Roar. Now can we ask for your help?

Lion's Roar is a nonprofit. Our mission is to share the wisdom of the Buddha's teachings—to inspire, comfort, support, and enlighten readers around the world. Our aspiration is to keep LionsRoar.com available to everyone, providing a supportive, inspiring Buddhist community that anyone can access, from curious beginners to committed meditators. Do you share our aspiration? We can't do this without your help.

Lion's Roar reaches more readers like you than ever before. Unfortunately, advertising and other revenues are falling for print and online media. We know we have something deeply precious to share with the world, and we want to continue this important work. Can you help support our efforts now?

Lion's Roar is independent, unbiased, not-for-profit, and supported by readers like you. Please donate today and help the lion's roar echo for readers around the world.