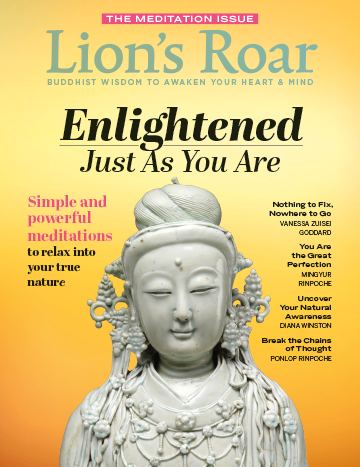 The March 2020 issue of Lion's Roar magazine features simple and powerful meditations to relax into your true nature. Inside, you'll find his teachings from Diana Winston, Mingyur Rinpoche, Vanessa Zuisei Goddard, and Dzogchen Ponlop Rinpoche. You'll also find profiles of 10 Buddhist women you should know; Sylvia Boorstein on how to practice wise intention; an interview Buddhist teacher Konda Mason about The Gathering II; Buddhist book reviews; and much more.
Editorial / Welcome to the Issue
The Simplest Meditation by Melvin McLeod
Enlightened Just As You Are
4 simple meditation to help you stop struggling to relax into your true nature. Because the great secret to enlightenment is doing absolutely nothing.
Uncover Your Natural Awareness by Diana Winston
Nothing to Fix, Nowhere to Go by Vanessa Zuisei Goddard
Break the Chains of Thought by Dzogchen Ponlop Rinpoche
Plus
Pathfinders
10 remarkable Buddhist women you should know.
Vipassana teacher Dipa Ma by Sharon Salzberg
American Zen pioneer Ruth Fuller Sasaki by Tracy Franz
Potter, nun, and martial artist Rengetsu by John Stevens
Vipassana innovator Ruth Denison by Sandy Boucher
Zen teacher Charlotte Joko Beck by Diane Eshin Rizzetto
Thai dhamma teacher Upasika Kee Nanayon by Thanissaro Bhikkhu
Tibetan yogini Ayu Khandro by Lama Tsultrim Allione
Zen teacher Maurine Stuart by Trudy Goodman
Theravada teacher and Holocaust survivor Ayya Khema by Norman Fischer
Where Is My Brother?
As his brother's mind deteriorates, novelist Cary Groner grapples with troubling questions about the ephemerality of self.
Q&A
When Blackness and the Buddhadharma Meet
Konda Mason talks about The Gathering II, the largest and most successful conference of black Buddhist teachers and practitioners
Heart & Mind
Sew Contemplative 
Place your mind on the needle dipping in and out of the fabric, says Cyndi Lee. If you space out, the stitches will go crooked, and that will wake you up.
This Dharma Life
The Final Truth 
She gave birth to twins, but only one survived. Kate Inglis on how, when a body dies, love is the final truth it leaves behind.
Sylvia Boorstein on the practice that keeps our life on target.
Bodhisattvas
Physician, Care for Thyself
Neurosurgeon Patrick Codd expected to deal with the suffering of patients. What he discovered was the importance of attending to his own suffering.
Q&A
Buddhism Is Never Apart from Who I Am: Governor David Ige of Hawaii
Advice for Difficult Times
Which Way to Work with Emotions? by Linda Galijan
Weekend Wisdom
Perfectly Imperfect by Sandra Hannebohm
Inside Buddhadharma
Amida Buddha Welcomes All Refugees by Jeff Wilson
Share Your Wisdom
What do you think is the biggest misconception people have about Buddhism?
Meet A Teacher
David Loy
Books/Reviews
Hot off the press
The Book of Householder Koans, by Eve Myonen Marko & Wendy Egyoku Nakao
Book Reviews
We review Wake Up by Bonnie Myotai Treace, What, Why, How by Bhante G., Inspiring Forgiveness by Barbara Bonner, and more.
Can you help us at a critical time?

COVID-19 has brought tremendous suffering, uncertainty, fear, and strain to the world.
Our sincere wish is that these Buddhist teachings, guided practices, and stories can be a balm in these difficult times. Over the past month, over 400,000 readers like you have visited our site, reading almost a million pages and streaming over 120,000 hours of video teachings. We want to provide even more Buddhist wisdom but our resources are strained. Can you help us?
No one is free from the pandemic's impact, including Lion's Roar. We rely significantly on advertising and newsstand sales to support our work — both of which have dropped precipitously this year. Can you lend your support to Lion's Roar at this critical time?