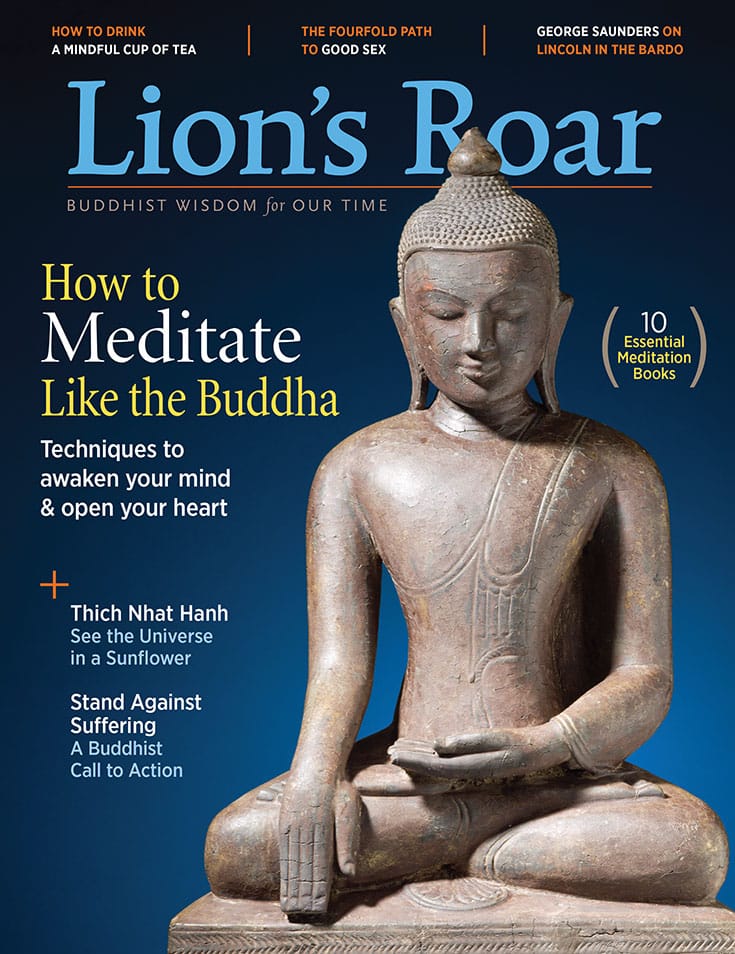 The May 2017 Lion's Roar magazine features advice from eleven Buddhist teachers on how to meditate like the Buddha, a Buddhist call to action written by thirteen prominent teachers, an inspiring teaching from Thich Nhat Hanh, and much more.
How to Meditate Like the Buddha
Benefit, Not Benefits
by Melvin Mcleod
How to Meditate Like the Buddha
Eleven leading Buddhist teachers answer your questions about how to practice the same techniques the Buddha did to awaken your mind and open your heart.
Gaylon Ferguson: What Is Buddhist Meditation?
Noah Levine, Joan Sutherland: What's the Goal?
Thich Nhat Hanh: How Do I Practice Mindfulness?
Jack Kornfield: How Do I Practice Loving-Kindness?
Leslie Booker: Walking Meditation
Andrew Holecek: What Obstacles Will I Face?
Jules Shuzen Harris: Should I Try to Stop Thinking?
Konin Cardenas: How Do I Know If My Meditation Is Working?
Gesshin Greenwood: Will Meditating Change My Life?
Lodro Rinzler: What's the Next Step?
Plus
See the Universe in a Sunflower
Look deeply at a sunflower, says the great Buddhist teacher Thich Nhat Hanh, and you'll discover the reality of interbeing.
Not the Usual Ghost Story
We talk to George Saunders about his new novel Lincoln in the Bardo, which blurs the line between the living and the dead. Plus: What's a Bardo?
Voice for Compassion
Lindsay Kyte on the extraordinary life of translator and scholar Thupten Jinpa, whose campaign for compassion bridges modern science and Buddhist tradition.
Your Question is the Answer
You've come to the spiritual path because you have deep questions about life. You'll find the answers you're looking for, say Buddhist teachers Judy Lief and Norman Fischer, in the mind that's asking the question.
The Moment
From Where We Sit
Stand Against Suffering, a Buddhist call to action by thirteen prominent teachers
Bodhisattvas
Hard Truths Mean Better Care: Laurie Mallery
Q&A
Oh, Rats!: Biologist Loretta Mayer
Heart & Mind
The Fourfold Path to Good Sex by Jessica Graham
Advice for Difficult Times
Is It OK to Feel Good About Myself? by Sylvia Boorstein
This Dharma Life
My Stomach Is Empty: A Buddhist Teacher Does Weight Watchers by James Ishmael Ford
How to Practice
Drinking a Mindful Cup of Tea by Joseph Emet
Beginner's Mind
Buddhism by the Numbers: The 2 Truths
FAQs: Do Buddhists pray to statues? What is the Dalai Lama's role? Can I meditate in a chair?
Who, What, Where: The Lotus
You'll find more Dharma FAQs and other articles for your beginner's mind here.
Meet a Teacher
Anushka Fernandopulle
Books/Reviews
Hot Off the Press
Empty Branches: A Season of Zen Teachings by Bonnie Myotai Treace
We review a graphic novel about the life of the Dalai Lama, titled Man of Peace, The Mind Illuminated by Culadasa and Matthew Immergut, and more.