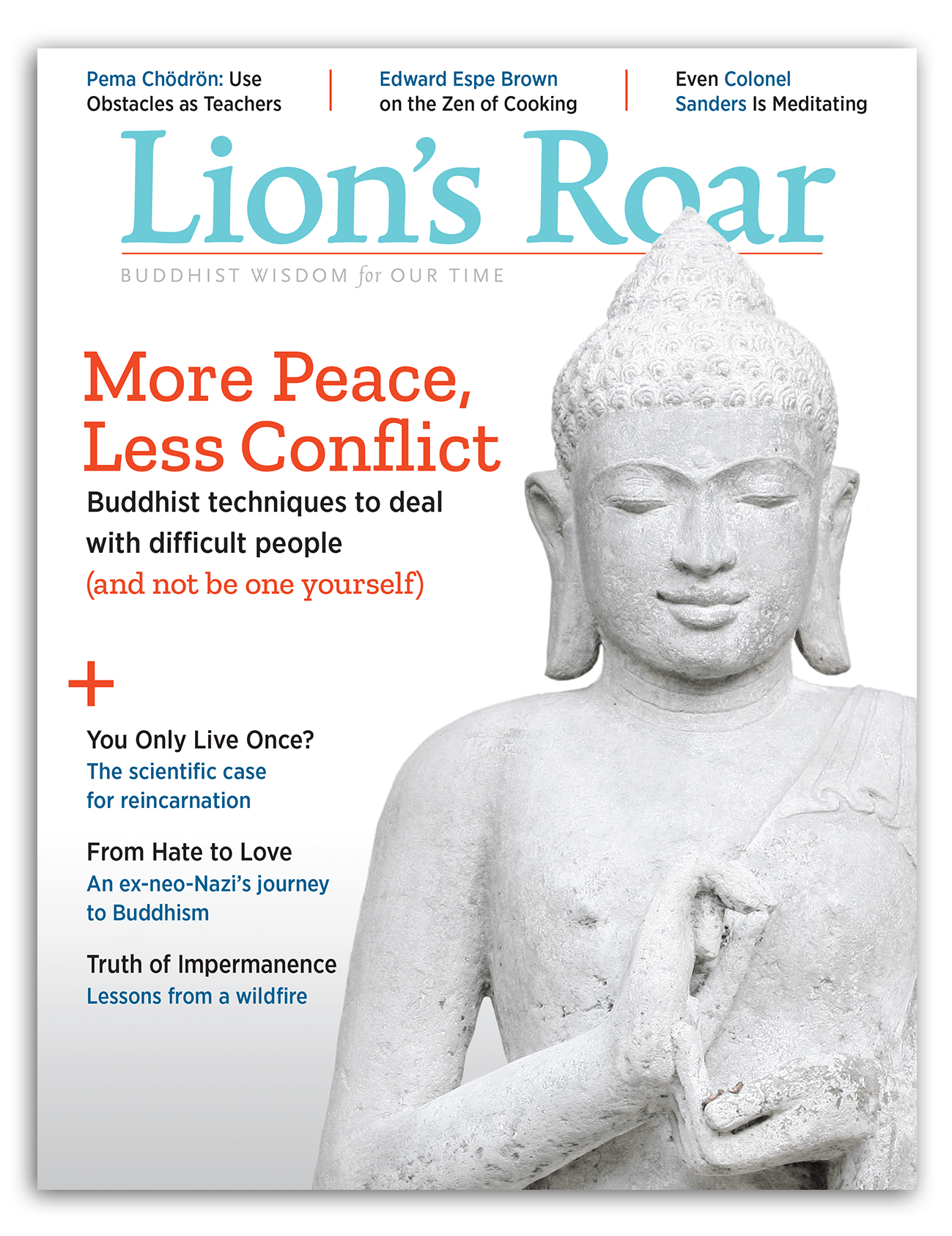 The May 2018 issue of Lion's Roar magazine features Buddhist teachings on how to deal with difficult people and not be one yourself from Pema Chödrön, Norman Fischer, Karen Maezen Miller, and more. Inside, you'll also find Tibetan Buddhist teacher Anam Thubten on the lessons he learned after his community's retreat center fell victim to a wildfire, an exploration of the scientific evidence of rebirth, and more.
More Peace, Less Conflict
A Difficult Problem by Melvin McLeod
HOW TO DEAL WITH DIFFICULT PEOPLE (AND NOT BE ONE YOURSELF)
It's one of life's biggest challenges. Seven Buddhists offer wisdom and techniques to help you handle it.
Look in the Empty Mirror by Karen Kissel Wegela
Ego Is the Real Culprit by Norman Fischer
How to Hold Your Seat by Pema Chödrön
The Undefended Heart by Ray Buckner
10 Vows Not to Make Things Difficult by Karen Maezen Miller
Meeting Heart-to-Heart by Koshin Paley Ellison
Difficult People Are Suffering People by Mitchell Ratner
EAT! EAT!
Forced to overeat as a child, Sharon Suh finally learns for herself what is enough.
Instead of futilely fighting loss, says Tibetan teacher Anam Thubten, let it be your invitation to freedom and spaciousness.
DESTINATIONS OF DESIRE
Travel isn't always as "spiritual" as we hope. Alexander Weinstein offers realistic travel tips about some unreal destinations.
The Moment
Even the Colonel Is Meditating by Rod Meade Sperry
BODHISATTVAS
Business as Unusual: Matthew Stinchcomb
Fear of a Hot Planet by Lama Willa Miller
My Child Fears the Future by Sylvia Boorstein
THIS DHARMA LIFE
Modern Monk Dad by Daniel Polk
HOW TO PRACTICE
Dedicating Merit by Lama Palden Drolma
SHARE YOUR WISDOM
Do you believe in rebirth?
BEGINNER'S MIND
Buddhism by the Numbers: The 3 Yanas
FAQs: Buddha's Bump, Passivity, Churches
Who, What, Where: Pali Canon
You'll find more Dharma FAQs and other articles for your beginner's mind here.
MEET A TEACHER
Jules Shuzen Harris, Sensei
Books/Reviews
HOT OFF THE PRESS
No Recipe: Cooking as Spiritual Practice by Edward Espé Brown
BOOK BRIEFS
We review The Logic of Faith by Elizabeth Mattis Namgyel, The Mindfulness in Plain English Collection by Bhante Gunaratana, Work That Matters by Maia Duerr, and more.