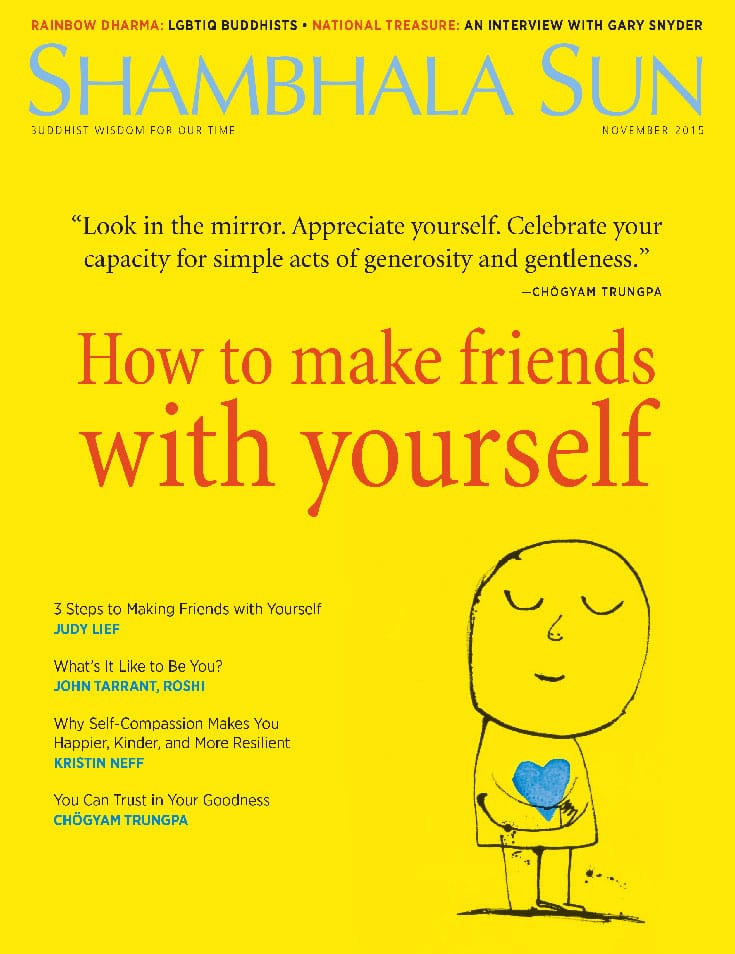 Cover illustration: "Love" by Serge Block / Marlena Agency.
Cover Story: How to Make Friends with Yourself
Drop Your Mask
Buddhist teacher Judy Lief describes the three steps of making friends with yourself. It's the ground, path, and goal of Buddhist meditation.
What's It Like to Be You?
When you make friends with yourself, says Zen teacher John Tarrant, Roshi, you make friends with reality. All you have to do is be you.
Why Self-Compassion Makes Us Happier, More Resilient, and Kinder to Others
Research proves that trading self-criticism for self-compassion is one of the best things we can do for ourselves, says self-compassion pioneer Kristin Neff.
A three-step contemplation to give yourself the compassion you need (and deserve).
A collection of essential videos, books, and websites to help develop self-compassion.
You Can Trust in Your Goodness
Instead of trying to promote or defend ourselves, says Chögyam Trungpa Rinpoche, we can base our lives on something more powerful and trustworthy—our basic goodness.
Plus
Rainbow Dharma
In this time of openness and diversity, we are all contemplating the meaning of sexual and gender identity—and the suffering that intolerance causes. Meet LGBTIQ Buddhist teachers, practitioners, and communities who offer wisdom and inspiration to us all.
Our Moment of Possibility & Joy
Roshi Pat Enkyo O'Hara shares three teachings that have given her solace and strength.
Queer Eye, Right View
Minal Hajratwala on seeing suffering clearly.
How Far We've Come
George Takei tells how Arnold Schwarzenegger's hypocrisy compelled him to come out. Read the extended online version.
Getting to Ellen
For Ellen Krug, a dharma teacher's encouragement helped change everything.
Counting to One
Steve Silberman recalls early and lasting loves.
The LGBTIQ Gift
Caroline Contillo asks: Is my original face gay?
Switched-on Compassion
David Schneider remembers gay Zen pioneer Issan Dorsey.
National Treasure: An Interview with Gary Snyder
Beat hero, steward of the earth, Zen Buddhist—at eighty-five, poet Gary Snyder looks back on an honorable life at the leading edge.
The Moment
From Where I Sit
Don't Diss Secular Mindfulness, by Sumi Loundon Kim
Bodhisattvas
Michael Thiele and The Truth of the Hive
Pull the Thorns From Your Heart, with Buddy Nielsen of Senses Fail. Read the extended online version.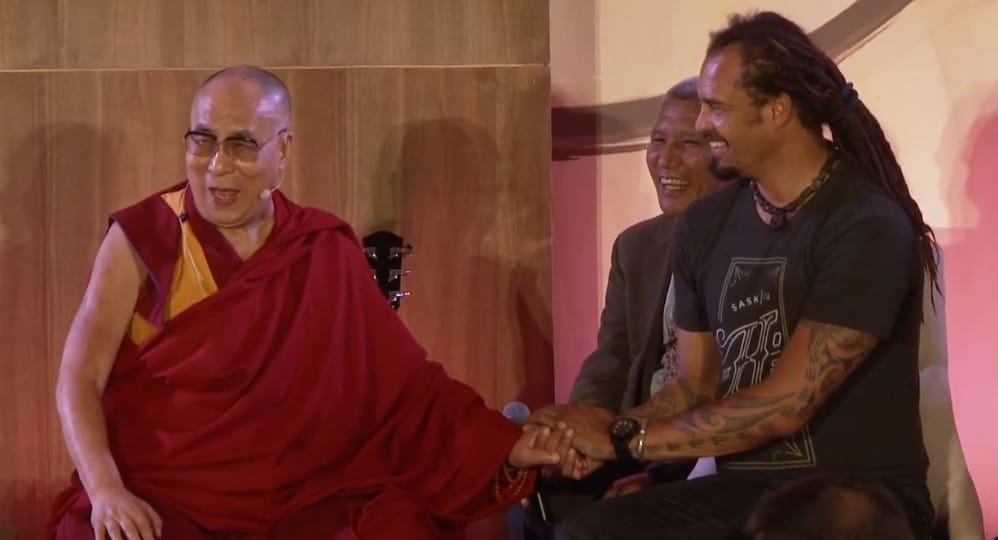 Bodhi Chatter
Dharma, pop culture, and good-natured gossip.
Seen in this issue: Michael Franti chatting with the Dalai Lama, and The Lancet Journal's Buddha controversy.
Heart & Mind
How to Raise an Emotionally Resilent Child, by Krissy Pozatek
Plus: A meditation from Thupten Jinpa on appreciating others
Advice for Difficult Times
"Can I Serve Others Without Falling into a Gender Trap?" Brenda Salgado responds
This Dharma Life
It's Okay Now, by Donnell King
What Buddhist book has meant the most to you?
How to Practice
Bowing to Each Other, by Brother Phap Hai
Plus: What is Buddhist Salvation, by Koun Yamada
Beginner's Mind
The 5 Recollections
Dharma FAQs
Monkey Mind
Larry Yang
Departments
Be Your Own Best Friend, by Melvin McLeod
Books & Films
Can you help us at a critical time?

COVID-19 has brought tremendous suffering, uncertainty, fear, and strain to the world.
Our sincere wish is that these Buddhist teachings, guided practices, and stories can be a balm in these difficult times. Over the past month, over 400,000 readers like you have visited our site, reading almost a million pages and streaming over 120,000 hours of video teachings. We want to provide even more Buddhist wisdom but our resources are strained. Can you help us?
No one is free from the pandemic's impact, including Lion's Roar. We rely significantly on advertising and newsstand sales to support our work — both of which have dropped precipitously this year. Can you lend your support to Lion's Roar at this critical time?