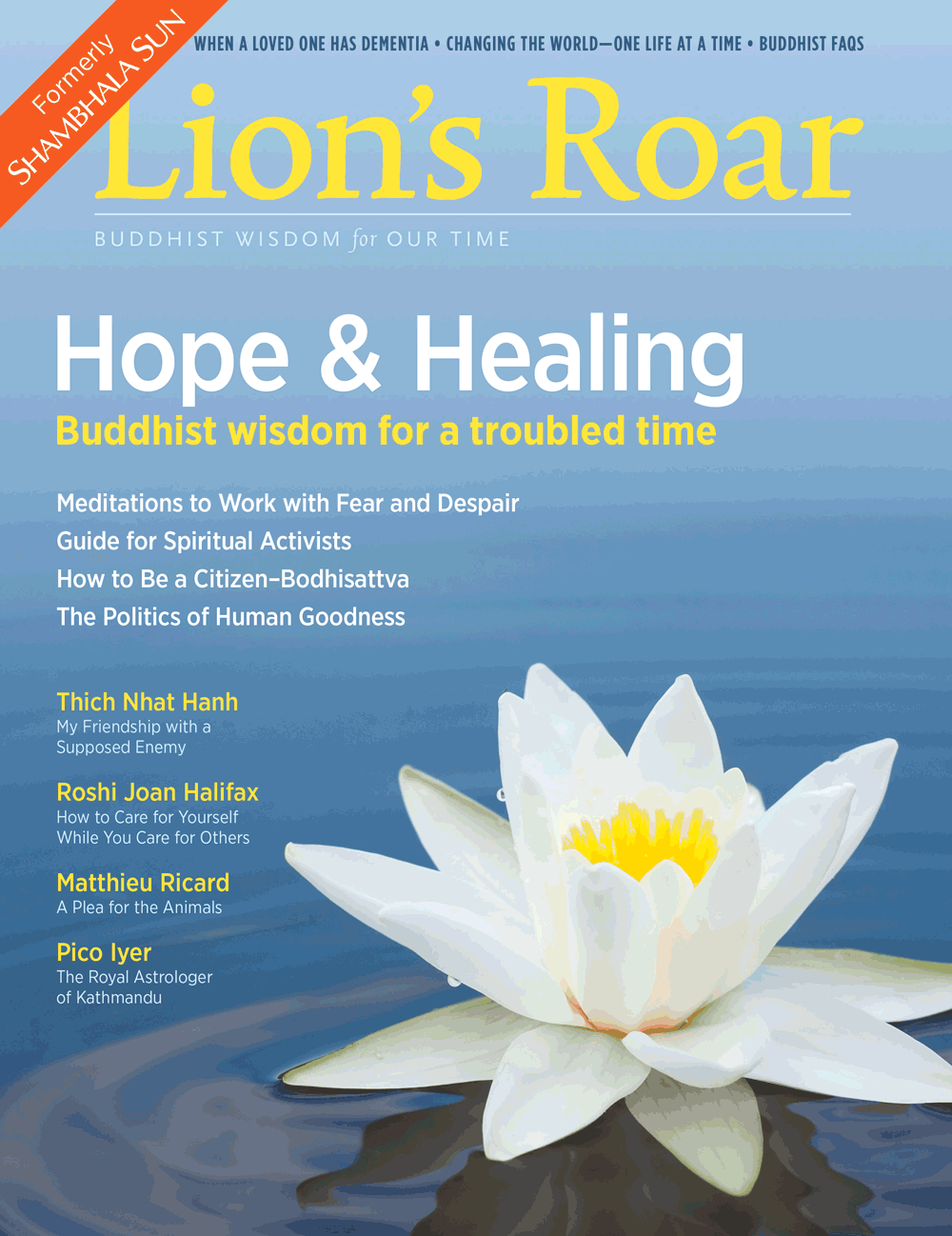 The November 2016 Lion's Roar magazine (formerly known as the Shambhala Sun) is now available, featuring Buddhist wisdom that offers hope and healing for the troubled times our world is experiencing. Here's a preview of what's inside the issue, plus online exclusives.
Hope & Healing — Buddhist Wisdom for a Troubled Time
We the People
Nine Buddhist teachers and writers offer their thoughts on how to be a good citizen in these troubled political times.
Ira Sukrungruang: Believe in Possibility
Roshi Pat Enkyo O'Hara: Be a Citizen–Bodhisattva
Karen Connelly: Strangers Become Kin
Charles Johnson: Let's Be Civil
Karen Maezen Miller: You Make All the Difference
Toni Bernhard: Do Your Little Bit of Good
Shinso Ito: The Kitchen Sermons
Mitchell Ratner: Citizenship Is a Practice
Larry Yang: Only Love Dispels Hate
How Not to Freak Out
Feeling overwhelmed by all the bad news? Buddhist teacher Judy Lief has some meditations to work with your fear and despair over the state of the world.
Love Everyone: A Guide for Spiritual Activists
Real political change must be spiritual. Real spiritual practice has to be political. Sharon Salzberg and Rev. angel Kyodo williams on how we can bring the two worlds together to build a more just and compassionate society.
Zen teacher John Tarrant offers 10 Zen pointers on the practice of welcoming, which transforms even the most difficult and uncertain times.
Good or Bad?
How we see human nature, says Sakyong Mipham, is the most important political question of all.
Changing the World—One Life at a Time
Helping others is the ultimate political act. Lindsay Kyte profiles five people who are changing society from the ground up.
Rights for Domestic Workers: Ai-jen Poo, director of the National Domestic Workers Alliance
Growing Food, Growing Community: Doria Robinson of Urban Tilth
From the Streets to College: Taz Tagore, cofounder of the Reciprocity Foundation
Helping Hawaii's Elderly: Rose Nakamura, cofounder of Project Dana
Everyone Is Changed: Prison volunteer Tyger Blair of the Buddhadharma Sangha
Plus:
The Man Who Told the Future
In the back streets of Kathmandu, Pico Iyer and his friend Kristin hear a prophecy that shatters their youthful dreams. The Royal Astrologer knows them better than they know themselves.
…and, in the magazine's front section, The Moment:
From Where I Sit
A Plea for the Animals, by Matthieu Ricard
Bodhisattvas
The Power of a Two-Inch Circle: Amy Black
Heart & Mind
Help When Your Heart Breaks, by Roshi Joan Halifax
Advice for Difficult Times
The Long Goodbye of Alzheimer's, by Margaret Manteau–Rao
This Dharma Life
Dropping In Again, by Michael Stone
Share Your Wisdom
When life is difficult, what Buddhist teaching springs to mind?
How to Practice
Contemplative Photography, by Andy Karr
Beginner's Mind
Buddhism by the Numbers: Kalpas
FAQs: LGBTQ Buddhists, Incense Sensitivities, Yoga & Buddhism
Who, What, Where: Larung Gar
Meet a Teacher
Melissa Myozen Blacker, Roshi
Departments
Editorial
The Virtue That Produces Peace by Melvin McLeod
Hot Off the Press
At Home in the World: Stories and Essential Teachings from a Monk's Life, by Thich Nhat Hanh
Andrea Miller reviews David Nichtern's Awakening from the Daydream, Marianne Williamson's Tears to Triumph, Norman Fischer's Experience, and more.
Just So
Robert Aitken Roshi
THANK YOU FOR READING LION'S ROAR. CAN WE ASK FOR YOUR HELP?
At Lion's Roar, our mission is to communicate Buddhist wisdom in today's world. The connections we share with you — our readers — are what drive us to fulfill this mission.

Today, we're asking you to make a further connection with Lion's Roar. Can you help us with a donation today?
As an independent nonprofit committed to sharing Buddhist wisdom in all its diversity and breadth, Lion's Roar depends on the support of readers like you. If you have felt the benefit of Buddhist practice and wisdom in your own life, please support our work so that many others can benefit, too.

Please donate today — your support makes all the difference.

Lion's Roar is a registered charity in the US and Canada. All US & Canadian donations are tax deductible to the full extent allowed by law.