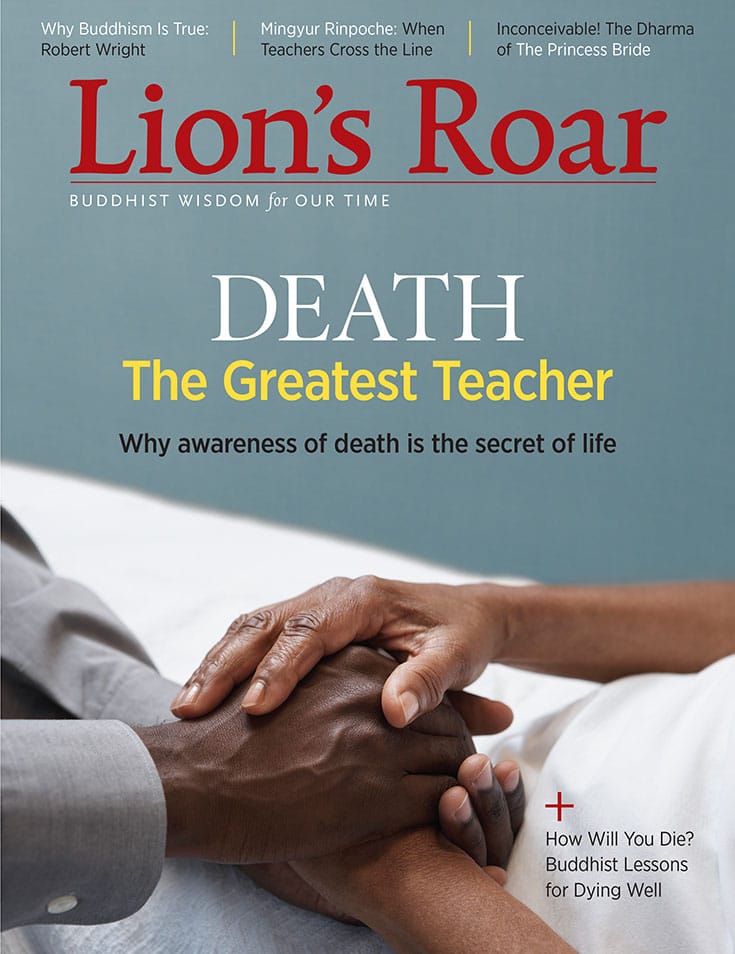 The November 2017 Lion's Roar magazine features teachings on death — and why having awareness of death is the secret to life — including Buddhist lessons for living and dying well from Ajahn Chah and Judy Lief, and an exclusive look at the New York Zen Center for Contemplative Care with Koshin Paley Ellison and Robert Chodo Campbell.
Death: The Greatest Teacher
Where Do You Find Inspiration? by Ben Moore
How Will You Die?: Buddhist Lessons for Dying Well
Lindsay Kyte talks to Koshin Paley Ellison, Robert Chodo Campbell, Alexandra Gersten-Vassilaros, Frank Ostaseski, and Joan Halifax about how Buddhism is changing the way we die.
Putting Death on the Table
It's something we all share, so why not get together and talk about it over a cup of coffee? John DeMont on death cafés.
The great Buddhist teacher Ajahn Chah's advice to an aging student approaching her death. (Appears in the magazine under the title "Take the Feeling of Letting Go as Your Refuge.")
Death: The Greatest Teacher
It's the ultimate twist: awareness of death is the secret of life. It makes us more loving, appreciative, and wise. Judy Lief explains why death is the ultimate teacher and how to learn its lessons.
Plus
The teacher–student relationship in Vajrayana Buddhism is intense, easy to misunderstand, and can even be misused. Mingyur Rinpoche explains Vajrayana ethics, how to find a genuine teacher, and what to do if a teacher crosses the line.
The Dharma of the Princess Bride
In the classic film, outcasts and loners find true friendship. Drawing on lessons from The Princess Bride, Ethan Nichtern offers Buddhist teachings on how to make friends with yourself and others.
Darwin and the Buddha agree on the problem, says evolutionary psychologist Robert Wright in his important new book. The Buddha solved it.
The Moment
From Where I Sit
Food for Thought: Sister True Dedication
Q&A
Thich Nhat Hanh — Getting Stronger Every Day: Sister Chan Khong
Heart & Mind
10 Precepts for Parents by John Becvar
Advice for Difficult Times
Love Doesn't Have to Mean Agreeing by Susan J. Stabile
This Dharma Life
Thank You, Michael by Carina Stone
Share Your Wisdom
What pithy Buddhist teaching do you find most helpful? Readers respond.
How to Practice
Running as Meditation by Sakyong Mipham
Beginner's Mind
Buddhism by the Numbers: The 4 Foundations of Mindfulness
FAQs: Hand Positions, Don't Like Meditation, Nirvana
Who, What, Where: Enso
Meet a Teacher
Gaylon Ferguson
Books/Reviews
Hot Off the Press
Awakening Together: The Spiritual Practice of Inclusivity and Community by Larry Yang
Book Briefs
We review:
• The Lost Art of Good Conversation: A Mindful Way to Connect with Others and Enrich Everyday Life by Sakyong Mipham
• Walk with Me: A Journey Into Mindfulness featuring Thich Nhat Hanh directed by Marc J. Francis and Max Pugh
• Zen Master Raven: The Teachings of a Wise Old Bird by Robert Aitken
• The Monastery and the Microscope: Conversations with the Dalai Lama on Mind, Mindfulness, and the Nature of Reality edited by Wendy Hasenkamp with Janna R. White
• Enlightened Vagabond: The Life and Teachings of Patrul Rinpoche by Matthieu Ricard
• Unsubscribe: Opt Out of Delusion, Tune In to Truth by Josh Korda
• A Way Of Life: Zen Monastics At Work And Play by Paul Davis
• Mindfulness on the Go Cards: 52 Simple Meditation Practices You Can Do Anywhere by Jan Chozen Bays
Save
Save
Can you help us at a critical time?

COVID-19 has brought tremendous suffering, uncertainty, fear, and strain to the world.
Our sincere wish is that these Buddhist teachings, guided practices, and stories can be a balm in these difficult times. Over the past month, over 400,000 readers like you have visited our site, reading almost a million pages and streaming over 120,000 hours of video teachings. We want to provide even more Buddhist wisdom but our resources are strained. Can you help us?
No one is free from the pandemic's impact, including Lion's Roar. We rely significantly on advertising and newsstand sales to support our work — both of which have dropped precipitously this year. Can you lend your support to Lion's Roar at this critical time?