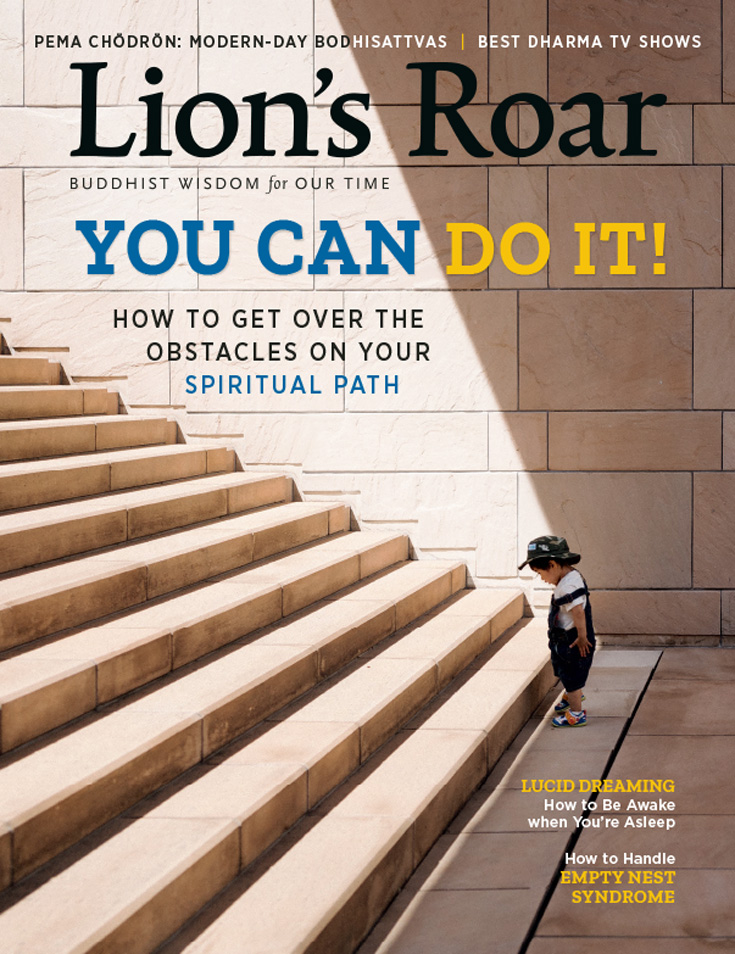 The November 2018 issue of Lion's Roar magazine features Buddhist wisdom on how to get over obstacles on the spiritual path. Inside, you'll find teachings from Karen Maezen Miller, Thanissaro Bhikkhu, and Judy Lief; a lucid dreaming practice from Andrew Holecek; a conversation with Pema Chödrön and Father Gregory Boyle; and much more.
You Can Do It!
Whatever Party is Happening by Lindsay Kyte
Just Get Out of Your Way
Be who you are, as you are, where you are, says Zen teacher Karen Maezen Miller. Just don't let opinions, goals, or doubts get in the way.
Things You Need for Your Journey
Buddhist monk Thanissaro Bhikkhu lists the good qualities you should take with you.
No Agenda, No Obstacles
If you're not trying to get somewhere, says Vajrayana teacher Judy Lief, nothing can stop you.
How to Get Over the Hurdles
14 Buddhist teachers answer your most frequently asked questions about how to work with the challenges on your spiritual path.
Plus
Modern-Day Bodhisattvas
Renowned Buddhist teacher Pema Chödrön joins Father Gregory Boyle, founder of Homeboy Industries, for an inspiring conversation about the joy of helping others. (The question of God does come up.)
There's Hope At Homeboy
For tens of thousands of former gang members, Homeboy Industries in Los Angeles has meant a life free from violence, addiction, and incarceration.
What Would the Buddha Watch?
Eight channel surfers offer a Buddhist take on a favorite TV show.
Mad Men by Rod Meade Sperry
Parts Unknown by Seth Greenland
The Bachelor by Jennifer Keishin Armstrong
Westworld by Sharon Suh
Arrested Development by Melvin McLeod
Here and Now by Jessica Pimentel
Sunday Night Baseball by Norman Fischer
The Quiet Revolutionary
For decades, reports Andrea Miller, Mirabai Bush has been helping to shape and lead the spiritual revolution, making contemplative practice relevant in the modern world.
As long as you think vulnerability is weakness, you're going to be afraid. Mirabai Bush and Ram Dass on the kind of vulnerability that's actually strength.
Hello, It's Halloween
What do you want to be for Halloween? Who do you want to be in life? Ira Sukrungruang on the costumes we wear.
The Moment
FROM WHERE I SIT
Sweeping My Heart by Zenju Earthlyn Manuel
BODHISATTVAS
A New Kind of Leader: Dalai Lama Fellows
ADVICE FOR DIFFICULT TIMES
The Emptiness of the Empty Nest by Melissa Myozen Blacker, Roshi
THIS DHARMA LIFE
Dad Is Dying by Brent Kessel
HOW TO PRACTICE
Lucid Dreaming by Andrew Holecek
SHARE YOUR WISDOM
How does Buddhism change the way you date?
BEGINNER'S MIND
Buddhism by the Numbers: The 4-Fold Sangha
FAQs: Buddhist Identity, Equanimity, Sitting Groups
Who, What, Where: Begging Bowl
You'll find more Dharma FAQs and other articles for your beginner's mind here.
MEET A TEACHER
Narayan Liebenson
Books/Reviews
HOT OFF THE PRESS
Touching Ground: Devotion and Demons Along the Path to Enlightenment by Tim Testu
BOOK BRIEFS
We review Why Religion? by Elaine Pagels, The Practice of Pure Awareness by Reginald Ray, A Buddhist Journal by Beth Jacobs, and more.