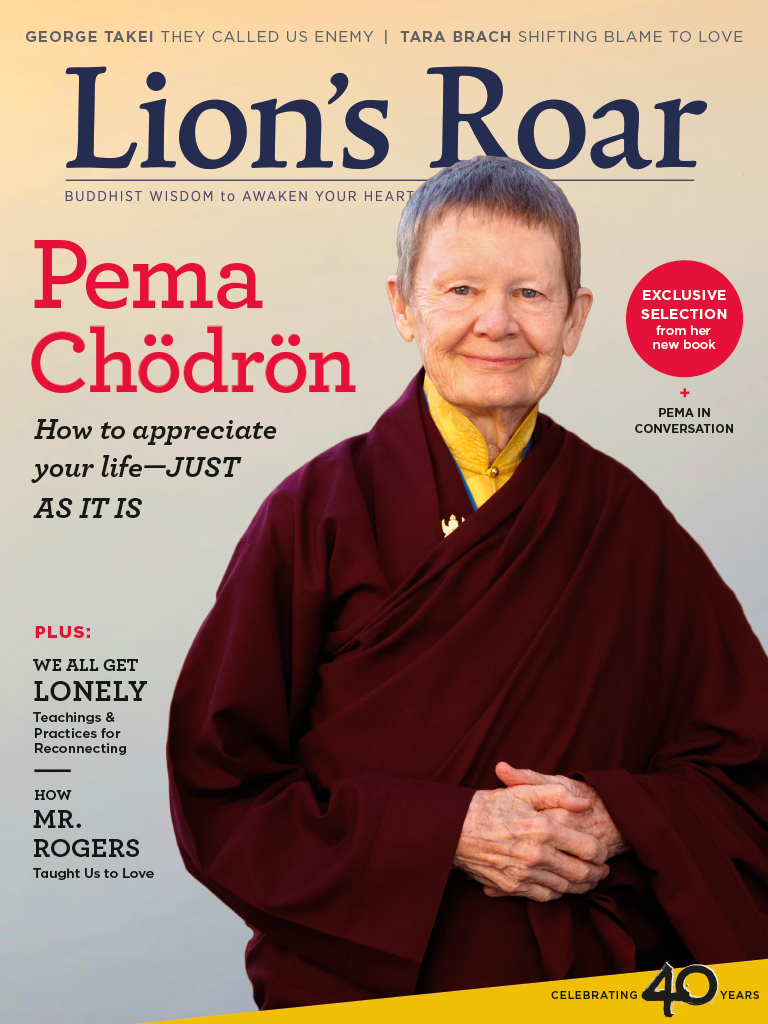 The November 2019 issue of Lion's Roar magazine features wisdom from Buddhist teacher Pema Chödrön on how to appreciate your life just as it is. Inside, you'll also find teachings,  practices, and personal stories to help transform our loneliness into connection; insight from five Buddhist teachers and thinkers looking at ways Buddhism needs to reform itself in the next 40 years; a teaching on turning blame into love from Tara Brach; Buddhist book reviews; and much more.
From Loneliness to Love
Editorial / Welcome to the Issue
You Don't Have to Be in a Good Mood by Lindsay Kyte
All the Lonely People
You may feel lonely, but you're not as alone as you think, says Zen teacher Jane McLaughlin-Dobisz.
Am I Lonesome Tonight?
Three writers share their experience of loneliness, and what it has taught them.
Alone, A Monk Jumps on a Bed by Ira Sukrungruang
A Phantom Pain by Rachel Neumann
Lonely Hearts by Natalie Goldberg
How do we take the sting out of loneliness and feel more connected to others? Toni Bernhard suggests practicing with the classical Buddhist teachings on friendliness, compassion, empathic joy, and equanimity.
Plus
How to Appreciate Your Life — Just As It Is
In this exclusive selection from her new book, beloved Buddhist teacher Pema Chödrön says freedom and enjoyment await us when we experience life beyond labels.
In the Simple Place Where Awakening Happens
Lion's Roar editor-in-chief Melvin McLeod in conversation with Pema Chödrön.
Buddhism: The Next 40 Years
Continuing our special anniversary series, five Buddhist teachers and thinkers look at ways Buddhism needs to reform itself in the next 40 years.
Dare We Update the Dharma? by Roger R. Jackson
Women Are Not Second-Class Buddhists by Ven. Karma Lekshe Tsomo
Beyond Projection: Healing the Teacher-Student Relationship by Pilar Jennings
How Sangha Can Be the Next Buddha by Kenley Neufeld
Dharma in Disguise
Halloween has nothing to do with Buddhism — or does it? Four writers explore the great matter of life, death, and candy.
A Hungry Ghost's Sugar Fix by Gesshin Greenwood
Spirit in the House, Witch Under the Bridge by Karen Connelly
Under the Skeleton Tree by Bonnie Nadzam
Sugar Skulls by Linda González
The Moment
From Where I Sit
How Mr. Rogers Taught Us to Love by Jennifer Keishin Armstrong
Q&A
Heart & Mind
From Blame to Love by Tara Brach
Advice for Difficult Times
Coping With Menopause by Karen Maezen Miller
Weekend Wisdom
Let It Go, Neo by Sam Littlefair
How to Practice
Full-Body Breath Meditation by Thanissaro Bhikkhu
Inside Buddhadharma
Zen's Glass Gate by Tenku Ruff, Yuko Wakayama Yamada & Shundo Aoyama Roshi
Beginner's Mind
Buddhism by the Numbers: The 3-fold Training
FAQs: Non-Buddhist Partner, Retreats, Heaven & Hell
Who, What, Where: Alexandra David-Néel
You'll find more Dharma FAQs and other articles for your beginner's mind here.
Meet a Teacher
Tenku Ruff
Books/Reviews
Hot off the press
They Called Us Enemy by George Takei
Book Briefs
We review The Death of You by Miguel Chen, Comedy Sex God by Pete Holmes, One Blade of Grass by Henry Shukman, and more.