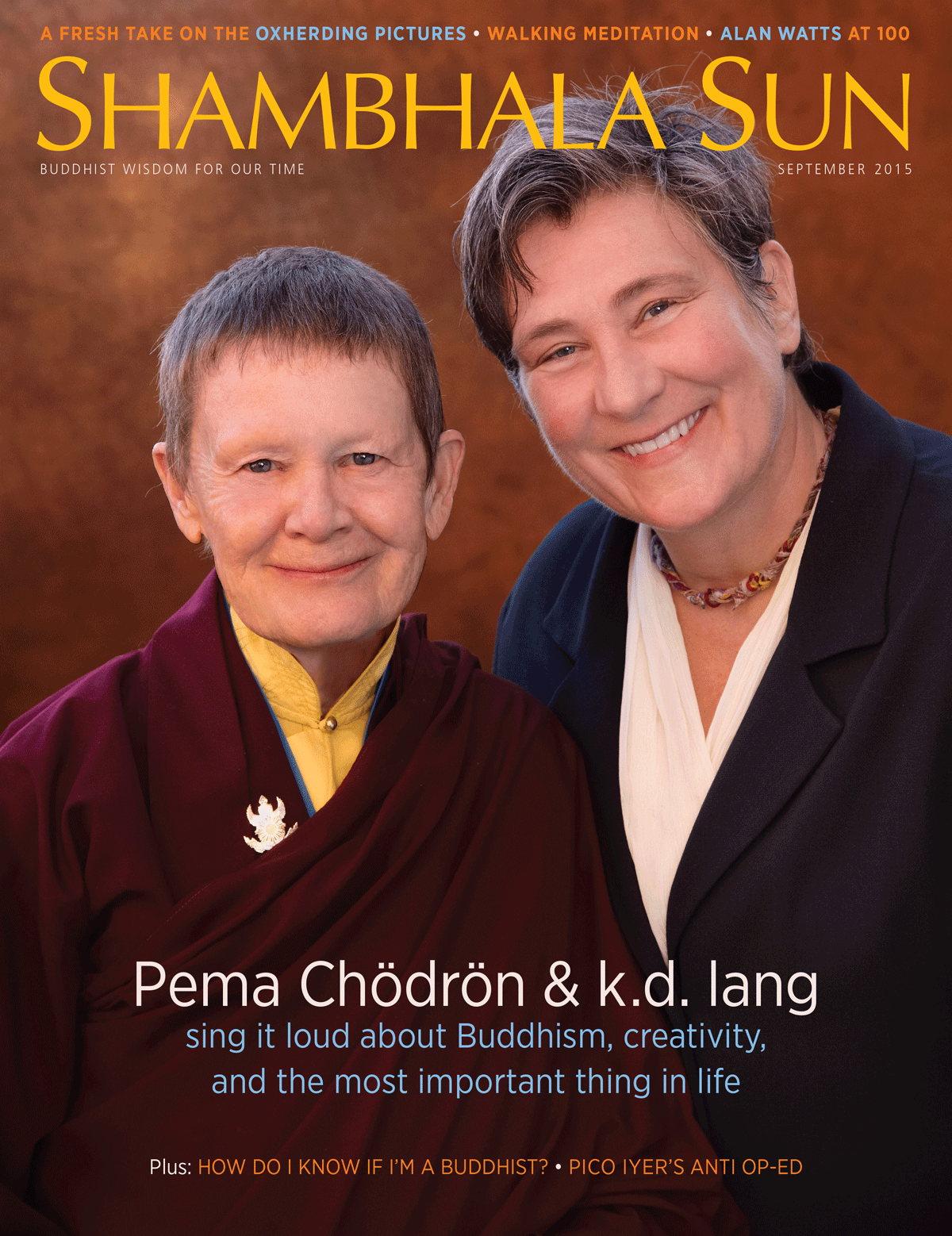 What Is the Most Important Thing?
It's simple and ordinary but it changes everything. Just leave a little gap, says Pema Chödrön, and you'll discover the magic of life.
Pema Chödrön teaches us a simple technique we can use anytime we need a break from our habitual patterns.
Connect With the Best of Yourself
An evening of lively and insightful conversation with Pema Chödrön and k.d. lang.
A beginner's guide to the teachings of Pema Chödrön
Sing It Loud!
k.d. lang belts out gratitude for Buddhism, her teacher, and her soaring vocals. A profile by Andrea Miller.
The Path to Enlightenment in 10 Pictures
Graphic artist Mark T. Morse gives Zen's famed oxherding pictures a contemporary take, with commentaries by Zen teacher Josh Bartok and Chögyam Trungpa Rinpoche.
Alan Watts at 100
David Chadwick remembers his friend Alan Watts, the unconventional mystic who introduced a generation of Americans to Zen.
Facing the "Great Void"
Alan Watts on why Zen was the perfect fit for the existential challenges of the 1950s.
The Moment
From Where I Sit
An Anti Op-Ed, by Pico Iyer
A teaching from Thich Nhat Hanh
Q&A
Small Mouth Sounds, by Bess Wohl
Rent for Living on the Planet, a profile of Kate Johnson
Bodhi Chatter
Dharma, pop culture, and good-natured gossip
Heart & Mind
Conversations You Don't Want to Have, by Lodro Rinzler
Plus: "Oops, I Said the Wrong Thing," by Lodro Rinzler
Advice for Difficult Times
"How Can I Be Happy When My Children Aren't?" Sylvia Boorstein responds.
Share Your Wisdom
How does Buddhism affect your consumer choices?
Walking Meditation, by Leslie Booker
Beginner's Mind
The 3 Kayas; Dharma FAQs; Charlotte Joko Beck
Willa Miller
Departments
Thank You, Pema, by Andrea Miller
Reviews
Books & Films, including Gary Snyder's This Present Moment and Deborah Sosin's Charlotte and the Quiet Place.