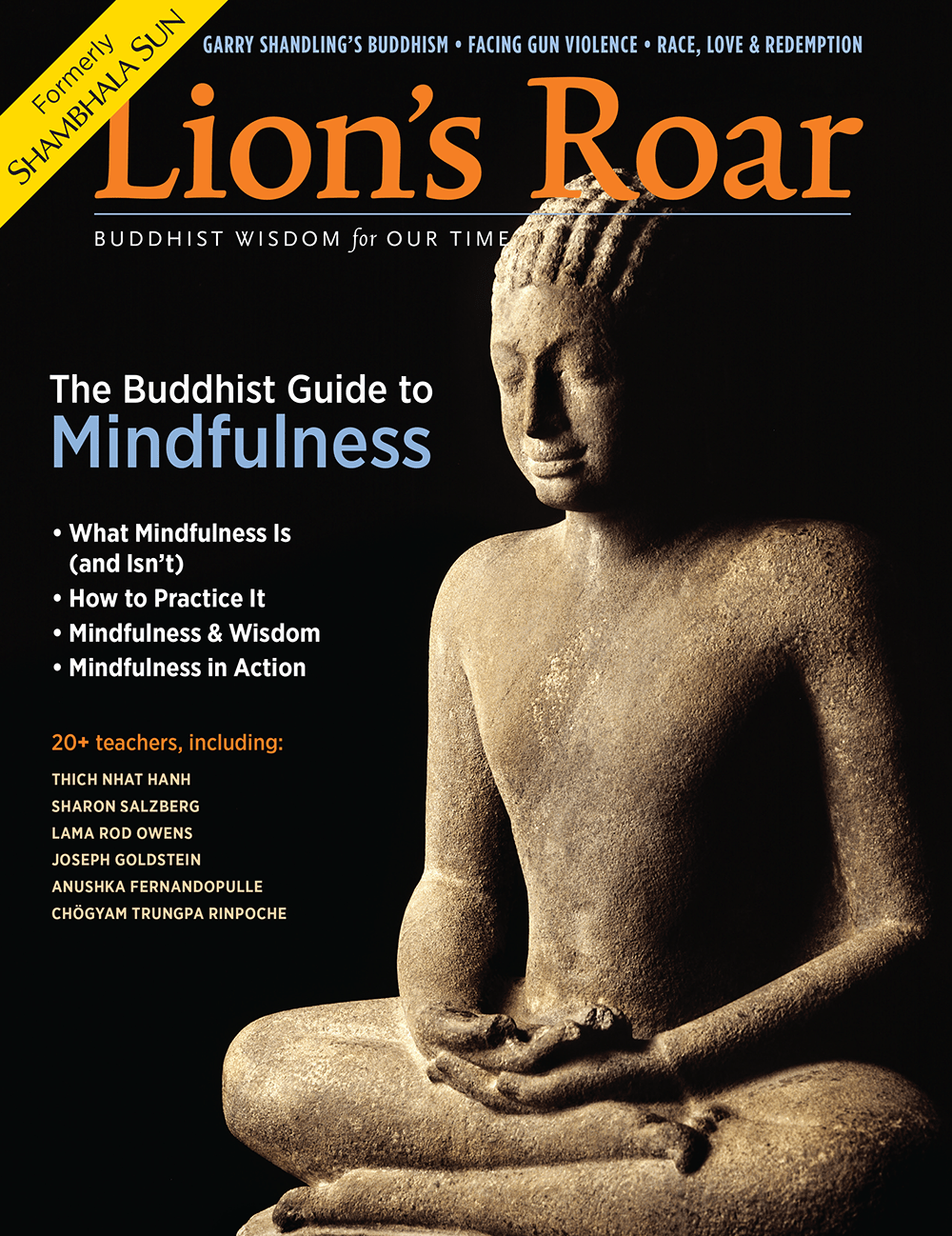 The September 2016 Lion's Roar magazine (formerly known as the Shambhala Sun) is now available, featuring 20+ teachers on the Buddhist view of mindfulness — what it is, how to do it, how it benefits Buddhist practice, how it helps us be of benefit to others. Here's a preview of the issue, along with a special online Lion's Roar compliment to what's inside.
The Buddhist Guide to Mindfulness
What Is Mindfulness?
Its depth and breadth in Buddhist philosophy.
• Joseph Goldstein • Sylvia Boorstein • Barry Boyce • Bhante Henepola Gunaratana • Andrew Olendzki
How to Practice Mindfulness
Instructions in a variety of transformative practices.
• Sakyong Mipham Rinpoche • Sharon Salzberg • Jack Kornfield • James Ishmael Ford • Chögyam Trungpa Rinpoche • Born I Music
Mindfulness & Wisdom
How the stable mind of mindfulness discovers the true nature of reality.
• Ajahn Buddhadasa • Thich Nhat Hanh • Anushka Fernandopulle • Dzogchen Ponlop Rinpoche • Guo Gu • Melissa Myozen Blacker, Roshi
Mindfulness in Action
Mindfulness and enlightened living.
• Gaylon Ferguson • Gretchen Rohr • Lama Rod Owens • Edward Espe Brown
For more, visit our new Buddhist Teachings on Mindfulness page, which addresses frequently asked questions with helpful links for more reading.
…and, in the magazine's front section, The Moment:
From Where I Sit
Why We Go for the Gun, by Greg Snyder
Q&A
A Buddhist Fraternity?: Delta Beta Tau's Jeff Zlotnik
Bodhisattvas
The Stories We Tell: Marina Cantacuzino
Bodhi Chatter
Dharma, pop culture, and good-natured gossip. Featuring Chögyam Trungpa's Tonight show debut, The Dalai Lama & Lady Gaga, this issue's Dharma-Burger, and more.
Heart & Mind
Finding Clarity in Clutter, by Sylvia Boorstein
Advice for Difficult Times
A Gentle Goodbye, by James Ishmael Ford
This Dharma Life
To Our Dear Friend Garry, by Brother Phap Hai
Share Your Wisdom
Where is the most unexpected place you've meditated?

How to Practice
Feeding Your Demons, by Lama Tsultrim Allione
Beginner's Mind
Buddhism by the Numbers: The Four Negations
FAQs: Christian and Buddhist?, Buddhism's Problems, A Modern Reading List
Who, What, Where: Sayadaw U Pandita
Meet a Teacher
Brad Warner

DEPARTMENTS
Editorial
Mindfulness: It's All Good by Rod Meade Sperry
Hot Off the Press
Radical Dharma: Talking Race, Love and Liberation, by Rev. angel Kyodo williams and Lama Rod Owens with Jasmine Syedullah, PhD
Lindsay Kyte reviews Shinzen Young's The Science of Enlightenment, Orgyen Chowang's Our Pristine Mind, Azeem Ibrahim's The Rohingyas, and more.
Just So
Thich Nhat Hanh