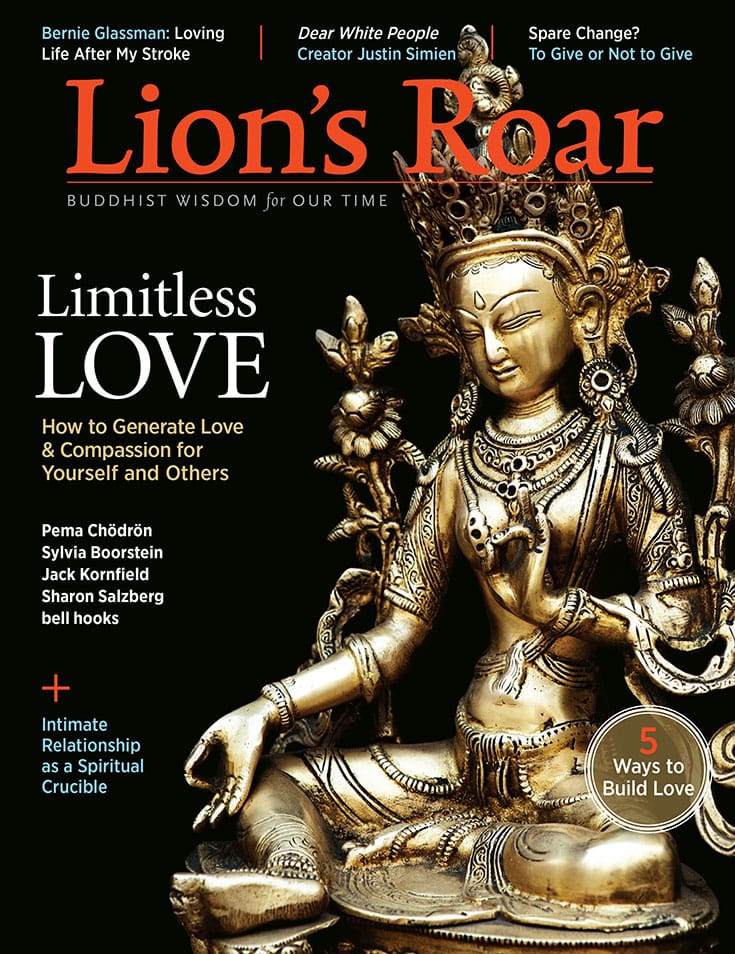 The September 2017 Lion's Roar magazine features teachings on limitless love, and how to generate love and compassion for yourself and others from many leading Buddhist teachers, including Pema Chödrön, Sharon Salzberg, Jack Kornfield, bell hooks, Sylvia Boorstein, and more.
Limitless Love
The Most Important Question by Melvin McLeod
The Essence of the Buddha's Teachings
Sylvia Boorstein on loving-kindness.
Pema Khandro Rinpoche on a bodhisattva's love.
Geoffrey Shugen Arnold, Sensei on the unity of life, love, and practice.
5 Ways to Build Love
Buddhist meditations to generate more love and compassion in your life.
Loving-Kindness (Metta) by Jack Kornfield
Self-Compassion by Kristin Neff
The Practice of Generosity by Sharon Salzberg
Taking and Sending (Tonglen) by Pema Chödrön
5 Baby Steps to Kindness by Judy Lief
The Power of Real Love
Buddhist teacher Sharon Salzberg and renowned critic bell hooks on how the power of love can transform our lives, our relationships, and our whole society.
Living with someone we love, with all its joys and challenges, is one of the best ways to grow spiritually. The awakening happens, says psychologist John Welwood, right in the charnel ground of our delusions.
Plus
Creator of Empathy
Looking squarely at racial division in America, Justin Simien finds universal human experiences we can all relate to. Sam Littlefair profiles the Buddhist creator of Dear White People.
I Can't Believe It's Not Buddha!
You've heard about "fake news," but what about "fake buddha quotes"? Bodhipaksa on why, when it comes to dharma, you can't believe everything you read on the internet.
Real Buddha Quotes… about Fake Buddha Quotes
The Buddha warned that he would be misquoted, and he didn't approve.
The Moment
From Where I Sit
The Real Meaning of Original Sin: Steven Shippee
Q&A
After a Stroke, Still Loving Life: Roshi Bernie Glassman
Heart & Mind
Take Refuge in Your Body by Cyndi Lee
Advice for Difficult Times
Hellooo… Anybody Home? by Sumi Kim
This Dharma Life
Confessions of a Terrible Cook by Lindsay Kyte
Share Your Wisdom
What's Your Most Mindless Moment? Readers respond.
How to Practice
Shamatha by Lama Rod Owens
Beginner's Mind
Buddhism by the Numbers: The 6 Realms
FAQs: Buddhist Proselytizing, Is Mindfulness Buddhism?, To Give or Not to Give?
Who, What, Where: B.R. Ambedkar
Meet a Teacher
Mushim Patricia Ikeda
Books/Reviews
Hot Off the Press
Metta for Me — Excerpted from Heartwork: The Path of Self-Compassion by Radhule Weininger
We review The Best Minds of My Generation by Allen Ginsberg, The Sweeper by Rebecca Hazell, Writing to Awaken by Mark Matousek, and more.
Can you help us at a critical time?

COVID-19 has brought tremendous suffering, uncertainty, fear, and strain to the world.
Our sincere wish is that these Buddhist teachings, guided practices, and stories can be a balm in these difficult times. Over the past month, over 400,000 readers like you have visited our site, reading almost a million pages and streaming over 120,000 hours of video teachings. We want to provide even more Buddhist wisdom but our resources are strained. Can you help us?
No one is free from the pandemic's impact, including Lion's Roar. We rely significantly on advertising and newsstand sales to support our work — both of which have dropped precipitously this year. Can you lend your support to Lion's Roar at this critical time?