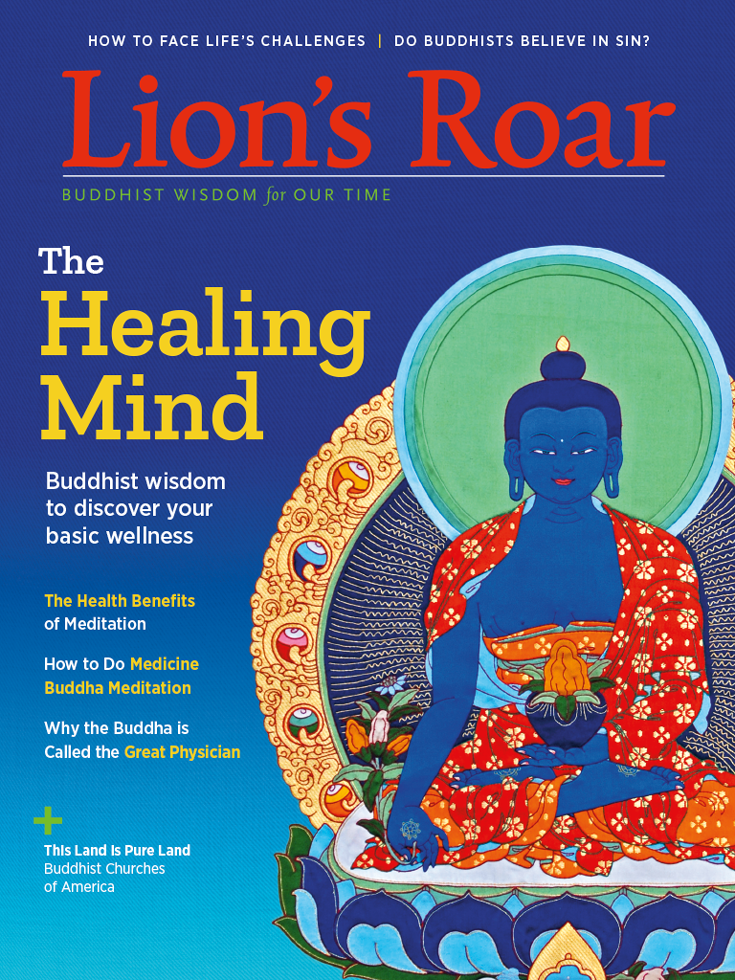 The September 2018 issue of Lion's Roar magazine features Buddhist wisdom to discover your basic wellness. Inside, you'll find true stories of sickness, health, and the basic wellness that transcends them, a profile of Buddhist teacher Robert Thurman, Buddhist teachings on facing life's challenges, and more.
The Healing Mind
Say Yes to the Rest by Lindsay Kyte
Being Well (Whether You're Healthy or Not)
True stories of sickness, health, and the basic wellness that transcends them.
The Heart Breaks by Minal Hajratwala
My Best Chance by Natalie Goldberg
Confusion Becomes Wisdom by Judy Lief
The Wonder Years by Cary Groner
Your Life Is Always All Right by Toni Bernhard
Practice Is the Right Medicine by Jan Chozen Bays
The Dalai Lama Gets Vaccinated by Barry Kerzin
The Buddha is compared to a doctor because he treated the suffering that ails all of us. His diagnosis and cure, says Zen teacher Norman Fischer, is called the four noble truths.
How to Invoke the Medicine Buddha
David Michie teaches us a healing meditation to purify karma and cultivate well-being.
The Healing Power of Meditation
Jill Suttie reports on the benefits of meditation for our hearts, brains, immune systems, and more.
Plus
Buddha's Champion
Scholar, activist, friend of the Dalai Lama, and all-around spokesperson for Buddhism: Jennifer Keishin Armstrong profiles Robert Thurman.
How to Face Life's Challenges
The three Buddhist teachers featured at this year's Lion's Roar retreat teach us ways to work with whatever challenges life presents so we can benefit ourselves and others.
Meeting Ourselves as We Are by Melissa Myozen Blacker
Being Present with Suffering by Justin von Bujdoss
It's All Workable by Mushim Patricia Ikeda
Lindsay Kyte traces the history of the BCA—and the Japanese immigrant experience in America—through four generations of one family.
The Right Speech of Race
Racism festers when we don't talk about it, says scholar Breeze Harper—even in progressive and spiritual communities. Andrea Miller reports.
Breeze Harper on the precarious balance of work and motherhood.
The Moment
FROM WHERE I SIT
The Tragedy and Shame of Buddhist Terror by Hozan Alan Senauke
BODHISATTVAS
Guns to Shovels: Lead to Life
HEART & MIND
Zen Mind, Knitting Mind by Jennifer Urban-Brown
ADVICE FOR DIFFICULT TIMES
No One Like Me by Lama Rod Owens
THIS DHARMA LIFE
Force for Good by Jeff Eisenberg
HOW TO PRACTICE
Gathas by Zachiah Murray
SHARE YOUR WISDOM
How do you express your Buddhist practice through art and creativity?
BEGINNER'S MIND
Buddhism by the Numbers: The 12 Nidanas
FAQs: Sin, Death Books, Altars
Who, What, Where: Dipa Ma
You'll find more Dharma FAQs and other articles for your beginner's mind here.
MEET A TEACHER
Gesshin Greenwood
Books/Reviews
HOT OFF THE PRESS
The Four Noble Truths of Love by Susan Piver
BOOK BRIEFS
We review Sanctuary by Zenju Earthlyn Manuel, My Year of Dirt and Water by Tracy Franz, Buddha's Dog & Other Meditations by Ira Sukrungruang, and more.
Can you help us at a critical time?

COVID-19 has brought tremendous suffering, uncertainty, fear, and strain to the world.
Our sincere wish is that these Buddhist teachings, guided practices, and stories can be a balm in these difficult times. Over the past month, over 400,000 readers like you have visited our site, reading almost a million pages and streaming over 120,000 hours of video teachings. We want to provide even more Buddhist wisdom but our resources are strained. Can you help us?
No one is free from the pandemic's impact, including Lion's Roar. We rely significantly on advertising and newsstand sales to support our work — both of which have dropped precipitously this year. Can you lend your support to Lion's Roar at this critical time?