The September 2019 issue of Lion's Roar features Buddhist wisdom on how to make friends with yourself. Inside, you'll Buddhist techniques to free yourself from guilt, shame, and self-criticism; wisdom from five Buddhists on the front lines of right activism; a conversation between Buddhist teacher Sharon Salzberg and singer-songwriter Rosanne Cash; Buddhist book reviews; and much more.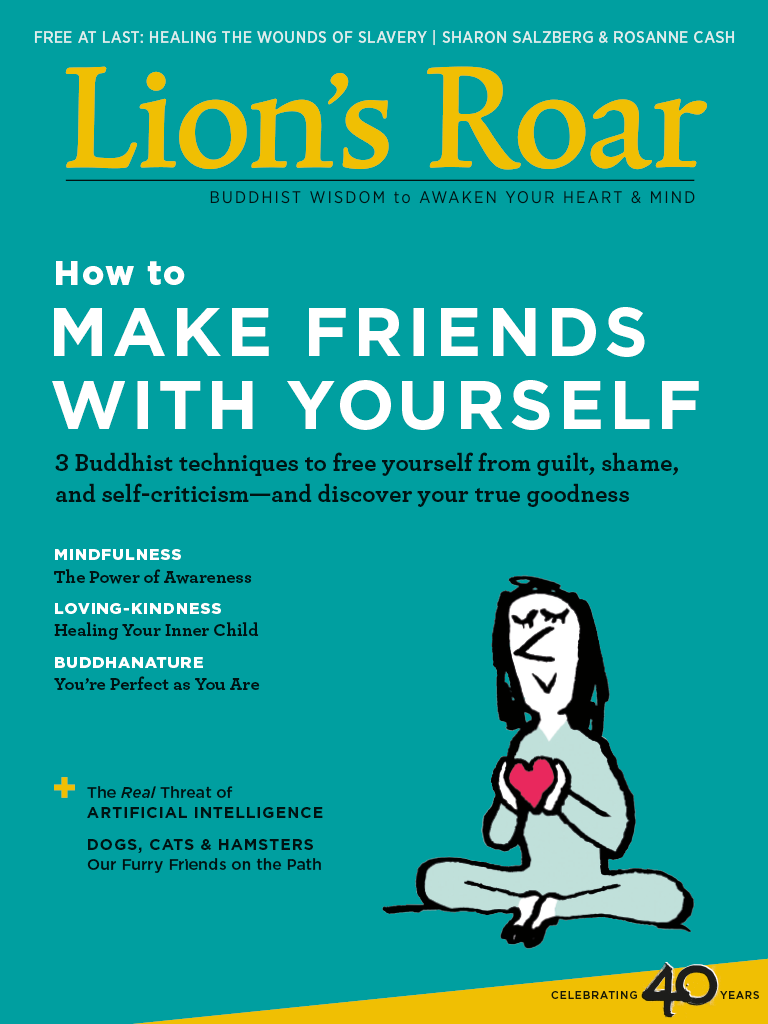 3 Ways to Make Friends With Yourself
The Ultimate Self-Help by Melvin McLeod
Mindfulness: The Power of Awareness
First, stop beating yourself up. Diana Winston on how to use the tools of mindfulness to free yourself from guilt, shame, and self-criticism.
Loving-Kindness: Healing Your Inner Child
Peggy Rowe Ward and Larry Ward explain how to give yourself the love and compassion you deserve.
Buddhanature: You're Perfect As You Are
Why feel bad about yourself when you are naturally aware, loving, and wise? Mingyur Rinpoche on simple ways you can discover your own buddhanature.
Plus
Free At Last
Rima Vesely-Flad reports on Deep Time Liberation, a retreat that takes African American meditators into the heart of slavery's past so they can free themselves from its legacy of trauma.
Loving Your Inner Critic
Singer-songwriter Rosanne Cash and Buddhist teacher Sharon Salzberg in conversation about loving yourself, your work, and—yes—even your pesky inner critic.
Books For Our Journey
Andrea Miller looks at how Shambhala Publications, now celebrating its 50th anniversary, has reflected and helped shape the evolution of Buddhism in the West.
Furry Friends on the Path
The joys, lessons, and sometimes sorrows of living with our animal companions.
Hamsters on the Wheel of Life by Jennifer Keishin Armstrong
A Cat by Any Other Name by Sarah Chauncey
Does My Dog Have Buddha-nature? by Andrea Miller
Buddhism: The Next 40 Years
Continuing our anniversary series, we look at how Buddhists can contribute their insight, compassion, and commitment to a world in trouble.
The Moment
From Where I Sit
How AI Really Threatens Us by Nikki Mirghafori
Share Your Wisdom
What Buddhist quote have you put up in your home or office?
Heart & Mind
We Can Do This! by Mushim Patricia Ikeda
This Dharma Life
How to Draw a Dragon by Tracy Franz
Greater Good
Take an Awesome Walk
Advice for Difficult Times
I Love My Kids But… by Sylvia Boorstein
How to Practice
Koans by Rachel Boughton, Roshi
Inside Buddhadharma
Advice to a Young Woman Teacher by Myokei Caine-Barrett, Pema Khandro Rinpoche, Myoan Grace Schireson, Rebecca Li and Narayan Helen Liebenson
Beginner's Mind
Buddhism by the Numbers: The 5 Powers
FAQs: Vows, Secular Buddhism, LGBTQ Books
Who, What, Where: Dharma Drum Retreat Center
You'll find more Dharma FAQs and other articles for your beginner's mind here.
Meet a Teacher
Thanissara
Books/Reviews
Hot off the press
The Mama Sutra: A Story of Love, Loss, and the Path of Motherhood by Anne Cushman
Book Briefs
We review Cinderella Liberator by Rebecca Solnit, Deep Hope by Diane Eshin Rizzetto, In Love With the World by Yongey Mingyur Rinpoche and more.
THANK YOU FOR READING LION'S ROAR. CAN WE ASK FOR YOUR HELP?
At Lion's Roar, our mission is to communicate Buddhist wisdom in today's world. The connections we share with you — our readers — are what drive us to fulfill this mission.

Today, we're asking you to make a further connection with Lion's Roar. Can you help us with a donation today?
As an independent nonprofit committed to sharing Buddhist wisdom in all its diversity and breadth, Lion's Roar depends on the support of readers like you. If you have felt the benefit of Buddhist practice and wisdom in your own life, please support our work so that many others can benefit, too.

Please donate today — your support makes all the difference.

Lion's Roar is a registered charity in the US and Canada. All US & Canadian donations are tax deductible to the full extent allowed by law.