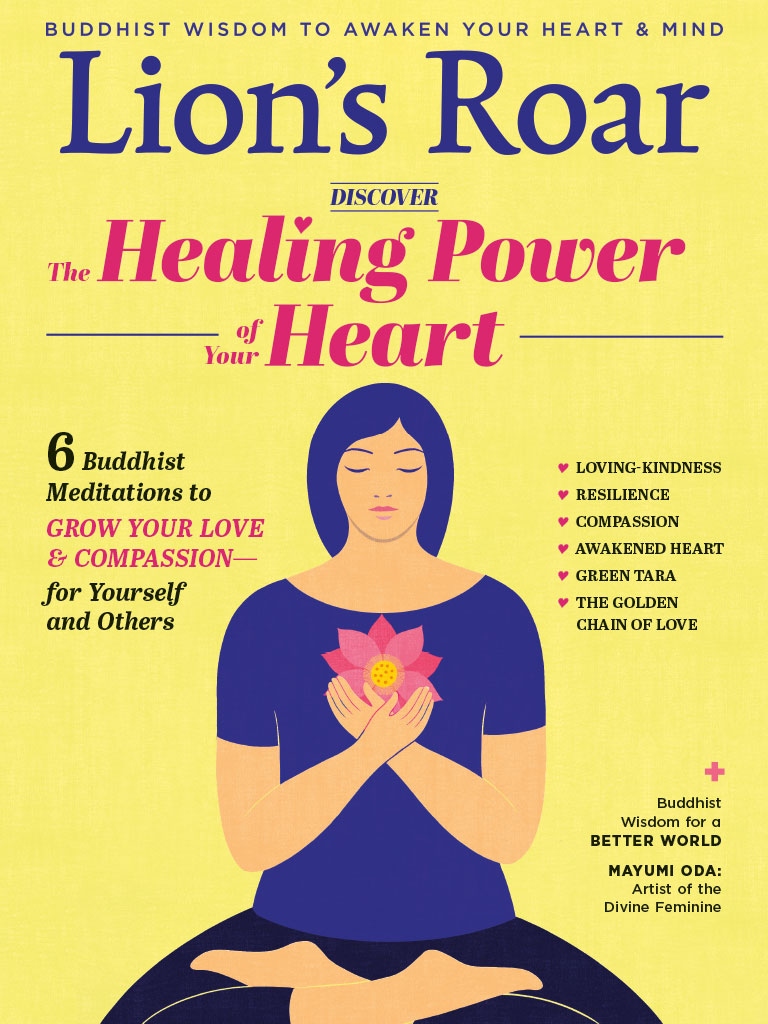 The September 2020 issue of Lion's Roar magazine features Buddhist wisdom and meditations on the healing power of your heart. Inside, you'll also find a profile of artist and activist Mayumi Oda; six meditations for growing love and compassion; Buddhist wisdom for a better world from Zenju Earthlyn Manuel, Trudy Goodman, Norman Fischer; Buddhist book reviews; and much more.
Love Is Not All We Need by Melvin McLeod
The Healing Power of Your Heart
Buddhist wisdom and meditations to grow the healing power in your heart — for yourself, for others, and for a better world.
6 Meditations to Grow Your Love and Compassion
Loving-Kindness: May All Beings Be Happy by Melvin Escobar
Resilience: Self-Care for Tough Times by Shauna Shapiro
The Golden Chain: Guide to a Life of Love by Camille Hamilton Pating
Bodhichitta: The Heart of the Buddha by Bhikshuni Thubten Chodron
Tonglen: A Compassion Prayer that Rides the Breath by Judy Lief
Green Tara: Feel Her Wisdom and Love by Lama Palden Drolma
Stories of Love, Kindness & Connection
My Sourdough Starter by Laura Munson
Love Trumps Hate by Bill Gaston
Angel's Epiphany by Karen Connelly
Plus
Andrea Miller on the art and activism of Japanese American visionary Mayumi Oda.
Our Future Is Now: Buddhist Wisdom for a Better World
At this crucial moment in history, nine Buddhists o er their wisdom about how we can create the kind of caring, just, and peaceful world we all want. Because if not now, when?
Introduction by Jack Kornfield
I Thought I Knew How to Fix the World by Dorotea Mendoza
Put Out the Fires by Sean Feit Oakes
Darkness Is Asking To Be Loved by Zenju Earthlyn Manuel
An Economy Based on Caring by Norman Fischer
Find the Wisdom in Paradox by Kritee
Wisdom x Compassion = Freedom by Duncan Ryuken Williams
Mothers' Love by Trudy Goodman
What Do We Take Refuge In? by Aaron Stryker
Heart & Mind
Finding a Better Balance
Equanimity protects us from emotional overreaction and allows us to rest in a bigger perspective. Christiane Wolf on how to cultivate it.
This Dharma Life
Pa's Smile
Jaimal Yogis's dad explained his final wishes: "I've gotten so much from Buddhism for good living, I'm not going to pass up their tips for good dying."
First Thought
Erased No More
After years of struggling to fit in, Yenkuei Chuang decides to stand up for her identity and heritage as an Asian American Buddhist.
Inside Buddhadharma
Realer Than Real
Zen teacher Judy Roitman couldn't connect with the elaborate cosmology of Mahayana Buddhism until she understood its message: that time and space are flexible and everything is infinitely connected.
Advice for Difficult Times
Overworked & Overwhelmed
"My work and family responsibilities are demanding these days, and it's not an option to drop any of them. I'm not able to do anything as well as I'd like to and I feel stressed, exhausted, and frustrated. How can I survive this?" Furyu Nancy Schroeder answers.
Bodhisattvas
Caregivers for the Spirit
Ministering to the sick, the dying, and their loved ones is hard enough at the best of times. Four chaplains in the Bay Area share what it was like as the pandemic raged.
Meet A Teacher
Gina Sharpe
Books Reviews
We review Love and Rage by Lama Rod Owens, You Belong by Sebene Selassie, Dreams of Light by Andrew Holecek, and more.