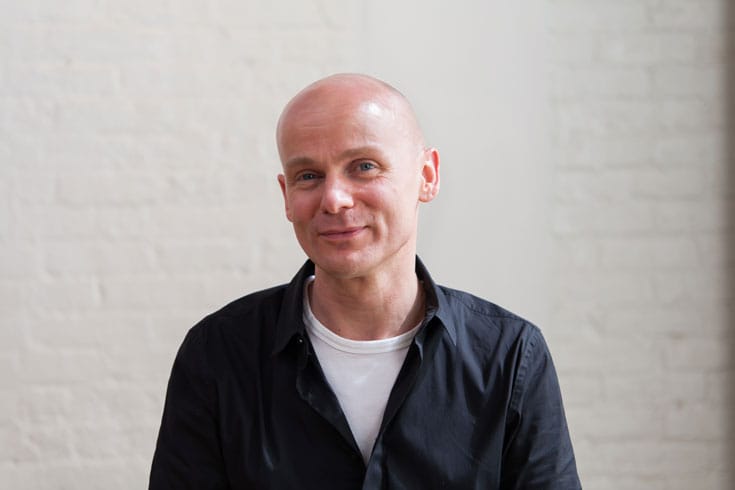 Photo by A. Jesse Jiryu Davis
A conversation with Luke Holland, director of Brooklyn Zen Center's 12-Step Sangha program, which meets weekly, "bringing together people in recovery from addictions of all kinds to focus on recovery in the context of Buddhadharma and the twelve steps."
Tell me about how the 12-Step program at BZC relates to other such dharma-inspired meetings.  
Luke Holland: The meeting here is affiliated with the Buddhist Recovery Network, and Noah Levine (founder of Against the Stream and its related "Refuge Recovery" program) is one of the Board members of The Buddhist Recovery Network, so there's a kind of relationship between the different 12-step and Buddhist recovery meetings that are happening all around the world now. I think there are over 100 registered meetings now. So, it seems to be growing quite quickly.
How does BZC's 12-Step sangha meeting work?
It follows a fairly standard 12-step group format. Once a month, we have a speaker We come and talk about their experience with Buddhism and addiction recovery. The rest of the meetings start off with a twenty-minute sit; just a silent communal sit. Then we generally read some literature in the group.
There's a proliferation of Buddhist recovery authors and writers gathering momentum, so we'll generally read from one or another of those texts, and then it's sort of an open sharing format where people talk about whatever is going on in their own addiction recovery: whatever they're struggling with or not struggling with.
Who comes to the meetings?
It's very open. Some Buddhist recovery meetings are focused on a particular form of addiction, whereas we have a kind of a pan-addiction approach. Some people are coming who have had a history of alcohol or drug abuse. Some people who come have struggled with relationship addictions or gambling addictions or sex addiction, and I think there's a reason for that, though it hasn't been intentional: often, Buddhist recovery groups seem to receive people who've just gotten out of a treatment center and are thirty days clean of drug addiction. They're not people who are fresh into recovery by and large. They're mostly people who have been going to a 12-step fellowship or some other recovery group for a while, maybe for a year or two or three years, and they've found themselves sort of looking for something else. They're well established in their sobriety, in their abstinence, and whatever wreckage they have created has probably been fairly cleared up to some extent. They're looking to deepen their spiritual side of their recovery path.
As you may be aware, some 12-step fellowships put a lot of emphasis on kind of a "God-focused" approach to recovery and some people find that difficult or off-putting, or it just doesn't resonate with them. It's not how they see their spiritual life. I never had any difficulty with that, personally, but I think that brings people in. People are interested in a Buddhist approach to recovery.
So it's not necessarily that they're coming here to get this Buddhist approach because they identify as Buddhist.
More often than not, I'd say maybe "Buddhist-curious" would be a good term. There are some members who would identify as Buddhists. Maybe thirty percent.
What does Buddhism has to offer the field of addiction treatment?
I think its focus on a mindfulness-based approach to abstinence. Other people might not like the word "renunciation," but I would use it — renunciation of self-defeating patterns and behavior and self-defeating patterns of consumption. A friend of mine once described addiction as having twelve pots on the boiler and eleven lids; you keep moving the lids around as things are almost boiling over.
I think that is a very common experience. I'm not qualified to be an addiction counselor myself but I know that a lot of them will say that it's difficult to find an addict who's only addicted to one thing. That's the nature of the condition. It's not so much addiction as compulsivity. I feel that "addiction" is a slightly misleading word because it has a connotation of being trapped by some behavior, some substance or whatever, that you have to keep going back. Whereas, of course, whether it's alcohol or heroin or cocaine or whatever, these things don't have a personality and a gender — the problem is that the addict keeps going to them over and over again. So the core of the issue is compulsive behavior and I think Buddhist practice really gets at the heart of that in a very direct way, [stressing] being with that kind of internal discomfort and not acting on it, not identifying with it. These are ideas and principles which are central to most traditions of Buddhism.
So, it has something to offer in addiction recovery that a lot of people find they can't get at recovery organizations that are focused on one particular substance or behavior. There are food-focused recovery organizations, alcohol-focused organizations, narcotics-focused organizations. An awful lot of people reap enormous benefits, real-life transformation through those organizations. But then find that they're developing a compulsive relationship with something else.
So, Buddhism, I think, offers a way to actually stop acting compulsively in a more holistic way. Sometimes when people come to Buddhist recovery groups part of their attraction is just practical: they feel, "I can't go to five different organizations and work five different programs. I need to try to get it all in one place."
How big is the group?
It varies a lot. I'd say seven or eight core members, and the attendance of any given week will vary: anything from about five up to twenty or twenty-five.
If people aren't necessarily Buddhist when they come to you, much less Zen Buddhist, how are they finding out about this group?
There isn't an explicit outreach program, because one of the principles held dear by most 12-step recovery groups is not getting into promotion. Suffering people look for ways to get out of their suffering and I think that there is just a sort of a viral dynamic through which people attending other recovery organizations hear about us by word of mouth, and come along to check it out.
A common sticking point when we're talking about 12-step programs and the dharma is found around negotiating the idea of the higher power. How does that work in your model?
It's a good question. A good number of people, rightly or wrongly, seek out Buddhist recovery meetings because they want to get away from the pressure to follow a "higher power" or God-focused recovery model of spirituality. We don't focus a great amount of attention on that, because there will be some members who feel quite averse to being directed to talk about God or making God the center of their life. It's fine: different strokes for different folks.
By the same token, it doesn't take a great leap to start thinking in terms of higher power when you look at Buddhism. On a personal level, I am perfectly comfortable with the word "God." I think the Baruch Spinoza God concept is one that marries very comfortably and easily with Buddhism and its ideas of emptiness, and mutual co-arising and interdependence and impermanence. So for those members who do like to maintain that higher-power focus, it's not at all a difficult thing to do. I think Buddhism can be regarded as a perspective on a higher power: the dharma is the higher power, and our continuous interaction and oneness with the rest of the reality can, I think it can be said, easily be looked upon as being a connectedness with a higher power, which is everything else.
The Serenity Prayer has been one of the common features of many recovery groups and we say it at the end of our meeting, but we remove the word God and say it as an affirmation: "May I have have the serenity to…" I would say that reflects a lot of the way our group draws upon some of the sort of spiritual facets of 12-step recovery groups.  It's just that we take out the direct focus on God or a higher power and leave it up to individuals to do without or interpret that however they're most comfortable.