Each Friday, we share three topical longreads in our Weekend Reader newsletter. This week, Lion's Roar magazine associate editor Lindsay Kyte talks about her favorite profiles. Sign up here to receive the Weekend Reader in your inbox.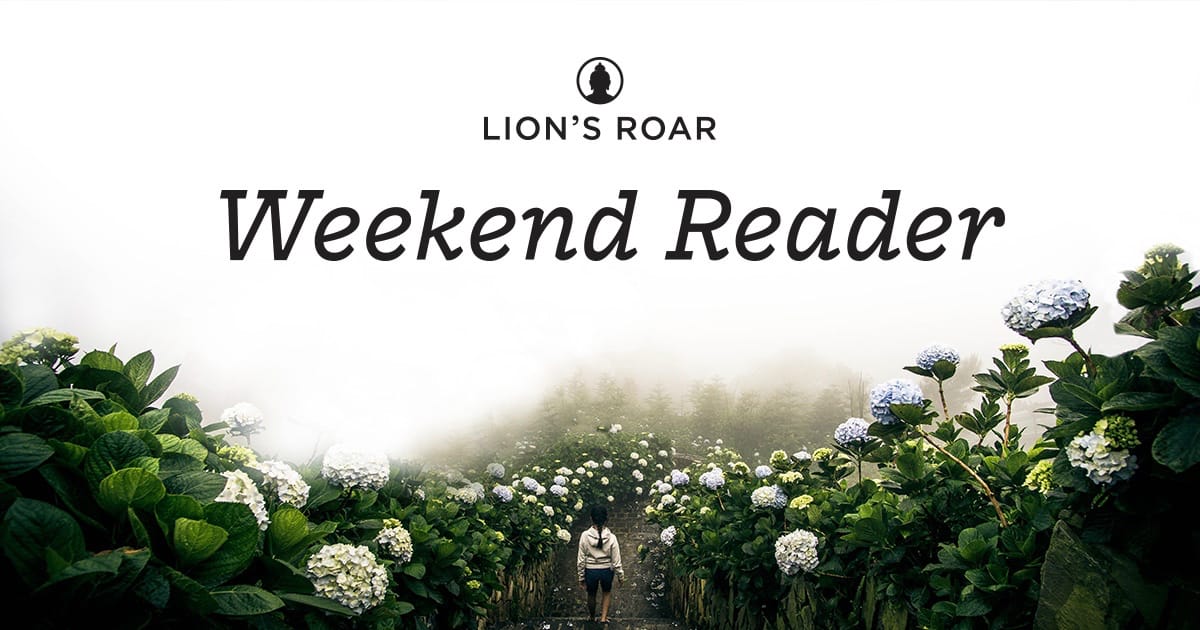 Our editor-in-chief, Melvin McLeod, says I sometimes get "interview crushes." He is right. I am really lucky — I have a job where I get to ask fascinating people questions about their lives, work, and what they're thinking about now. When an interview is particularly good, I often do some sort of victory dance, because I feel transformed by the perspectives that person has offered me, and I can't wait to be able to present these to our readers. Sometimes the victory dance has karate kicks in it. Melvin knows I have just gotten an interview crush when he sees the karate kicks.
So I've gathered some of my favorite karate-kick worthy profiles from Lion's Roar magazine. Rebecca Solnit deserves a whole victory dance party, she was so articulate and interesting, and is so versed in so many subjects. It is she who is credited with identifying the phenomenon behind the the term "mansplaining." Also, Thupten Jinpa, best known as the Dalai Lama's English translator, is a fascinating person who has helped prove to the scientific community that humans are innately compassionate. I interviewed him at his house in Montreal, and he packed me a snack care package for the subway ride back to my hotel. That is compassion in action.
And, more recently, I interviewed Arno Michaelis, a former neo-Nazi who became a Buddhist and transformed his life of hate into a journey of helping others understand our shared humanity. I was visiting my parents while writing this story. My mom was watching a Christmas Hallmark movie where Candace Cameron plays twins while I sat on the couch next to her writing about neo-Nazis. Occasionally I blocked the TV with one of my victory dances, as Arno's way of telling his story is so fabulous. Hope the stories of these inspiring, intelligent people result in some celebratory karate kicks of your own.
—Lindsay Kyte, associate editor, Lion's Roar magazine
Thupten Jinpa is best known as the Dalai Lama's translator, but this Buddhist Renaissance man has many roles—scholar, author, and leader in the dialogue between science and Buddhism. Driving them all, says Lindsay Kyte, is his mission to help us all be more compassionate.
"In my wildest dreams, I never thought I would have the honor of serving the Dalai Lama so closely," says Thupten Jinpa. "For a Tibetan who grew up as a refugee in India, serving the Dalai Lama was also a way to honor the sacrifices our parents had to make in their early years of exile."
Writer and activist Rebecca Solnit fearlessly tells the truth about misogyny, injustice, and environmental destruction. But as Lindsay Kyte reports, she tells us another important truth: we have hope, and it is found in uncertainty.
When I ask Solnit how she describes what she does, she says, "My work has often been about connections between things seen as far apart or disparate — connections to cross fields in disciplines and cross times in cultures. I try and encourage people. I take interest in pleasures and possibilities that are already all around us. I try and connect the present, past, and future in how I tell stories. I try to look for the alternatives and the overlooked entrances and exits."
Arno Michaelis founded a white supremacist gang and was frontman for a white-power metal band. Yet, as he tells Lindsay Kyte, his ideology could not hold up when those he hated met him with love.
"I practiced violence until it was natural, and the violence became who I was," he reflects. "I needed it like fuel, and I would beat other human beings to the point of hospitalization to get that hit of adrenaline."
Yet amid the chaos and bloodshed, something within Michaelis was glimpsing something that didn't fit his violent narrative — the kindness and compassion of people he considered enemies.