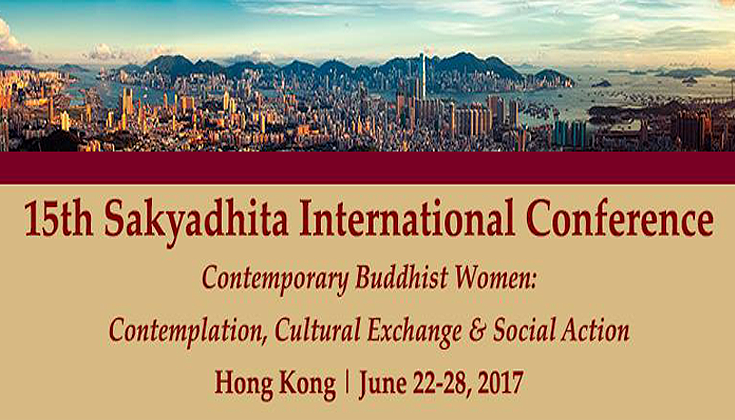 The 15th Sakyadhita International Conference on Buddhist Women will begin on June 22 at the University of Hong Kong, running until June 28. Its theme will be "Contemplation, Cultural Exchange, and Social Action."
From the event's press release:
The theme is meant to be broad enough to encompass many aspects of what Buddhism means to women and to embrace a range of Buddhist women's experience. 'Contemplation' includes personal introspection, mindfulness practice, meditation, and reflection on contemporary life issues.
'Cultural exchange' incorporates interreligious dialogue, indigenous Buddhist experience, inter-generational dialogue, and Buddhist transcultural exchange, expressed through music, literature, drama, painting, social media, and the martial arts.
'Social action' takes many forms, including charitable activities, social entrepreneurship, community leadership, and other ways of transforming society. The 15th Sakyadhita Conference will be a forum for making connections across cultures and traditions, exploring a wide range of Buddhist teachings, values, and techniques for living a meaningful life.
Scheduled panel presentations include:
Buddhist Women Across Cultures
Buddhist Women of Hong Kong
Mindfulness Across Cultures
Building Healthy Families & Communities
Buddhism & Social Action
The Future of Buddhist Education
Female Images of Enlightenment
Gender Equality: Only a Dream? Or, Are Buddhists Really Equal?
Monastic Life in the Modern World
Religious Status of Women Buddhist Practitioners
Western Buddhist Women: Tradition & Interpretation
Stereotypes, Regulations, and Obstacles

Interactive workshops at the conference include:
The Buddha Is in the Classroom
Western Buddhist Practitioners Contributing to the Gender Debate in Buddhism
The Spirit of Precepts in Korean Buddhism
Applied Loving-kindness Meditation for Schoolchildren
Green Tara and Her 21 Emanations
Chaos, Creativity, Spirituality, and Gender with Ruth Richards
Asking All Beings for Help with Climate Change

For more information, and full descriptions of the panels and workshops, visit the conference website.