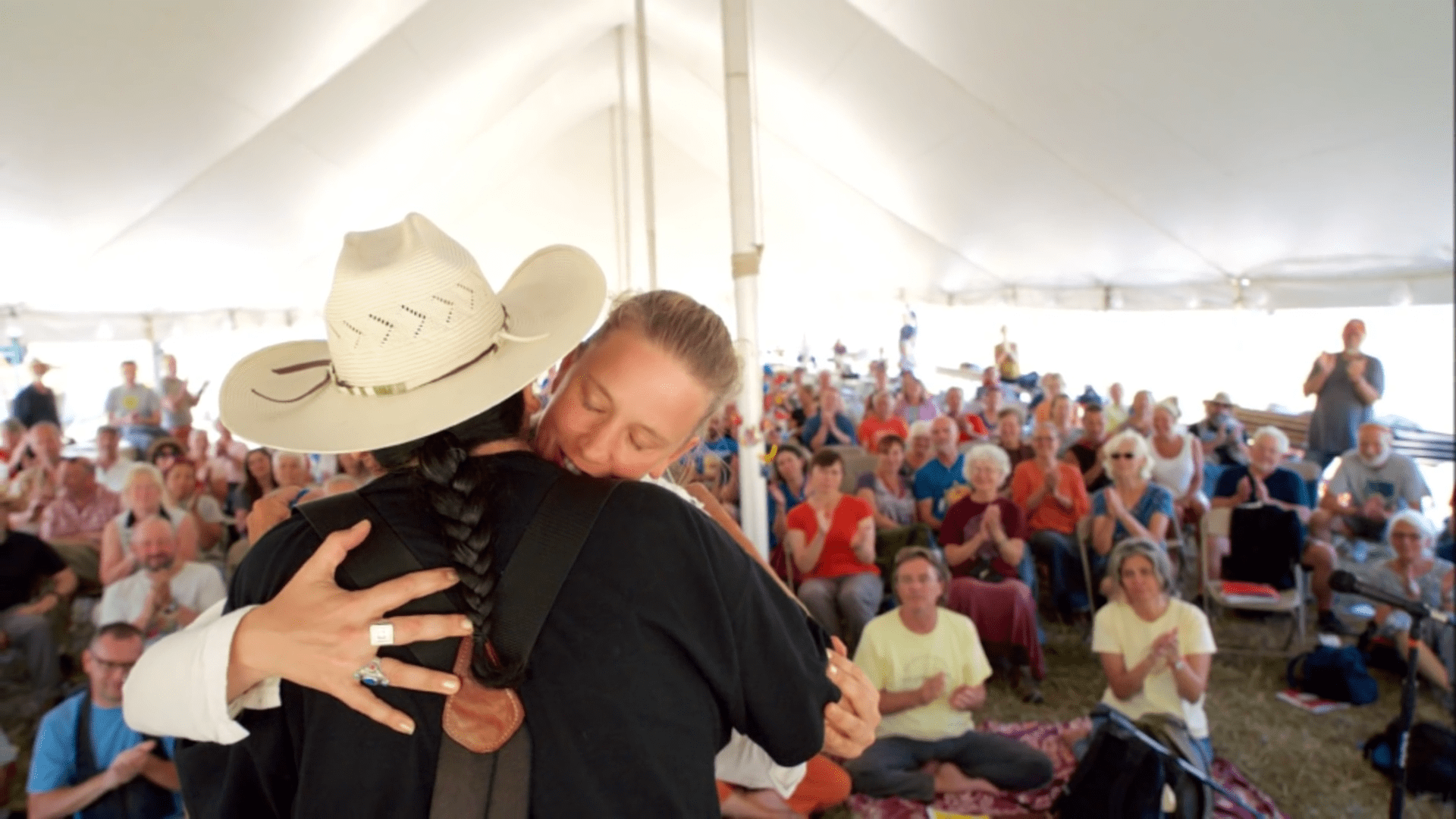 Actor and practicing Zen Buddhist Michael O'Keefe invites you to join him, and the Zen Peacemakers, to learn from, support, and meditate with Native American leaders. "There is nothing like it," he says, "and I wouldn't miss it for anything in the world."
From July 25-29, 2016 the Zen Peacemakers will conduct the Native American Bearing Witness Retreat in the Black Hills of South Dakota. The Lakota people call the site of the gathering "Chante Wamakognake." This can be translated to mean, "The Heart of Everything That Is." In these hills, in this very spot, everything emanates from the heart of Lakota cosmology. It is there that we will gather. To take the point a bit further, the very distinction between the way in which The United States of America and the Natives identify the land is one way our retreat begins.
We have different narratives about the establishment of Western Culture in the Americas. Those differences are stark, and a source of sorrow in Indian Country. If you have realized that Indigenous people have suffered immeasurably under the imposition of civilization, or are open to learn more about that, then this retreat is for you. If you are prepared to sit and listen to elders from a variety of Native traditions tell their moving stories of enduring environmental racism, the poisoning of their water and land, and the attempt to eliminate their culture, then this retreat is for you.  If you are eager to support the Indian Youth Movement, and learn about the concerns of the younger Native generations, then this retreat is for you. If you are prepared to leave behind the safety of your dharma center, temple, or monastery, and meditate in the cultural vortex that both separates and conjoins Western Civilization and the Native World then this retreat is for you.
Bernie Glassman, founder of Zen Peacemakers, had a unique vision for Zen Practice, and for the last twenty years has brought that vision to sites like Auschwitz, Rwanda, and Bosnia-Herzegovina. By embracing the three tenets of the Peacemakers, Not Knowing, Bearing Witness, and the Actions that arise, we attempt to create the environment to humbly redress the unfortunate conditions in Indian Country.
Grover Gauntt presents Bernie Glassman with a ceremonial blanket, and receives another blanket to present to Eve Marko.
Steve Newcomb and Michael O'Keefe after Steve has received a White Buffalo blanket.
Michael O'Keefe and Tiokasin Ghost Horse, at the mics, "riffing on a theme before the people."
It is there the realpolitik of civilization's rueful affect is to be witnessed. In Indian Country there are thousands of unsafe, abandoned uranium mines. A teenage suicide pandemic, alcoholism and drug abuse, and the lingering affects of historical trauma that has passed from one generation to the next. All of us, Americans, Canadians, and all modern cultures throughout Central, South, and North America are living in a world that was founded upon, among other things, a genocide that is ongoing. But we don't want to talk about that, do we? It can be overwhelming to contemplate, or even read about. Yet, there it is.
Whatever love we have for our hometowns, or colleges, or our parks and wilderness rests upon bedrock of denial and deceit.  There are almost five hundred treaties between the USA and Native Nations and the USA is in violation of all of them.  Political prisoners like Leonard Peltier languish in prison after unfair trials while we name our sports teams "Indians," "Braves," and "Redskins."  There are no metaphors to capture the depth of the disconnect here.
It's my opinion that unless we address this fundamental denial of who we are as a culture we will never move forward to realize the ideals that Western Civilization espouses, yet blithely ignores in its own self-interest. But that's just me. How do you feel about it? And are you willing to come and share that with us? I hope so.
One other thing, with all of the problems listed above the Native leaders are resilient, empowered, good-natured, and possessed of great humor, and abiding love for the Earth, their mother, and all its children. Us included. And to be with them is to share their inherent joy, and insight about the ongoing mystery of our lives. There is nothing like it and I wouldn't miss it for anything in the world.
Birgil Kills Straight, founder of the Indigenous Law Institute, and the Big Foot Ride, Charmaine Whiteface, biologist and environmental activist, Alice Sierra, a descendant of American Horse, and Tuffy Sierra founder of the Takini Network, dealing with issues of historical trauma, will all be there. Violet Catches, a linguist whose written version of Lakota has been recognized as the official written language, and Steve Newcomb, also a founder of the Indigenous Law Institute and expounder of the Doctrine of Discovery, will also be in attendance.
They will be joined by sundancer Tiokasin Ghost Horse, host of Indigenous Voices on WBAI, who will lead us in prayer and contemplation.
This is a unique opportunity to directly experience Indian Country and sit in the presence of Wakan Tanka, the Great Spirit, speaking through Indigenous people from the heart of everything that is. Please join us. It is guaranteed to change the way you view the Native world, your world, and yourself.
Watch a slide show of images from last year's retreat: