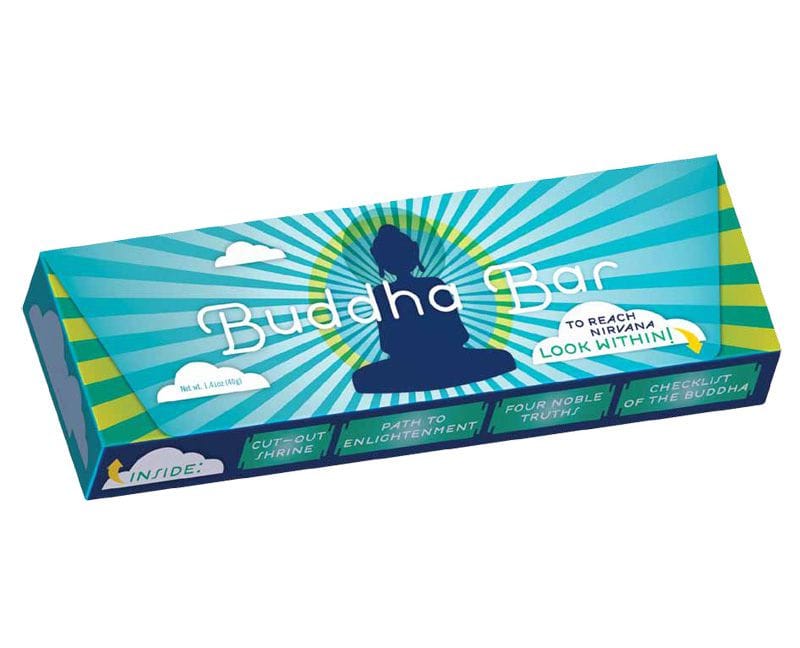 What's a Dharma-Burger?
Well, it's any example of Buddhist thought or imagery being infused into advertising or marketing—and, therefore, pop/mass-culture. As you might imagine, these "Burgers" are often cheesy, piled high with dubiosity, and fragrant with the pungent aroma of pure co-optation.
But they can be tasty, too. To wit: The Buddha Bar, created by the odd, fun-loving people at The Unemployed Philosopher's Guild (UPG), which sells a host of oddities including "EnlightenMints," and "Freudian Slippers."
It's tempting to write off the Buddha Bar as simply a lightweight cash-in (as I have with the EnlightenMints). After all, there's just a generic "fruit & nut bar" inside. Outside, though, is where the flavor is.
As UPG's Jay Stern (title: "Associate Philosopher") told me, a lot of work goes into designing and factchecking the packaging of a product like the Buddha Bar. And it shows. Featured are a cut-out "on-the-go" Buddhist Shrine; two quizzes ("10 Characteristics of the Buddha," one reads, "How many do YOU have?" — with original Sanskrit words included), and playful breakdowns of Buddhist thought. "The 8-fold path leads to the end of suffering," the packaging counsels us. "The Buddha Bar provides essential vitamins and minerals to send you on your path, but when you're finished eating, I'd think about getting on this. Seriously, the 'end of suffering' is not to be missed." Still another quiz, stashed away next to the Nutrition Facts box on the label, fearlessly employs Pali terms to ask the consumer, "Are you a Sammasambuddha, a Paccekabuddha, or a Savakabuddha?"
I have to admit, when I first encountered the Buddha Bar, I turned up my nose at it. But in the end, I found myself lauding its mix of teaching and playfulness. As for that generic, hard-as-a-rock fruit-and-nut bar? On that, I'd like to remain blissfully ignorant.