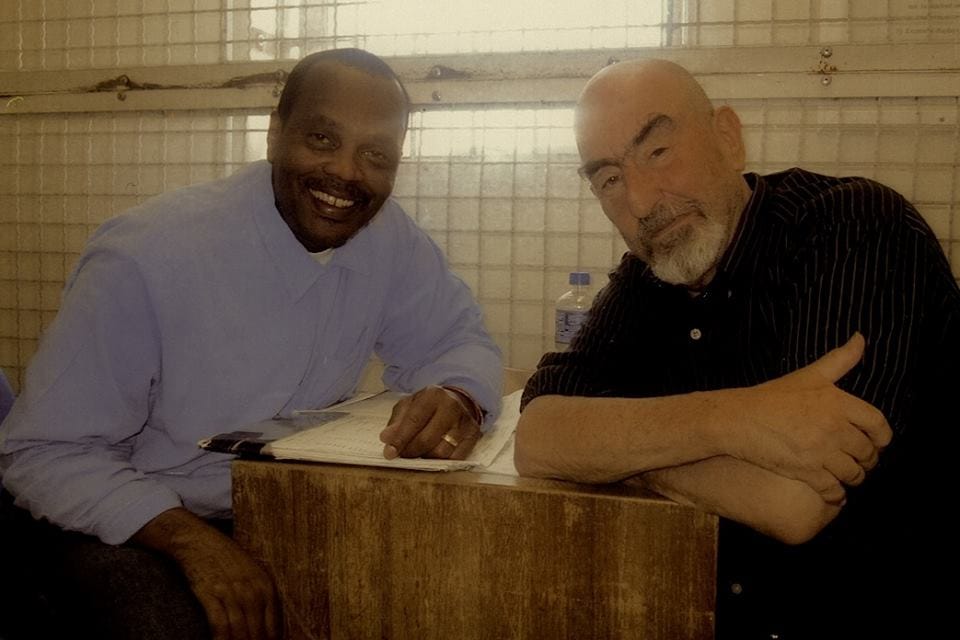 Jarvis Jay Masters (left) with Alan Senauke, via Facebook.
The conviction of Jarvis Jay Masters, a well-known Buddhist writer who many people believe has been wrongfully convicted of first-degree murder, has been affirmed today, according to a statement shared by The Campaign to Free Jarvis Jay Masters, a website dedicated to the facts of his case.
Dear Friends and Supporters of Jarvis Jay Masters,

The California Supreme Court today affirmed Jarvis's conviction. This is of course a blow, but nothing close to a knockout. First, his attorneys are reviewing the opinion to decide whether to file a petition for a rehearing in the California Supreme Court and/or asking the U.S. Supreme Court to review the case. More important, the California court still has before it Jarvis's action for Writ of Habeas Corpus, which has been to a hearing, is fully briefed, and only awaits the court's call for an oral argument and decision in that part of the proceedings.

The full opinion by the CA Supreme Court can be read at their website, here is the link: http://www.courts.ca.gov/opinions-slip.htm

We will do our best to keep you up to date as events unfold.
Frequent Lion's Roar / Buddhadharma contributor Alan Senauke had written on his Facebook page this weekend in anticipation of today's ruling: "This ruling will determine whether his conviction will be set aside or confirmed. It is the crunch moment Jarvis and his friends have been waiting on for many years. Please hold him in your heart in the long hours of this weekend. May all beings be free."
Masters' case is famous and well documented, as evidenced by FreeJarvis.org. The site is packed with details, and also provides a concise summary of the case:
Jarvis Jay Masters is a widely-published African American Buddhist writer living on San Quentin's Death Row. Thousands of people have read his stories and essays. A growing international community of concerned citizens is calling for his wrongful conviction to be overturned. This website was created by the Committee to Free Jarvis Jay Masters. It does not originate in San Quentin.

Jarvis Masters was convicted of participating in the killing of a prison guard, Sergeant Howell Burchfield, despite the fact that he was in another part of the prison when the guard was killed. Another prisoner was convicted of actually stabbing Sergeant Burchfield, and a third man of ordering the killing. We have deep sympathy for the Burchfield family's loss, and while we respect their desire for justice, we believe that Jarvis is not guilty of the crime for which he alone was given the death sentence.
Previously on LionsRoar.com
Finding Freedom: The Death Row Journey of Jarvis Jay Masters (2007)
A review of Masters' book That Bird Has My Wings (2010)