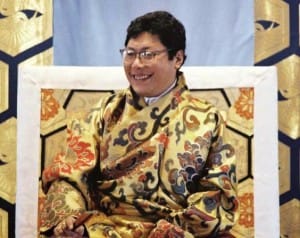 Chögyam Trungpa Rinpoche introduces the Shambhala vision in "Jolly Good," a previously unpublished teaching in our November magazine. "There is a natural healthiness and sense of goodness we can all experience personally," he says. "Then we will discover what kind of joy is needed to help the world. We find that the joy of warriorship is always needed."
We are going to discuss the ground for building an enlightened society. No matter where we are in the world, there is a need for enlightened society, wherever natural disasters hit. In this case, "natural disaster" refers to aggression, passion, and ignorance. These kinds of natural disasters occur in the minds of people. They may be easy or difficult to deal with, but nonetheless they are workable.

If a building collapses, you spend thousands of dollars to fix it. If a hydroelectric dam breaks, it may cost millions of dollars to repair. In some sense, the disasters in the mind are cheaper to fix, but on the other hand the solution could be more demanding, because it requires personal attention and individual awareness. It is up to us to realize how and why and in which way we could bring about an enlightened society. Passion, aggression, and ignorance are regarded as problems or obstacles to this, but they are also part of the working basis.
"Jolly Good" is now available online in full; click here to read it. The Shambhala Sun has been commemorating the 25th anniversary of Chögyam Trungpa's death with a yearlong series of previously unpublished teachings. You'll find more of his teachings on our Chögyam Trungpa Spotlight Page, and look for the final installment in the Ocean of Dharma series — "Unconditional Beauty," about dharma art — in our January magazine.
You might be interested to know that the Halifax Shambhala Centre has just announced that Sakyong Mipham Rinpoche, Chögyam Trungpa's son and the leader of Shambhala International, will be giving the keynote address at Shambhala Training Level I in January. The weekend course introduces the Shambhala teachings and the concept of basic goodness, and is open to everyone — click here for more information about the program.