Is it possible to have a student-teacher relationship through email or the internet? Karen Maezen Miller wonders.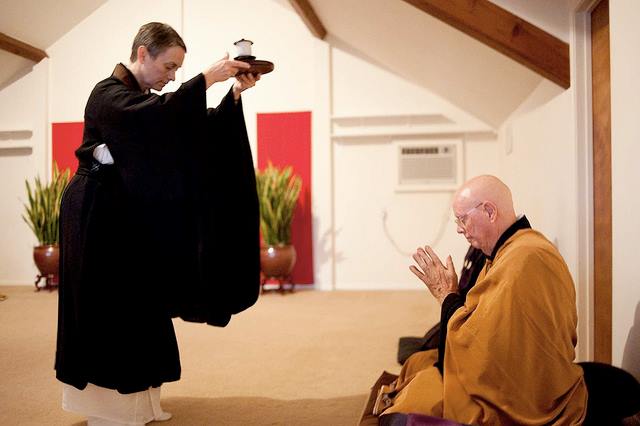 A special transmission outside the scriptures;
No dependence on words and letters;
Direct pointing to the mind of man;
Seeing into one's nature and attaining Buddhahood.
– Bodhidharma
Traveling the country as I am right now, I am encouraged by what I find. People are hungry for the practice of Dharma. More precisely, people are hungry, whether or not they realize that a practice is the only thing that will satisfy their longing.
So it's natural to be asked what I think about online teaching. Is it possible to have a student-teacher relationship through email or the internet? Others may disagree, but I don't think so.
To be sure, online teachings can inspire and provoke. But they do not teach, except in an intellectual way. The point of our practice is to literally move beyond limited and ego-bound intellectual understanding, to follow the pointer outside words and letters. Only then do we enter true mind and see our inherent Buddha nature.
When I first started meditating on my own, I'd taken up yoga as well. The studio owner gave new students an orientation and invited us to ask questions. I asked only one: "Who was your teacher?"
He said the name of a famous author whose bestselling paperbacks were on my own reading list. He hadn't studied with that teacher; he'd read the books. I didn't know the answer I was looking for when I asked the question, but I do now.
A book may teach, but a book is not a teacher.
A teacher may find fame, but a teacher is not a celebrity.
A teacher comes from a line of teachers and completes a length of training that he or she freely admits is never complete.
A teacher is rarely found, and yet astonishes you with his or her complete availability.
A teacher doesn't ask much of you — not your life, not your loyalty, and not a high fee for a once-in-a-lifetime opportunity.
A teacher waits.
A teacher waits for you to make the first move, and all the moves after.
Meeting a teacher face-to-face is how you meet the teaching.