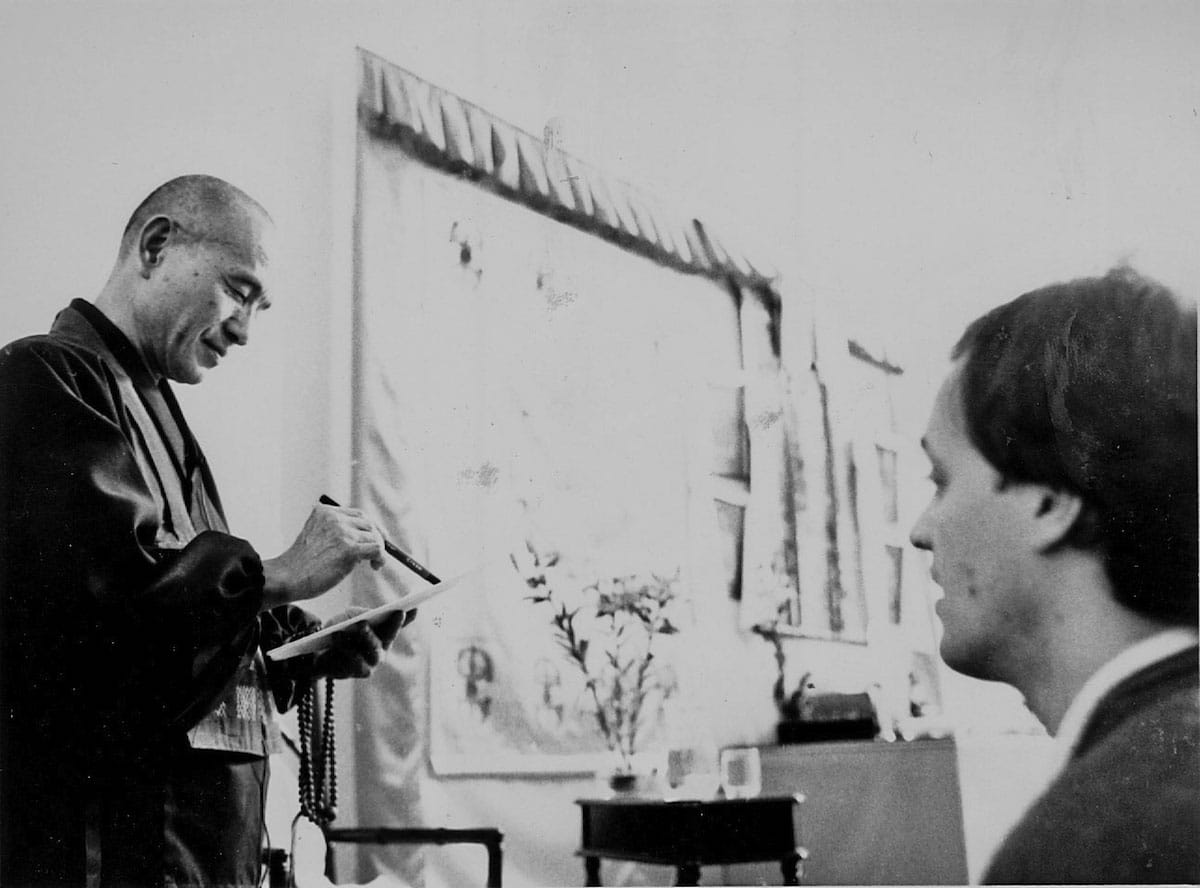 Karen Maezen Miller's teacher, Maezumi Roshi. Photo by
Big Mind Zen Center
.
Karen Maezen MIller looks at the function and the importance of the teacher in meditation practice, and warns against those who take your life for themselves.
Often people ask me whether a teacher is necessary, or whether a teacher can be harmful, and how to protect themselves from exploitation.
This is an important question, because it points to the heart of all our relationships, whether those relationships are with a person, place or thing. Frankly speaking, we always expect to get something out of our relationships – something like happiness or wholeness, even something as benign as respect or validation. When we expect to be enriched by a relationship we invest ourselves in an external source of fulfillment. We place the responsibility for our own well being in something or someone else: a better job, a newer city, the right mate, a benevolent teacher or wise leader. If we look closely, we might see how deeply we want to relinquish responsibility for ourselves.
That never works, and if it appears to, it doesn't work for long.
Shortly after I began practicing with Maezumi Roshi in the early 1990s, I felt as though I should devote my life to his direction. This seems like a natural stage of any relationship, whether spiritual or otherwise. We want to express and affirm our commitment. "What should I do?" I asked him. "Should I come to practice with you more often?"
He answered: "I want you to practice with me and without me." Over the years, after his death, and as my relationship with his successor Nyogen Roshi has matured, I've appreciated the subtlety of his response. He was giving me back my life, even as I was shoving it at him. Good teachers seem to be the ones who let you keep your life and all the trouble in it. Your life, after all, is your practice.
Still, Maezumi Roshi gave me plenty of direction. He sent me dozens of recordings of his talks and teachings, inviting me to listen and transcribe them. Up to now I have made only intermittent efforts to do so. The treasure is not lost on me, however. I am resolved to listen to his voice every day and assemble it in a new book. I don't know what the book will say, but I know how it will start.
Today I opened up an old file, a partial transcription of Maezumi's talk given 16 years ago on the fascicle "Gyoji," translated as "Continuous Practice," from Dogen Zenji's seminal work, the Shobogenzo, or "The Treasury of the True Dharma Eye." I will share a passage with you so we can still practice with and without the masters of old:
"Sharing the Shobogenzo with you means a lot to me. I must admit that when I am alone, I don't study and read the Shobogenzo in the same way. My own practice is very much encouraged by yours. So, at the beginning, I should like to express my thanks to you. I owe my practice to you." – Maezumi Roshi