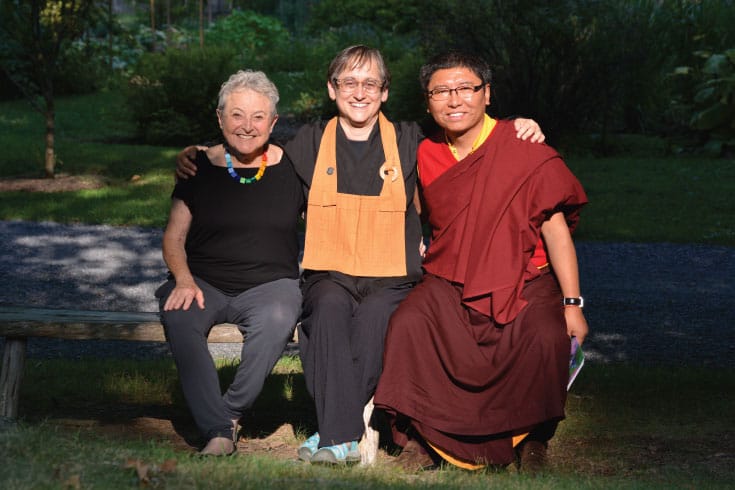 Sylvia Boorstein, Melissa Myozen Blacker, and Tsoknyi Rinpoche. Photo by Bill Sweeney.
"Waking Up in Every Moment," this year's Shambhala Sun Community retreat/weekend at Omega Institute, wrapped up Sunday morning, and we want to thank all those of you who joined in — whether in person at the Omega campus, or as one 2,000+ people who registered to watch the livestreamed talks as given by our teaching faculty of Tsoknyi Rinpoche, Sylvia Boorstein, and Melissa Myozen Blacker Roshi.
We feel so fortunate to be able to bring these teachers — from the Tibetan, Theravada/Insight, and Zen traditions, respectively — together with our readers for a weekend of practice, encouragement, and community. The talks were lively and meaningful (and often quite funny!), with teachers and retreatants alike bringing their best to the proceedings. Buddhadharma editor Tynette Deveaux, Shambhala Sun assistant editor Lindsay Kyte, and myself were there too, and we truly enjoyed meeting and practicing with so many readers-turned-friends. We're looking forward to doing something like this again soon.
And it's not too late to for you join in! Omega's site is still offering access to the teachers' videos. To register, just go here, and you'll have online access to the talks.