If you happen to be driving along and you see a man in an orange reflective vest riding  a bicycle filled with supplies, it might be Daeung Sunim – a 42-year-old Korean Buddhist monk currently biking across the Americas on a journey of self-discovery.
When his friend Dave Pope asked him what motivated his decision to go on such a demanding journey, the monk softly, humbly, replied, "To test my spirit."
The journey will take him through Canada, the United States, Mexico, and South America.
Daeung Sunim became a Buddhist monk when he was 19 in South Korea, and this journey marks the first time he's ever been on this side of the world. Given Sunim's limited language skills, lack of support network, and few contacts, his friend Dave Pope worries. "So far it's been tough going. Most people I contact in towns where he is headed think it's some sort of scam," says Pope. "The real tough going will be once he hits Latin America. I'm afraid for his safety in Mexico, Honduras, and Colombia."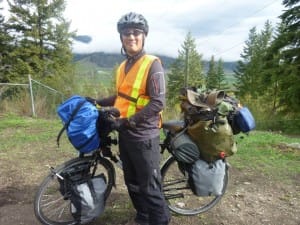 Pope has set up a Facebook page to help folks stay up to date on Sunim's whereabouts while in North America, in the hope that those on the path of his long journey might lend him a warm bed and hot meals along the way. "Sunim is a kind and gracious monk, who will positively influence the lives of those he encounters, even if just for a day," Pope says.
Pope, who doesn't speak much Spanish, hopes that he might find a volunteer to assist Sunim in South America. "I'm looking for someone who speaks Spanish to volunteer time to do what I am doing in North America."
WHAT YOU CAN DO TO HELP SUNIM
First, go to the Facebook page. Click on Photos and see what he and his bike and gear look like so you know what to look for.
If you can offer Sunim a place to sleep for a night, a meal, or even just a cold drink, join this group and post it, or email your kind offer to Dave at

[email protected]

If you live along his route, and he is in your area at the time, put out a sign that says SUNIM PLACE TO STAY or SUNIM PLACE TO EAT, or SUNIM COLD DRINK. Sunim only has sporadic email access, so sometimes a sign is the only way to contact him if he is in your vicinity. You can keep track of his progress in this map.
If you live off of his route but want to help, put your address on the sign, place it along his route, and he'll find you with his little GPS unit. I'll update his whereabouts and his route whenever I hear from him. You can also post your kind offer or email it if he hasn't reached your vicinity yet.
If you know someone who lives along his route, forward the Facebook page to them and ask for their kind support.
If Sunim stays with you, please join the group, take pictures, and post your photos and experiences on this page.
If you see Sunim on the road, offer him a place for the night, or a meal, then post the experience.
Even if you just see him, post the sighting to help us keep track of his progress.