Elaine Pierce describes her mother's moving journey of forgiveness.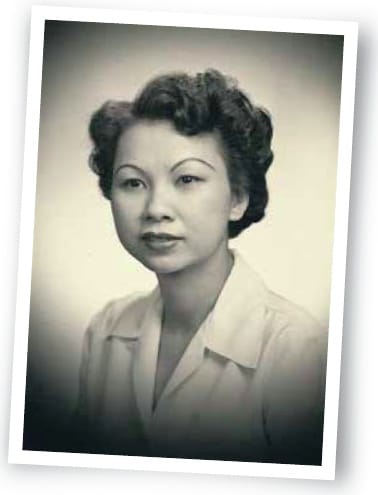 My mother was born in 1922 in Kuala Lumpur, the capital of what was then the British colony of Malaya. As the only daughter of a prosperous Chinese merchant family, she enjoyed many luxuries, such as her personal amah, or servant, and the delicacies that were served at every meal. Her own mother was a formidable character. Although in my grandmother's youth women were still purchased like property, she managed her own finances and routinely traveled to the commercial district to make deals on commodities with the menfolk. She also delivered food and medicine to community members in need, her daughter in tow.
At age thirteen, the first blow in Mom's life occurred when her much-revered mother became ill with diabetes. Mom dropped out of school for several months to care for her until she died. Soon afterward, her father took a young second wife and, in time, Mom acquired seven half-siblings. These events, however, did not interrupt her life of privilege; on a typical Saturday evening she'd gather up her girlfriends in her stylish convertible on their way to an elegant dance at the British Embassy, all of them attired in French shoes and custom-tailored silk cheongsam dresses with thigh-high slits on one side.
Then came World War II.
The British woefully underestimated both the resourcefulness of the invading Japanese troops, who nimbly commandeered bicycles to carry out reconnaissance missions in the jungle, and the quantity of heavy artillery and tanks that the Japanese had brought with them. Within seven weeks of landing on the coast, the Japanese military advanced into Kuala Lumpur, beginning an occupation of the country that would last almost four years. Of the country's three major ethnic groups — the Malays, Indians, and Chinese — the Japanese persecuted the Chinese most cruelly, due to longstanding enmity between their two countries. Around fifty thousand Malay Chinese were massacred during the occupation.
Suddenly, Mom's family was plunged into insecurity and scarcity, having to subsist on vegetables that they grew in their backyard. Her father built a platform hidden in a dense rubber plantation where the women could hide to avoid being raped when Japanese soldiers marched through town. One night, Mom was huddled there with her female relatives and house staff when she saw tiny lights coming down the hill. "They've found us!" she shuddered, only to realize with profound relief that she was looking at fireflies.
At the time, my grandfather owned a row of shops with living quarters above. The Japanese, coveting the building materials, told him that he had twenty-four hours to tear down the building or be beheaded. This forced him to throw his tenants and their possessions into the street with no advance notice.
Mom loathed having to kowtow to the Japanese and learn their language. Her school was among the many that were disbanded. Just before the war started, Mom's college entrance exam papers had been sent by ship to Great Britain for grading. For the duration of the war, she did not know the fate of those papers or whether she'd ever be able go to college. At long last, she received the good news that she had not only passed but had also been awarded a scholarship. When asked if she'd like to go to England to study, she sniffed, "Not to the country that abandoned us to the Japanese!" Instead, she boarded a ship for San Francisco, where she knew no one, and set out to build a life for herself.
As the years went by, her war stories were recounted less frequently, with less acrimony. Mom had no prejudice toward Japanese people in general. But clearly, her wartime experience was the pivotal force that determined her trajectory in life and her dominant personality characteristics: her drive, ambition, and blunt, confrontational nature, as well as the fiercely protective energy she focused on her family.
Although there was always an altar with a diminutive ivory Kwan Yin statue in our home, I didn't think my mother was a particularly observant Buddhist when I was young. It turns out I was wrong. Going through her papers after she died, I found decades of receipts for offerings made to the various Buddhist temples that she encountered during her well-traveled life. Eventually, she became a long-term member of the Hsi Fang Temple in San Diego, and when she talked about the nuns who calmly and capably conducted the weekly services and charitable work of this temple, I detected a note of pride and admiration in her voice—Mom always did get a kick out of seeing strong women in charge. Their dharma talks and meditation guidance were of great comfort to her both when my father became terminally ill and when her own health began to falter.
Last fall, Mom became confined to a wheelchair and was unable to speak above a whisper due to metastatic breast cancer. Did it slow her down? Barely. Every day that she could physically manage it, she and one of her caregivers were out and about playing dominoes at the senior center, going for a drive by the ocean, getting a massage, or visiting restaurants, movie theaters, casinos, orchid shows, or her hair salon. She refused to miss one minute of her life, and in the company of others her smile could still light up a room.
The last movie she and I saw together was Gone with the Wind. Even though she was somewhat confused by that time, I could see her intently watching the TV. It occurred to me then that the tale of Scarlett O'Hara was a fitting metaphor for Mom's life, minus Scarlett's ruthless conniving and cruelty. There's a scene after Scarlett returns to find Tara destitute and her father insane. She's digging through the earth with her bare hands, looking for some roots to eat, when she stands up, silhouetted against the sky, and raises a clod of dirt in her fist. "As God is my witness," she exclaims, "I'll never be hungry again!" Yep, that's Mom, I thought.
Two days before she died, Mom asked her young caregiver, Angie, to take her to a sushi restaurant, even though she'd never before been interested in Japanese food. Mention sushi to her and she'd always wrinkle her nose — "Ugh, raw fish." But that was her request, to go out for sushi!
One of Mom's pleasures was giving Angie first-time experiences, so she suggested some items for Angie to order, yet only nibbled a few grains of rice herself. I don't know how she kept from fainting that day, because by then choking prevented her from taking all but the tiniest sips of the smoothies we gave her and she was making virtually no urine. She also had very poor control of her hands, which were weak and tremulous. At the end of the meal — with great concentration — she took more than ten minutes to carefully and legibly write on the receipt, "Thank you. That was very good. Helen Pierce."
What I infer here is that, despite a resentment that had long ago ebbed, Mom decided that there was one vitally important final thing that she needed to do; she needed to formally forgive the Japanese soldiers for what had happened to her family during the war and somehow transmit her forgiveness. Writing her note was the intimate, personal ritual that she devised to accomplish this.
The Buddhist monk Thanissaro Bhikkhu writes, "The Pali word for forgiveness — khama — also means 'the Earth.' A mind like the Earth is nonreactive and unperturbed. When you forgive me for harming you, you decide not to retaliate, to seek no revenge. You don't have to like me. You simply unburden yourself of the weight of resentment and cut the cycle of retribution that would otherwise keep us ensnarled in an ugly samsaric wrestling match. This is a gift you can give us both, totally on your own, without my having to know or understand what you've done."
The dignity and wisdom of my mother's small act of kindness feels to me like a blessing we are all invited to learn from. It makes me wonder, what burdens can I release through forgiveness during the relatively short time I have left on this planet? What exactly am I still hanging on to and why?