Each Friday, we share three topical longreads in our Weekend Reader newsletter. This week, LionsRoar.com's associate editor Lilly Greenblatt looks at the bodhisattva of compassion, Kuan Yin. Sign up here to receive the Weekend Reader in your inbox.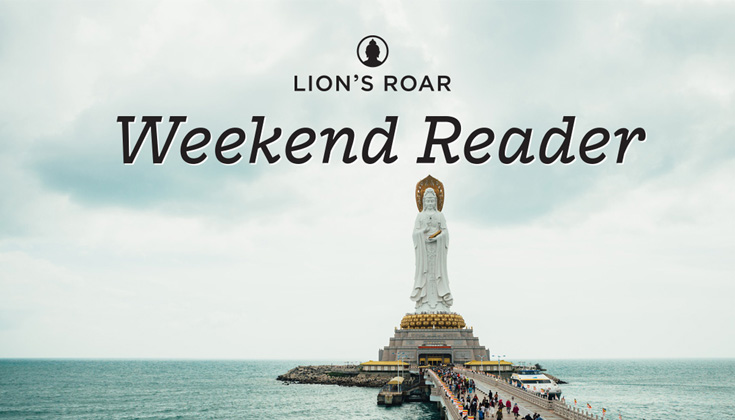 Last year, before going on a week-long retreat in a foreign country, a friend of mine was particularly nervous about the journey ahead. She asked her teacher for advice, and they simply responded: "Sit back like Kuan Yin, and watch what comes to you."
The bodhisattva Kuan Yin is regarded in Buddhism as the embodiment of compassion, as "she who hears the cries of the world." Originating in India as the male bodhisattva Avalokiteshvara, Kuan Yin has since adopted many names, identities, and forms. Sometimes the bodhisattva appears as a female, male, or androgynous being. She adopts a multitude of names across Asia: Kannon, Guanyin, Quan Am, or Chenrezig. As Kay Larson writes, "Avalokiteshvara responds to an infinitude of circumstances by acquiring new qualities, putting on new robes, and accepting new names." In the face of change, Kuan Yin gracefully adapts.
In Buddhist iconography, Kuan Yin is often depicted seated in a posture of royal ease, leaning on her left arm, one foot up, with her elbow resting gracefully on a bent knee. She looks perfectly at peace, despite the vow to save all sentient beings she has taken.
I met my friend on the retreat she was so nervous about. Both of us were many miles away from home and thrown into an experience unfamiliar and at times uncomfortable. We quickly became friends, and ever since she's been someone I know I can turn to when I'm in need of some serious compassion. I can't help but think that her intention to "sit back like Kuan Yin" when we met has something to do with the loving quality of our friendship.
The articles in this Weekend Reader look at who Kuan Yin is and what her example means in this often tumultuous world. Kuan Yin shows us that when times are tough, we can bend rather than break. We can maintain grace and ease in the face of change. We can surrender to circumstance and adopt whatever identity serves us best in the moment, clinging to nothing too tightly. May we learn to see her limitless compassion as our own.
—Lilly Greenblatt, associate editor, LionsRoar.com
In Buddhist iconography, compassion is embodied in the bodhisattva Kuan Yin, who is said to manifest wherever beings need help. Engendering such compassion is not only good for others, says Christina Feldman, it is also good for us. By putting others first, we loosen the bonds of our self-fixation, and in doing so, inch closer to our own liberation.
Over the centuries Kuan Yin has been portrayed in a variety of forms. At times she is depicted as a feminine presence, face serene, arms outstretched, and eyes open. At times she holds a willow branch, symbolizing her resilience—able to bend in the face of the most fierce storms without being broken. At other times she is portrayed with a thousand arms and hands, each with an open eye in its center, depicting her constant awareness of anguish and her all-embracing responsiveness. Sometimes she takes the form of a warrior armed with a multitude of weapons, embodying the fierce aspect of compassion committed to uprooting the causes of suffering. A protector and guardian, she is fully engaged with life.
Read more »
Avalokiteshvara, the bodhisattva of compassion, has undergone many transformations over the centuries, adopting new qualities, names, and even a different gender. Kay Larson explores the bodhisattva's journey through time and culture.
Avalokiteshvara responds to an infinitude of circumstances by acquiring new qualities, putting on new robes, and accepting new names: Guanyin in China, Kannon in Japan, Karunamaya in Nepal, Lokesvara and Chenrezig in Tibet. The bodhisattva of compassion shows us how to model new ways of acting that enable us to skillfully help other beings. The many forms of the bodhisattva help us visualize aspects of mind, such as enlightenment, which are conveyed through extraordinary beauty.
The conventional definitions of "love" and "compassion" are quite limited, says Buddhist scholar Mu Soeng. He explains that real love is marked by a deep and transformative feeling of care and sadness.
When the bodhisattva of compassion looks down with her thousand eyes at the beings caught in the sea of suffering, she feels an enormous sadness for their situation. This sadness is not pity or pathos or commiseration. It is a response to the entire human condition. From the perspective of the bodhisattva, human beings don't learn much; they keep going around and around within the same grooves of samsara — greed, hatred, and delusion — in a never-ending cycle. The feedback loop of this cycle is dynamic, but it also remains self-enclosed and keeps itself in place over eons and eons. The bodhisattva feels deep sadness that things are this way, just as a mother feels great sadness when her child goes through physical or psychological agony. The mother of the universe — as the bodhisattva of compassion is depicted iconographically — does not personalize this sadness. She has seen this phenomenon of numberless beings caught in the web of their own creation for countless eons. She reaches out with her thousand arms to these beings and helps them in whatever way she can. But this sadness and the resultant compassion and willingness to help are universal rather than personal.