Kanjuro Shibata XX, former Bowmaker to the Emperor of Japan and beloved master teacher of Japanese contemplative arts in the West, passed away peacefully yesterday at his main dojo, Zenko Iba, in Boulder, Colorado.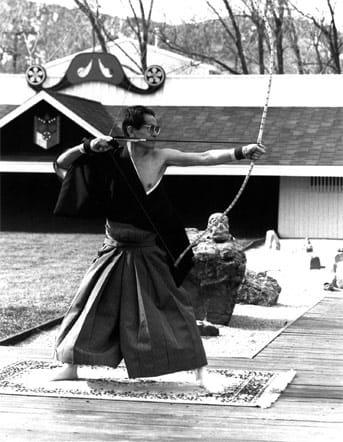 Shibata Sensei, as he was more familiarly known, was 92. He will be remembered as a model of spiritual discipline and a master of form. Our thoughts are with his wife, Carolyn Kanjuro, herself a devoted kyudo student and meditation practitioner, his family, and his many students.
Shibata Sensei was born in Kyoto, Japan, in 1921, into an ancient samurai family. At the age of eight, he began to learn bowmaking and the discipline of Zen archery—kyudo—from his grandfather, the 19th in a hereditary line of master bowmakers and archers dating back to the 16th century. Drafted into the army at age 20, Shibata Sensei was captured by the Russians in 1945 and spent three years in Soviet internment camps. He returned to Japan in 1948, married, and after his grandfather's death in 1959 assumed the full title of Kanjuro Shibata XX, with its responsibilities for imperial bowmaking, teaching kyudo, and ritual service. He retained the title until 1994, at which time it was conferred on Shibata Sensei's son-in-law Nobuhiro Sensei, whom he trained.
Shibata Sensei gradually became concerned with the transformation of kyudo in modern Japan from a meditative discipline to a competitive sport. Thus he eventually separated himself from the mainstream Japanese kyudo association and in 1980 accepted an invitation from the Vidyadhara, Chögyam Trungpa Rinpoche, to teach kyudo and warriorship to his students in Colorado and at his other North American centers. Finding the students eager and receptive to his way of teaching kyudo, Shibata Sensei returned annually until deciding in 1985 to settle permanently in the United States.
Since that time, Shibata Sensei founded and taught at more than 25 kyudojo throughout the United States, Canada, and Europe.
"The dignity of shooting is the important point," Shibata Sensei once said. "This is how kyudo differs from the common approach to archery. In kyudo there is no hope. Hope is not the point. The point is that through long and genuine practice your natural dignity as a human being comes out."
(The material for this obituary was primarily excerpted from Scott Spanbauer's 1992 article on Shibata Sensei and his interaction with Western students, published in Lion's Roar as "Walk on the Line of the Present." You can read an updated and expanded version from 2006, posted online at Elephant Journal here .)