Each Friday, we share three topical longreads in our Weekend Reader newsletter. This week, LionsRoar.com's Lilly Greenblatt looks at the importance of resting body and mind. Sign up here to receive the Weekend Reader in your inbox.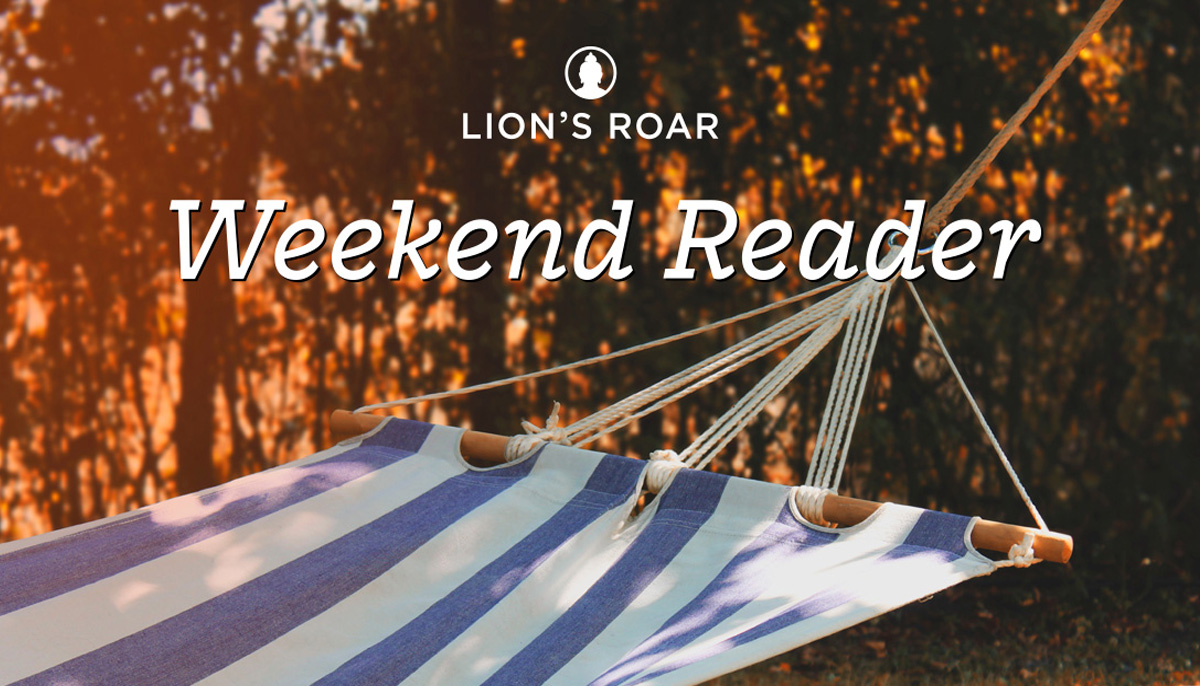 When was the last time you felt truly rested? If you can't think of an answer, you might deserve some relaxation.
"We have to learn the art of resting," writes Thich Nhat Hanh in his teaching "Rest in the River." "Not many of us know how to allow our body and mind to rest. We are always struggling… We cannot resist being active, struggling all the time. We struggle even during our sleep."
If you're anything like me, this may sound familiar. Truly resting is difficult. When we finally let our bodies relax at the end of a long day, the mind often keeps moving, jumping from past regrets to future plans. Sometimes it feels like the only way we can quiet the mind is to move our body, so we go for a run, or hit the gym. This allows the mind to empty for an hour or so, but leaves our bodies tired and sore. And sometimes, even when we think we're "relaxing" — watching TV or scrolling through social media — we're actually doing the opposite, finding ourselves still drained after hours on the couch.
Can the body and mind ever find rest, together? Buddhism, and the three teachings in this Weekend Reader, will tell you they can. "Resting is the first part of Buddhist meditation," writes Thich Nhat Hanh, noting the importance of allowing your body and mind to rest. Further, Sister Chan Khong shows us how lying down in deep relaxation can be a meditation itself, and Will Johnson explains how a balanced, relaxed body, supports an equal mind.
Though you may feel pulled toward activity this weekend, I invite you to incorporate a moment of rest. Find a quiet place to lie down or sit, and with the help of these teachings, let go into true relaxation.
—Lilly Greenblatt, associate editor, LionsRoar.com
Resting is a very important practice, says Thich Nhat Hanh. Our physical body needs rest to restore itself, and our consciousness is no different.
Suppose someone is holding a pebble and throws it in the air and the pebble begins to fall down into a river. After the pebble touches the surface of the water, it allows itself to sink slowly into the river.
It will reach the bed of the river without any effort. Once the pebble is at the bottom of the river, it continues to rest. It allows the water to pass by.
I think the pebble reaches the bed of the river by the shortest path because it allows itself to fall without making any effort. During our sitting meditation we can allow ourselves to rest like a pebble. We can allow ourselves to sink naturally without effort to the position of sitting, the position of resting.
Relaxing the mind is a big goal of Buddhist practice, but to do that you need to relax your body as well. Sister Chan Khong teaches us a three-step practice to access a deep restfulness that rivals sleep.
Sometimes our body needs to rest, but our mind still wants to do many things. Though we think we can overcome the needs of the body with our mind, this is not something we can continue doing forever. From time to time we need to stop, bring our awareness back to our body, and relax. Otherwise, tension builds up and we can lose our temper very easily and be unkind. When we're disturbed by a strong emotion or we feel we're burning out — that it's all too much and we're going to crack — that's the perfect moment for deep relaxation.
While tension and imbalance manifest as discursiveness, argues Will Johnson, a truly balanced body generates an ease and relaxation that naturally supports the awakened mind.
The only thing you ever need to do with your body is to relax. But once again, this can only occur if you play with balance. Without aligning the body, you can't fully relax, and without surrendering to the spontaneous, resilient movements that naturally want to occur through the body, relaxation cannot continue over time.
Thank you for reading Lion
'

s Roar. Now can we ask for your help?

Lion's Roar is a nonprofit. Our mission is to share the wisdom of the Buddha's teachings—to inspire, comfort, support, and enlighten readers around the world. Our aspiration is to keep LionsRoar.com available to everyone, providing a supportive, inspiring Buddhist community that anyone can access, from curious beginners to committed meditators. Do you share our aspiration? We can't do this without your help.

Lion's Roar reaches more readers like you than ever before. Unfortunately, advertising and other revenues are falling for print and online media. We know we have something deeply precious to share with the world, and we want to continue this important work. Can you help support our efforts now?

Lion's Roar is independent, unbiased, not-for-profit, and supported by readers like you. Please donate today and help the lion's roar echo for readers around the world.