Each Friday, we share three topical longreads in our Weekend Reader newsletter. This week, Lion's Roar magazine's Lindsay Kyte asks the question "Why is it so hard for us to accept when things go right?" Sign up here to receive the Weekend Reader in your inbox.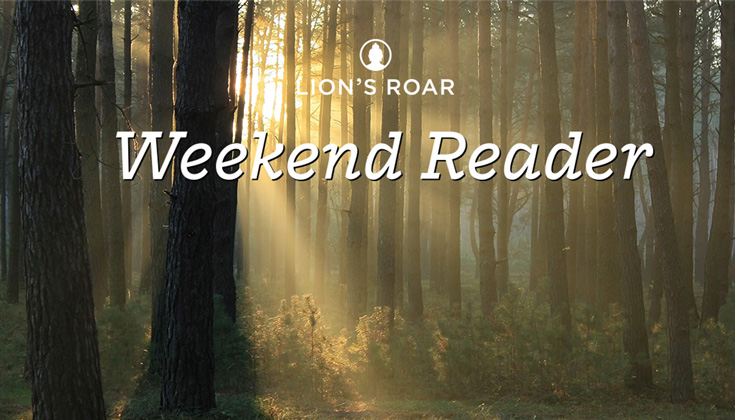 When I was visiting another city last week, I was sleeping on a friend's small, older sofa. He lamented that his mother was coming to visit the following week, and the sofa would be too uncomfortable for her to sleep on. He didn't have the funds to buy a new one. It looked like a problem with no solution.
Then… Ding! Ding! I remembered a conversation I'd had that afternoon with an acquaintance who was moving and had a sofa he needed to get rid of right away or he'd have to pay storage fees for it. It was a gorgeous, brand new sectional in a stunning shade of charcoal, had a pull-out queen bed that was really comfortable, and worth $2200. This person wanted nothing for it and was willing to deliver it to anyone who wanted it.
I immediately connected the two, and the next day my friend had a gorgeous new sofa for free, a place for his mother to sleep — and a sense of guilt about it that was weighing him down.
I understood, and I found it fascinating.
Why is it so hard for us to accept when things go right? The sofa was a gift with no expectations attached, and it made the person giving it happy to know the person receiving it was happy. But my friend, the receiver, started ruminating on how he should be able to pay this other person something. It led to feelings of inadequacy about his financial situation. He simultaneously felt like he had won the lottery and like he needed to find something — anything — wrong with the situation because he couldn't trust good fortune.
We encounter a lot of Buddhist teachings about clinging to good feelings. But, in watching this scenario play out, I became interested in how to embrace joy, accept happiness, and allow life to be good sometimes without having to grasp for something negative in its midst.
So, in this Weekend Reader, I gathered some resources to help us along on our journey when good things happen and we want to run from them back to our familiar fear and shame. May we all be able to let in the good along with the bad. Yes, life may be suffering, but sometimes it's celebrating, too.
—Lindsay Kyte, associate editor, Lion's Roar magazine
Recognizing the judgments we all pass on ourselves, says Bonnie Friedman, is the first step to freedom.
Do you, like me, wish for the success that will justify your colleagues' respect? And do you, like me, find ways, different ways, from day to day, to banish most of whatever good feeling accrues?
Buddhist monk Matthieu Ricard says that genuine happiness is only possible after we understand the fundamental mistake that is the root of our suffering.
Are we supposed to come to terms with unhappiness rather than make a genuine and intelligent attempt to untangle happiness from suffering?
In the wake of tragedy, Buddhism offers a radical path, writes Buddhist practitioner Ray Buckner.
On the Buddhist path, our collective suffering can make an offering to our joy. Our pain can bow to compassion, our traumas to basic goodness, and our rejection to beauty.
Thank you for reading Lion
'

s Roar. Now can we ask for your help?

Lion's Roar is a nonprofit. Our mission is to share the wisdom of the Buddha's teachings—to inspire, comfort, support, and enlighten readers around the world. Our aspiration is to keep LionsRoar.com available to everyone, providing a supportive, inspiring Buddhist community that anyone can access, from curious beginners to committed meditators. Do you share our aspiration? We can't do this without your help.

Lion's Roar reaches more readers like you than ever before. Unfortunately, advertising and other revenues are falling for print and online media. We know we have something deeply precious to share with the world, and we want to continue this important work. Can you help support our efforts now?

Lion's Roar is independent, unbiased, not-for-profit, and supported by readers like you. Please donate today and help the lion's roar echo for readers around the world.