Each Friday, we share three topical longreads in our Weekend Reader newsletter. This week, Lion's Roar magazine's associate editor Lindsay Kyte shares the teachings that help her lighten up in stressful moments. Sign up here to receive the Weekend Reader in your inbox.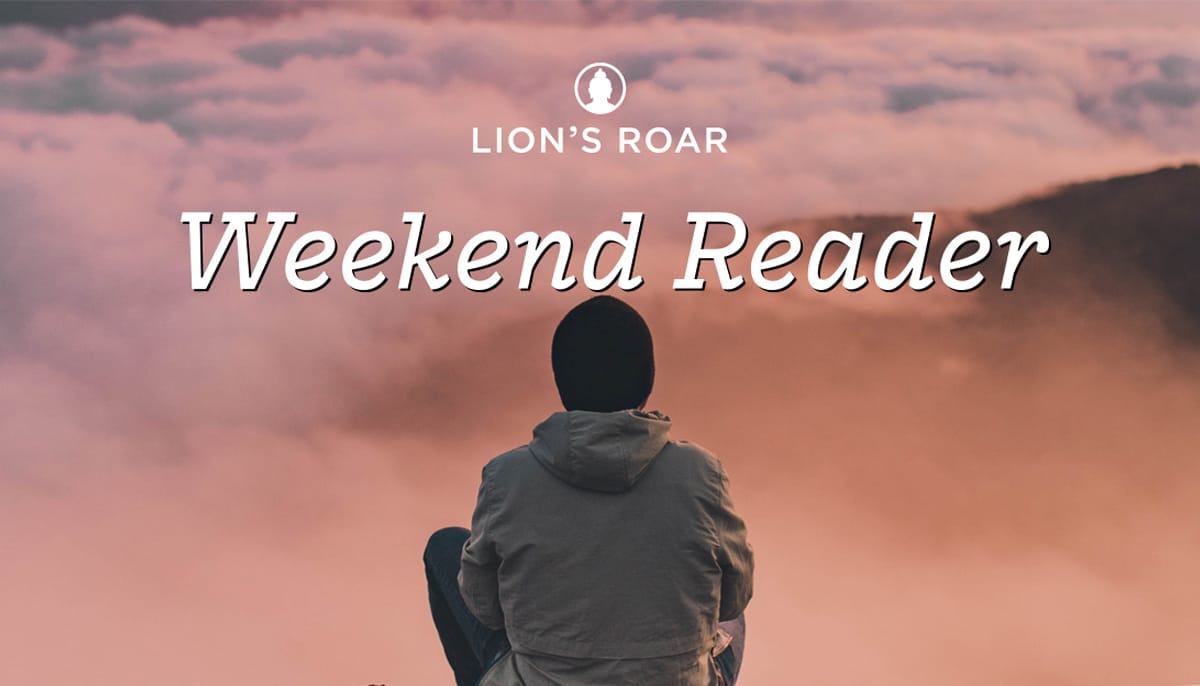 My Lion's Roar colleague, Lilly Greenblatt, and I are freaking out. Why? Well, it will probably make your eyes roll. We were selected to be in charge of the catering for our editorial retreat. (I am from a small town and I just mentally heard everyone I know there shut their front doors and tell me to come back when I have a real problem.) Sure, this shouldn't be a big deal. Nor should it be fraught with the emotion or angst we're experiencing. Boy, I sure wish I could "should" my emotions away.
The crux of this — why the two of us have been consuming pots of coffee trying to figure out a menu — is that we're both "pleasers." We want every one of 16 people attending to be completely happy and satisfied with what we choose. (That's not impossible, right?) Also, I have written articles on what a terrible cook I am. I don't even like going to the grocery store. It's just aisles of failure to me. So, being in charge of food for well-traveled, food-educated people is keeping me up at night. On second thought — that might be the pots of coffee.
What we need is wisdom to help us deal with the fact not everyone may like our choices (though we have striven to do our best) and to let ourselves off the hook a bit. Below, Rose Taylor writes about how to work with the fact that the same action can be praised by some and criticized by others. Judy Lief explains how perfectionism is underlain with fear, and gives tips on working with that fear. And last, Carolyn Rose Gimian reminds us to lighten up, and maybe laugh, because life isn't so darn serious after all. May we all remember, when we're stressing over the little things, that maybe choosing the wrong sushi restaurant will not end your career, besmirch your reputation, and result in no one ever trusting you again.
—Lindsay Kyte, Associate Editor, Lion's Roar magazine
Praise and blame are like echoes that don't ultimately exist, explains Rose Taylor. But we still have to know how to work with it.
When considering praise, first we need to be aware of the habits of our own minds. Some of us can be heaped with praise but it never touches us; we have a perfectionist streak and always feel we could do better. We disregard praise. The problem with this is we never feel encouraged and lifted up by the appreciation of others, and then we miss something that can really help us in our efforts. In this case it is important to allow the praise to touch us. We do not need to solidify it and make it a cause for arrogance, but we can feel that something we have done has positively effected another person and they have appreciated it. We can simply be touched by the praise and then let it go. This can then energize us for further endeavors. If we are prone to self-doubt and lack confidence, we can sometimes remind ourselves of others' appreciation of us in order to balance our mind's habit to view ourselves negatively.
Read more »
Judy Lief explains what stress really is, exploring the four styles of creating stress through hope and fear.
In the third style of hope and fear, we are obsessed with praise and fearful of blame. We need to be pumped up constantly or we begin to have doubts about our worth. When we are not searching for praise, we are busy trying to cover up our mistakes so we don't get caught. But there is never enough praise to satisfy us, and we are never free from the threat of being found wanting. Only if we are perfect can we count on continual praise, but although we struggle for perfection, we can never attain it. The slightest little mistake is all it takes to re-trigger our fear.
An attitude of humor, says Carolyn Rose Gimian, cuts through seriousness and stress and makes life cheerful and light.
With all the stress, speed, and anxiety of modern life, we're so lucky that some things never change. Moon and stars, rain and snow, a gap between every thought. Phew — it's possible to relax, to smile in the space between things, to see the simple humor of it, at least for one breath, just as it is.