Geologist and Lion's Roar Earth Dharma columnist Jill S. Schneiderman shares a post-election wish.
Like many millions of people around the world, I was captivated by President Barack Obama's election night victory speech. And my heart cheered when I heard the President say, "we want our children to live in an America that…. isn't threatened by the destructive power of a warming planet." Maybe the Earth has now, finally, made itself heard on the issue of the disastrous implications of global warming for all beings that live on this planet.
I've always favored scientist James Lovelock's Gaia hypothesis that organisms interact with their inorganic surroundings on Earth to form a self-regulating complex system that contributes to maintaining conditions for life on the planet. And I've also been a big fan of Vice-President Gore's book, An Inconvenient Truth, especially because he makes so clear that the Earth actually breathes. "It's as if the entire Earth takes a big breath in and out once each year," he wrote in referring to the Keeling Curve, the diagram by scientist Charles David Keeling that shows not only the overall increase in CO2 in the atmosphere starting in the late 1950s based on measurements of atmospheric CO2 at Mauna Loa, Hawaii but also the annual cycle of increase and decrease of CO2 in the atmosphere that results from the growth and decay of vegetation.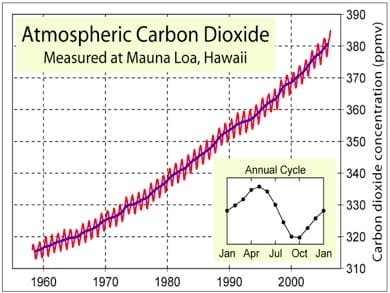 And now at the risk of committing the sin of anthropomorphism (attributing human motivation to an inanimate subject), I'll suggest that Earth itself cast a vote in this election.
Some pundits say that "Superstorm Sandy" helped the President win the election partly because of his compassionate and competent response to the crisis. I'm no poll, so I don't know. I hope only that this election marks our movement into a new geologic Era that Jesuit paleontologist Teilhard de Chardin (1881-1955) once proposed: the Ecozoic, a new era of mutually enhancing human-earth relations.
In The Long Road Turns to Joy, Thich Nhat Hanh wrote:
You will be like the tree of life.
Your leaves, trunk, branches,
And the blossoms of your soul
Will be fresh and beautiful,
Once you enter the practice of
Earth Touching.
May the re-election of Barack Obama usher in the Ecozoic Era, a period in which we listen attentively to what the Earth tells us and live the understanding that we breathing humans are the breathing Earth.