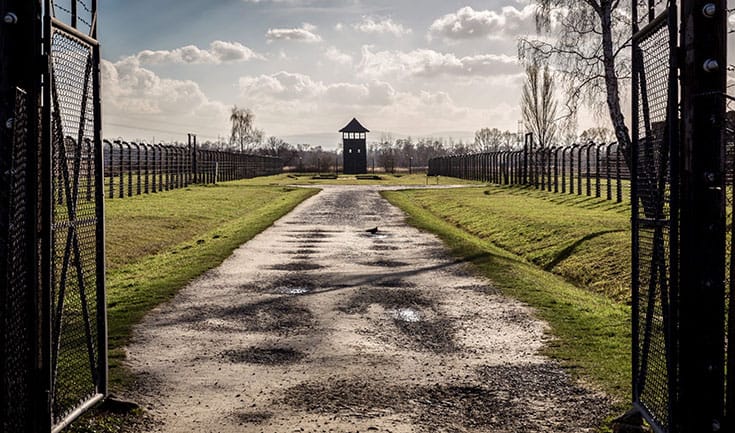 Auschwitz-Birkenau. Photo by
Mattia Panciroli
.
Narayan Helen Liebenson reports on Zen Peacemakers' 20th annual bearing witness retreat at Auschwitz-Birkenau, and contemplates the lessons of compassion we are slow to learn, despite their everlasting importance.
A few weeks ago, my older sister and I attended the Zen Peacemakers annual retreat in Auschwitz. It is a retreat that began 20 years ago and this year was attended by 130 people – most of them practitioners – from 20 countries including Poland, Germany, Israel, Palestine, Lakota Land, Bosnia-Herzegovina, and, of course, the United States. It was multi-religious, including those from Jewish, Catholic, Islamic, Buddhist, and Native American backgrounds. Silence was encouraged much of the time, and each day we sat in meditation on the ground next to the railroad tracks where people were selected to either be put to death immediately, or, to endure the unbearable conditions of the camp. As well, each participant had a chance to bear witness by reading the names of some of those who had died there.
There was also time that was not silent. Time to speak with one another amidst the differences between us regarding background, religion, and experiences, and to imprint upon the heart the lessons of non-separation, of not making anyone into the "other." To say that this work is ongoing is to state the obvious: witness the recent efforts by some to make today's refugees into those to be feared and rejected.
Why did I want to go? I can't answer this. I can only say that it was a response to a calling that arose many years ago, perhaps when I was a child. Since beginning to teach, I've also recognized that many in our community have been affected their entire lives by what one yogi at CIMC called "a volcano that erupted before we were born that continues to spread its ashes." And although one may not have been specifically affected, the magnitude of horror, the unimaginable enormity of pain present within this land is part of our human heritage and affects us all. 70 years ago feels like today.
"Listen to the soil." These instructions were given at the beginning of the retreat and were a guide throughout. "Let Auschwitz be the teacher." In the willingness to open to the immensity of sorrow, there is also openheartedness to the even greater power of love and profound silence, and to the possibility of cultivating the beautiful within the heart.
Although I have much more to say, and invite anyone interested to talk with me, I am leaving it here for now. Some identify themselves as social activists but this is just an identity; we are all socially active. It is impossible to live in this world as it is and not be. It just depends on how. Being in Auschwitz reinforces the necessity of acting in ever more accordance with wisdom and compassion, instead of allowing oneself to be separated by fear. For this to be a reality and not just an ideal, we must continue to calm the mind and train the heart.
This article was originally published in the Cambridge Insight Meditation Center Newsletter.