With the death of Master Sheng Yen, Chan Buddhism lost a great teacher and its most prominent voice in the West. He left a substantial legacy, but his greatest gift was his ability to touch his students' lives deeply and personally. Here he reminds us to approach life—and death—with a clear mind, without regret, anger or pride.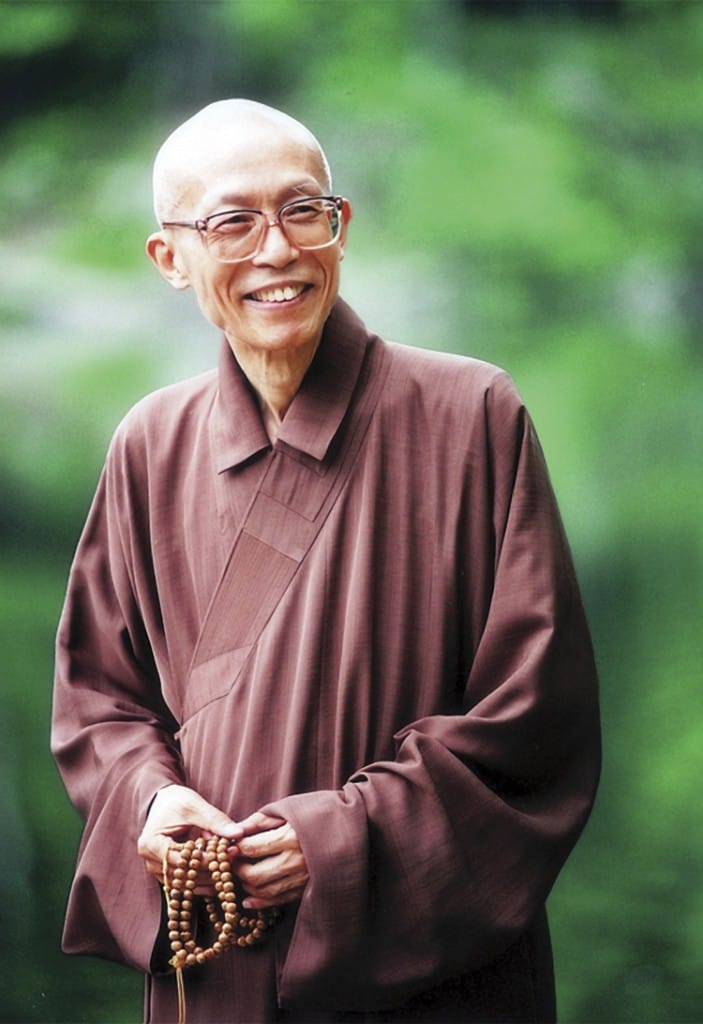 It was only several months ago in the pages of this magazine, in my review of Chan Master Sheng Yen's autobiography, Footprints in the Snow, that I wrote: "I read the final paragraph and realized that in writing this book, Shifu was saying goodbye." He did so none too soon—Master Sheng Yen passed away at Dharma Drum Mountain in Taiwan on February 3 at the age of 79.
It was fifteen years ago that I first bowed to Master Sheng Yen, took refuge with him, received the name Guo Ling from him, attended my first seven-day Chan retreat with him. On the third day of that retreat I had my first interview with him. "How's it going?" he asked. "Terrible leg pain." He looked at my massive thighs and at his own noodle-thin legs and chuckled. "Big legs, big leg pain. No problem. Sit higher. Move when necessary. Use your method."
He didn't take my pain away; he didn't teach me in any tangible way what to do about it. But he gave me permission to be who I was at that moment, and he gave me a way to be different, and by the end of that retreat I was no longer living my pain, I was just sitting on it.
On my next retreat, practicing Silent Illumination for the first time, I got lost; I put down a wandering thought and couldn't find my method to pick it up. Shifu asked, "Do you know you're sitting there? How do you know?"
This is what Shifu did, over and over again—he pulled down the curtain to reveal the wizard, the self cleverly operating behind every experience. At a series of lectures on the letters of Master Dahui he told us a gong'an (koan) and asked us what it meant. Hands shot up, and he happily accepted each exposition, declaring, "And that's what you think!"
Despite his tremendous responsibilities— Master Sheng Yen carried the lineage of both the Linji and Caodong schools of Chan, was the founder of Dharma Drum Mountain in Taiwan and the Chan Meditation Center in New York, was a prolific author and a founding member of the World Council of Religious Leaders—his primary teaching activity was leading retreats. I read hundreds of reports from those retreats, and one experience is ubiquitous—every retreatant felt that Shifu had tailored his teachings just for them. He gave three dharma talks a day to a room full of us, sometimes a hundred of us, and managed to touch each of our illusory selves intimately.
Now we are without him, as we were always destined to be, as we always were. Shifu always made it clear that my practice was my problem. Still, I always seemed to sit better, to be clearer under his steady eye. Was it his qi? His example? My sense of shame? Now that he's gone, I only hope I allowed him to mark me deeply enough—that I allowed his great wisdom and compassion to kindle a small but critical mass of mine.
– David Berman
---
Teaching by Chan Master Sheng Yen
How can we live and die with dignity? People usually cannot control their life situations or make things happen according to their wishes, and too often they feel they have no one to rely on, nowhere to find security, nowhere to turn in life. These are the feelings and situations in which most sentient beings find themselves. But it is possible to change this perception to one that contains a sense of beauty and love while affirming that life is meaningful. In this process, one can also grow and mature. This is the appropriate attitude toward life from the Buddhist point of view.
Having said that, I should point out that many Buddhists feel that life is basically suffering, a burden to bear, especially with regard to the body. What they fail to understand is that attaining enlightenment—that is, living a life based on wisdom—is possible only if one has a human form. Without a body to practice with it would be impossible to attain liberation and buddhahood. There is a Buddhist saying that a human form is very difficult to attain, but having it is a great opportunity to hear the dharma. Therefore, attaining wisdom begins with having a human form. In this sense, Buddhists who hold a negative attitude toward life misconstrue the dharma. With an appropriate understanding of the dharma, one would treat life as something very, very valuable.
From another perspective, some Buddhists may think the best way to attain buddhahood is to be reborn in the Pure Land, the Western Paradise of Amitabha Buddha. Though the Pure Land is a spiritual realm of bliss, one cannot attain buddhahood if one remains there. One must acquire a human form to be able to generate the vows to practice the bodhisattva path. So the whole process, from becoming an ordinary sentient being to entering the bodhisattva path and eventually attaining buddhahood, is accomplished in the human realm.
Life and death are not separate
If we can see that living and dying are interrelated processes, we can accept that the two are inseparable: if we are born, we will die; one is directly connected to the other. In this sense, being born may not be seen as a joyful thing, but it also need not be viewed as such a hazard. Likewise, death need not be seen as either sad or joyful. It all depends on one's attitude. If you do not appreciate the beauty of life, then living can be viewed as pitiable. Some people find life joyful, but if there is no dignity, what is there to be happy about? If you do not know of the true meaning of death, then it will be sad and depressing when it comes. But once you understand that life and death are innate parts of the process, you will be able to find dignity in life as well as in death.
How can we find dignity in our life? One way to answer this question is to look at life from three aspects: the meaning of life, the value of life, and the goal of life. If you can experience these, you will find dignity in your life. When I speak of the meaning of life, I refer to the reason why we continue living. From the Buddhist point of view, the significance of attaining life is that we have an opportunity to repay karmic debts from past lives.
Karma says that the things we do are causes that will create consequences. With this life we can receive and accept appropriate karmic retribution from our actions in previous lives. In any present or future life, we must accept a certain amount of retribution from past karma. We can also use this life to fulfill the vows of practice that we have made in previous lifetimes. If we made certain promises and vows, this also becomes part of our karma. Then in this lifetime we have an obligation, as well as an opportunity, to fulfill those previous promises. So from the Buddhist perspective the meaning of life is to receive karmic retribution as well as to fulfill our previous vows.
The value of your life is not assigned by someone who examines it and makes a judgment; it rests solely on your intentions and actions in fulfilling your responsibilities and offering yourself to sentient beings. It is the effort, within your limits of time and energy, to be of use to others. Whether they know of your dedication or understand it, the value of your life is simply in this effort to offer yourself. In society we play roles: for example, in order to be a mother you accept the responsibilities of motherhood. It's the same for any other role you play. Responsibility means doing your best in that role without expecting a reward. We can also offer ourselves to the benefit of the natural environment. All these activities belong to the realm of benefiting oneself as well as others—in other words, practicing the bodhisattva path.
Having goals means establishing a long-term direction for your life, including sharing it with sentient beings. It means continuing to make and fulfill vows. If we set these goals not just for this life but for future lives as well, whether our life is short or long, we live with dignity. As it is with value, the dignity that is conferred on you by others is not necessarily genuine. The only reliable dignity is that which you give yourself by the way you conduct your life.
It is useful to understand life and death as two sides of the same coin, as aspects of an unlimited process in space and time. Seeing it this way, there is no reason to be attached to life or afraid of death. Life and death are, on one hand, our right, and on the other hand, our responsibility. When alive, accept life and make good use of it; when dying, accept and welcome it. I have told people on their deathbed: "Do not just wait for death nor fear it. So long as you have one more minute, one more second, use that time to practice." We should not be averse to life nor wish for death, but when it is time to go, clinging to life will not work. Of course, this is very difficult to do!
From a fairly early age, children should learn that just as there is life, there is death. It's better to teach them to be aware of death than to shield them from that fact—not to frighten them but to help them understand that to all living things, death will eventually come. Knowing that life and death are part of the same process provides for a healthier, more wholesome view of life. To be mentally prepared for the eventual coming of death is beneficial for the growth of wisdom. Before he became enlightened, Siddhartha Gautama witnessed firsthand the processes of life: birth, old age, sickness, and death. That knowledge inspired him to devote his life to finding a way to help people relieve their suffering and attain liberation. So, the Buddhist path began with Shakyamuni Buddha facing the realities of birth, old age, sickness, and death. His life shows that if we treasure life as an opportunity to grow in wisdom and offer oneself to others, there is no need to fear death.
The origin and destination of life
Religions and philosophies have views about where life comes from and where we go after death. Some people even try to use supernormal powers to look into previous and future lifetimes. While the desire to look into the past and future are typical human strivings, the results are not reliable. Confucius had a saying that life and death depend on fate, but he was not clear on what fate was. Though not a Buddhist, Master Laozi said that as soon as one is born, the causes for one's death are already in motion. He also said, "Out of birth, into death." As a philosophy, this is quite good. The idea that life was created by God and we die because God wants us to return to Him is also good in that one can feel that someone is taking care of the process. One difference is that most religions do not believe in past and future lives. As a Buddhist, however, I believe that the origin of my life extends back to my previous lives without limit, and my future lives will follow until I attain buddhahood. That is the Buddhist view as to the origin and destination of life.
Buddhists believe that life comes from a past without beginning. So if we just look at this lifetime, the moment of our birth is not the beginning of the process and the moment of our death is not the end of this process—our current life is but one segment of an unbounded life process. Let's use the analogy of a tourist. Today he is in New York; tomorrow he is not in New York because he has gone to Washington, D.C. The day after, he disappears from Washington because he has gone to Chicago. So, in any specific city (one lifetime in our analogy), that person appears for a period of time and then moves on. But if you look at his total itinerary, it is all one journey. So, what you may perceive as the end of this period of life actually signifies the eventual beginning of a different period of life—for me, for you, for everyone. When you see life as part of an unlimited and continuous process, there is no need to feel too disappointed in this one life, however it turns out.
The phenomenon of life and death can be described in a more general way as the arising and perishing of causes and conditions. The Buddhist term for this process is "conditioned arising." This refers to the fact that all phenomena consist of effects due to a myriad of changing causes and conditions acting together. The result of causes and conditions arising and perishing is all the phenomena we experience, including our own life. From the perspective of conditioned arising, we can speak of three kinds of birth and death.
The first kind of birth and death is the arising and perishing of the moment. In other words, in every instant of time, there are changes in our mental processes and changes in our bodily processes. Normally we do not take notice of such minute changes in us, and therefore we do not think of them as births and deaths. In this kind of arising and perishing, it is only the physical body that appears to be constant from instant to instant. But the cells of the body are also constantly undergoing these processes of arising and perishing—our cells continually generate and die. So, in the mind as well as in the body, in every instant, there are constant occasions of births (arising) and deaths (perishing).
The second kind of birth and death is more easily identifiable: the birth and death of one lifespan. In other words, the human lifespan arises at the moment of conception and perishes when we die. All living creatures experience the same arising and perishing of their lifespan, but we are talking here about the human context.
The third kind of birth and death consists of our lives in the three times of our past, present, and future. Our previous lives are countless; our future lives can also be countless, until we attain buddhahood. When we look at our lifespan this way, it is not just the moment we are born until the moment we die, but rather it extends over the three times. This gives us some hope and consolation in that, having attained life, we should continue to live because we have future lives to come.
What if one is unhappy and contemplates suicide, thinking the next life will be better? Is that a good thing? No, because when one commits suicide, it is being irresponsible to previous lifetimes, not doing justice to the present life, and creating karmic disturbances for their future life.
A single lifespan can be likened to the daily rise of the sun, and then its disappearance over the horizon in the evening. After the sun goes down you do not see it, but it is still there and will rise again in the morning. It does not come into being anew every morning. A lifespan is like that. When it ends, it eventually gives rise to another lifespan, like the sun rising again. But this observation only applies to the physical manifestation of a single lifespan, for there is pure buddhanature in every one of us that is ever-present throughout the three times. Like the sun, the physical body may go through the process of appearing and disappearing, but that has nothing to do with our pure buddhanature, which is there even when we don't perceive it.
So, each lifespan can be thought of as a segment followed by another segment within the endless process of arising and perishing, but if one remains at this level, in the long run one has not benefited from having all those precious lives. In order to elevate the quality and the meaning of life in the three times, we have to go beyond segmented birth and death and achieve transformational birth and death. That means practicing buddhadharma.
Transformational birth and death refers to the maturing of merit and virtue in a practitioner whose compassion and wisdom continue to grow life after life. Such a person can be called a sage, a bodhisattva, or an arhat. This process of transformation continues over the three times. At this level, a sage can still have a physical body or may have transcended the physical body and be basically using pure spiritual energy to cultivate the path. Buddhahood is the ultimate end of this process of transformation. It is the level at which one has transcended samsara—the cycle of birth and death—and has attained the great nirvana. Such a buddha can still appear in time and space to help sentient beings, as did Shakyamuni. While a buddha can manifest in human form and experience arising and perishing, for this buddha there is no attachment to birth and death and none of the vexations associated with birth and death.
Until we become sages or buddhas, how can we find dignity in living and dying? First, we should fully accept this rare and precious life that we now have. Then, when death is imminent we should accept it, if not with joy then at least with equanimity. Just as you should be grateful to the reality of life, you should also be grateful to the reality of death. We do not control when we will be born and most times we do control when we will die. From the perspective of Buddhist awareness most people live without clarity, and when death is near, their mind becomes even more clouded. For such a person life is confusing and delusional. There is a Chinese saying that we live and die as if in a dream. At a higher level are those who accept life, make the best of it, and when death comes, they greet it with courage and without clinging. At the highest level is the enlightened practitioner who "cannot find either life or death," meaning that for such a person there is really no such thing as life and death.
Until we die, we cannot know which of these categories we belong to, but as long as we are alive we should try to elevate the quality of our life and to clarify our mind. We should also be grateful that when death comes, we are released from the responsibilities attached to that life. Even better, after we die we can use the merit and virtue that we have accumulated to move forward to our next life, which should be full of joy and illumination.
Meeting death with a clear mind
If you can maintain a clear mind as death approaches, you can then very courageously accept it with joy. Whatever you have done during your life, virtuous or not, good karma or bad, be grateful for having received the gift of life. At the moment of your death, there should be no resentment, no regret, no anger, and no pride. Gone is gone. Think forward to a beautiful future. For this reason, the mental state of a dying person is most important. Some people as they are about to die think about the things they have done that they regret, and all the suffering they have caused. That kind of thinking is good for a living person, but not so good for a dying one. If, however, you approach death while holding no resentment, no regret, no anger, no pride, and just strive to accept a bright and illuminating future, it is more likely to happen. Whether you are reborn in the heavenly realms or in the human realm, you can again continue to practice, and that is a bright and illuminating future.
When a dying person's condition is such that clarity of mind is not possible, or when they are unconscious or in a coma, friends and relatives can help the dying person with great devotion and concentration, chanting the Buddha's name, reciting mantras, or meditating in a calming environment. Through such practices, we use the power of meditation and the power of faith to guide the dying person's mind away from fear and toward assurance, to move toward illumination. This can definitely be helpful. So for those who on their deathbed cannot maintain clarity of mind, it is important that relatives and friends help in this way. And it is very useful. I myself have had a clear experience of this.
There are three factors that will determine what kind of rebirth you may have. The first is karma—the good as well as the bad karma that you have accumulated in your current and past lives. The better your karma, the better will be your chances of a good rebirth.
The second is the causes and conditions surrounding your current and past lives that are most ripe for maturing upon your next rebirth. You may have all kinds of karma but specific conditions can be closest to maturing at this point. If this is the case, they will be the conditions that will determine your next life.
The third factor is your mental state when you die: What thoughts are in your mind as you approach death? Do you accept your death with joy and gratitude? What aspirations do you have for a next life? Thoughts like these will influence what kind of rebirth you will have. For example, if throughout your life you have made vows, as you approach death you may repeat these vows. However, if you have never had such aspirations, it would be hard to have them on your deathbed. So practitioners should strive to have good aspirations on their mind as they approach death. If our future life was dependent on only karma and conditions, then we would be in a less reliable situation.