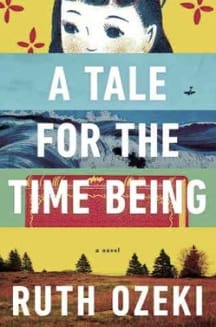 A Tale for the Time Being
By Ruth Ozeki
Viking 2013; 432 pp., $28.95 (cloth) 
Inspired writers are the ones who walk sideways to what most would consider the "real" world. At their best they can portray the confusion that life is and make it feel more real than reality. Ruth Ozeki, a recently ordained Zen priest, is still very much with this world, yet a spiritual benevolence invests her novels with kindness.
In 1999 Ozeki wrote the bestselling My Year of Meats, a romp through Japanese and american culture and an attack on the American beef industry and its talent for scary hormones, such as DES, and feeding rendered animal products to herbivores like beef cattle. It's the story of an androgynous six-foot-tall documentary filmmaker rescued from poverty by a job directing a Japanese TV show, My American Wife. She soon learns, however, that this show is not about shining a light on American culture but rather luring more Japanese viewers into eating potentially tainted beef.
My Year of Meats integrates multiple viewpoints, fascinating and sometimes flaky characters based on real people, and current political issues. This previewed an approach that would grow through Ozeki's ensuing novels, All Over Creation and, now, A Tale for the Time Being.
All Over Creation tackles farming and genetic modification. A group of dedicated anti-GMO radicals who call themselves seeds and drive a biofuel car they've named "Spudnick," which they run on liberated McDonald's french-fry oil, move onto the farm of two traditional older farmers they admire—Lloyd and Momoko Fuller. Momoko is suffering from Alzheimer's and Lloyd rapidly develops heart troubles. Their daughter, Yumi, moves back home to help her parents, and soon the family is tangled up with corporate spies and the nuttier fringes of the anti-GMO movement as they battle the dreaded Cyanco and its NuLife potato.
In A Tale for the Time Being, Ruth Ozeki pulls out all the stops with her new cast of beautiful, batty, and sad characters and a host of worldwide issues. She immediately challenges the premises of fiction itself when a character named Ruth finds some flotsam on the beach and takes it home to her partner, Oliver, an eco-artist who sounds suspiciously like Ozeki's partner, Oliver Kellhammer. The flotsam is sealed in plastic bags within plastic bags, all holding a sealed Hello Kitty lunchbox, which contains a "hacked" copy of Proust's À la recherche du temps perdu. The novel has been cut out and replaced with blank pages filled with a Japanese student's English-language diary. Inside the lunchbox are also a number of letters in Japanese, a thin composition book, and an old watch. It's quite the time capsule, washed up on the shores of Cortes Island, British Columbia, a year after the tsunami that devastated Japan.
This gives Oliver an opportunity to explain the currents of gyres, which are controlling the ecology of the Pacific Ocean, and further explain the mechanics of the Turtle Gyre that probably brought the package. At first Oliver is more device than human being; that is, he's a vehicle for explaining various scientific principles. The reader is intrigued, however, by Oliver's design and planting of a brilliantly peculiar eco-forest as a scientific/ ecological/artistic experiment. He's charming, but he doesn't come alive until toward the end of the novel.
The diary begins elegantly. "Hi! My name is Nao, and I am a time being. Do you know what a time being is?" We soon learn this is a being who lives within time, which is moving quickly. In other words, we're all time beings. This was explained to Nao by her 104-year-old great-grandmother, Jiko, a Buddhist nun who in her younger years had been a novelist, a lover of men and women, and an intellectual anarchist feminist politically active almost a century ahead of her time.
The mood of the novel shifts quickly when Nao announces her intended suicide. Nao spent a privileged childhood in the silicon dream of California, where her father worked for a dot.com success and was its Japanese wunderkind. but then came the dot.com bubble, and her father had unwisely invested everything in the company before it went bust, or so he says. now they're back in Japan and he's become a "house ghost," so crushed he's incapable of looking for work anymore. He's already "accidentally" fallen in front of a subway train and then been billed for the subway's rescue costs.
Meanwhile, Nao is spending her spare time in Akihabara, the electronics and manga heart of tokyo, where many of the zany fads of Japan arise. She has a fondness for the district's French-maid cafés and describes how at her favorite one the predominant color is pink, and frilly skirts and push-up bras are the standard. In the entryway there's a naked sculpture in a fountain—the hot spot glowing. yes, mighty tacky, and every hostess has a price. But the café is an escape for Nao. She's being cruelly bullied in her new school, and Ozeki explores this with fury, especially in one horrific scene in which Nao's classmates have a funeral for her.
The diary is just that—a diary written in the first person. But Ruth's voyage of discovery is told in the third person. Trying to decipher Nao's life, Ruth fears that Nao was lost in the tsunami of 2011 that killed more than 29,000 people. Ozeki points out, chillingly, that the coast of Japan is dotted with ancient stone markers that state: "Do not build your homes below here." Most of those markers were ignored in the last century. The 2011 tsunami washed up to the base of several markers.
Bullying, poverty, tsunamis, suicide, child prostitution—A Tale for the Time Being grows even more complex, widening out like the confusing world we live in. The opening pages are awkward to read. Ozeki works so hard to make Nao's child-voice authentic that it seems boring and dumb, and oliver's initial deus ex machina appearances don't help. Yet the novel grows more fascinating within pages.
The eccentric characters of Ruth's home island soon enrich the novel, especially when they gather at the local post office. They are so island, so funny. Cortes Island, like a few of the san Juan islands and some of Canada's other Gulf Islands, has a classic island atmosphere, where hippies, rough-and-ready oyster fishermen and loggers, and the retired wealthy with their beachfront mansions collide. Ozeki manages to have fun with the community of Cortes Island—rednecks and philosophers alike—yet with a gentle fondness. It's a rich picture but it isn't cruel.
The novel keeps growing richer, especially with the appearance of Jiko, who has become a ghost in Japanese history, a ghost that even disappears on rRuth's computer screen. One day Ruth finds one mention of Jiko on the internet, but by the next day that mention has disappeared permanently, and this is where the novel takes a mystical turn, and we start encountering quantum mechanics and a magical raven.
Better still, we discover the austere yet rich world of monastery life. The ancient dying Jiko proves to be one of the most magnificent Zen creations I've encountered, on a level with some of the masters glimpsed in the writings of Gary Snyder and Peter Matthiessen. She's a caricature and yet so perfect a caricature, so simple and beautiful, that she is invested with life and warmth and devious humor, and the pages glow whenever she appears.
At this point the novel takes another twist. We discover that suicidal tendencies run in Nao's family, and the composition book found in the Hello Kitty lunchbox belonged to Nao's great uncle, who was a Heidegger disciple cruelly "volunteered" as a kamikaze pilot in WWII. He wrote his last notes in French so they would be somewhat safe from the prying eyes of his roommates.
Nao learns that this quiet man recognized that he couldn't kill, so he vowed to steer his plane into the waves at the fatal moment. In an odd way, this tragic passage gives inspiration to both Nao and her troubled father. He realizes how terribly he has abandoned his daughter and wife and attempts to turn his life around, while at the same time we realize that he was actually fired from his cushy job because he was attempting to sabotage his computer programs that would be used for drone killing and various other kinds of hi-tech warfare.
While I won't reveal what ultimately happens to nNo, her father, Jiko, and Ruth, I will say that each of these characters is invested with life. It's a quirky, deep, occasionally hilarious, and occasionally depressing montage of a novel. A sneaky charmer.
Its only serious flaw, aside from the clunky characterization of Nao and Oliver at the beginning, is that it's a bit of a jumble and all the leaps aren't smooth. I would have liked a little tighter editing. For instance, as part of an explanation of events, we are given a too-long lecture by Oliver on Schrodinger's cat (a famous physics problem) and quantum physics. It's a clumsy attempt to over-explain information appearing and disappearing in the novel. But this is a mystery that doesn't need to be tidily tied up.
Still, A Tale for the Time Being is such a romp—so unafraid of the disasters of life, so full of delight—that it's well worth the read. Forget the easy escape route of quantum mechanics; the novel more than supplies enough old-fashioned reading magic.