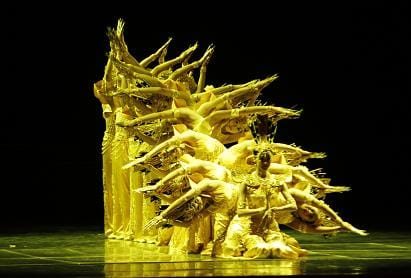 This remarkable image recently came across the wire, depicting the Chinese Disabled People's Performing Arts Troupe performing Avalokiteshvara Bodhisattva in Cambodia. In this original piece, twenty-one hearing-impaired dancers from mainland China evoke the grace and elegance of the thousand-armed figure in Mahayana Buddhism who embodies immaculate compassion toward all beings. (Read the story here of how one of Avalokiteshvara's extraordinary vows to benefit others caused him to shatter into a thousand pieces, only to be reassembled by the Buddhas, with even greater determination to bring all beings to perfect freedom.)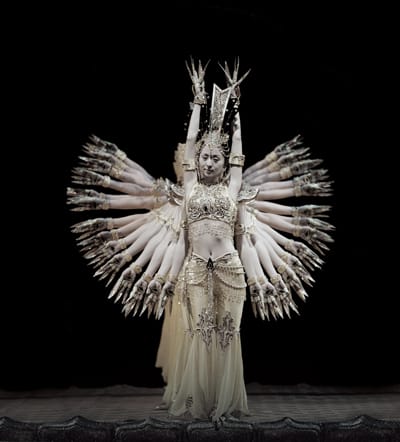 We looked a little further and found even more extraordinary images of the troupe as Avalokiteshvara (who morphed into the female figure Guanyin in Chinese Buddhist culture), such as the one above. You can see the others at the CDPPAT site, where the troupe offers this heartfelt message:
Love is our common language.
When your heart is full of love
and kindness,
you will give to others
a helping hand a thousand times over,
and be helped a thousand times in return.