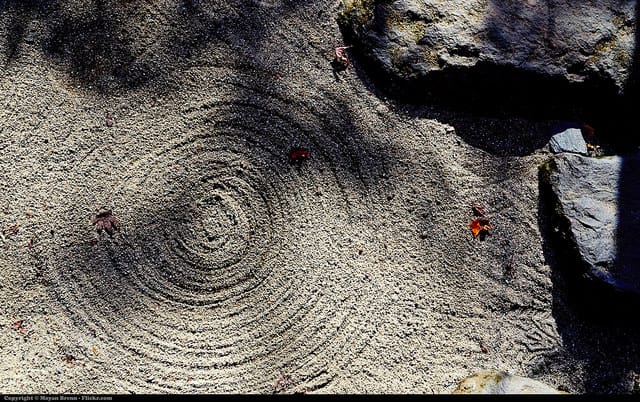 Photo by
Moyan Brenn
.
Short teachings by five senior members of the White Plum sangha: Bernie Glassman, Bonnie Myotai Treace, John Daido Loori, Pat Enkyo O'Hara, and Dennis Genpo Merzel.
The One and the Many
In Zen, there are two ways of describing reality. Basically, one says that reality is all One, that everything is Buddha. The other describes the manyness of reality, its multitude of diverse phenomena and differences. What both sutras say is that these two ways of perceiving reality are not just valid, but essentially the same. Over the years, Zen masters have developed practices to help us see reality first from both sides separately and then from both as an equivalence.
As I've become more and more involved in social action, I see the issue of oneness and diversity not only as a primary issue in Zen practice, but perhaps as the issue in the peace-making world. I see this in the many places around the globe where systematic massacres and widespread ethnic cleansing are predicated on the notion that there's only one way to be, one way to behave, one God to believe in, and that all else is somehow invalid. There are always some things that we exclude from the One, that we can't possibly believe are enlightened as they are, that we can't believe are it. This points to the importance of prajna, wisdom, to not seeing things in a dualistic, inside/outside way but rather experiencing the vibrancy of everything as it is, at this very moment.
On the other hand, we are often tempted to sit and not do. For years I encountered Zen practitioners who felt that until they were fully enlightened there was no use acting in the world; they would simply be acting out of delusion. I have argued forcefully that we have to act. We don't practice in order to attain enlightenment; because we are enlightened, we practice. In the same way, we don't act in the world in order to make everything One; because we are One, we act! Bodhisattvas don't vow to work forever simply to attain results or objectives that are exterior to themselves. Because they are prajnaparamita, because they embody the wisdom that everything is interconnected without exception, they strive to save all beings. The more clearly we see this, the more appropriately we act. In fact, we have no choice in the matter.
Bernie Glassman, from Infinite Circle: Teachings in Zen (Shambhala Publications)
---
Threshold
What is the gate of Zen? Is there a way to live in the threshold of every moment? Pablo Neruda writes in the opening stanzas of his verse, "Poetry":
And it was at that age . . . Poetry arrived
in search of me. I don't know,
I don't know where
it came from, from winter or a river.
I don't know how or when,
no, they were not voices, they were not
words, nor silence but from a street
I was summoned,
from the branches of night,
abruptly from the others,
among violent fires
or returning alone, there I was
without a face
and it touched me.
In practice, we explore this threshold, this place where old and new meet in a body. We explore the "liminal"—the realm in which we're touched beyond personality, beyond the limits of what we understand or have assigned ourselves as our life. A practitioner of Zen is most basically one whose life is awakening each moment to that threshold, the still point where all the possibilities exist. To practice is to release oneself from the momentum of the past, the karma of what seems to be indicated as the only next step. It is to turn one's face towards the unknown as a way of life.
Bonnie Myotai Treace, from Mountain Record, Summer 2003.
---
Precepts and the Environment
Imagine, if you will, a universe in which all things have a mutual identity. When one thing arises, all things arise simultaneously. What happens to one thing happens to the entire universe. Imagine a universe that is a self-creating, self-maintaining and self-defining organism—a universe in which all the parts and the totality are a single entity, all of the pieces and the whole thing at once, one thing. This description of reality is not a holistic hypothesis or an all-encompassing idealistic dream. It is your life and my life. The life of the mountain and the life of the river. The life of a blade of grass, a spiderweb, the Brooklyn Bridge. These things are not related to each other. They're not part of the same thing. They're not similar. Rather, they are identical to each other in every respect. But the way we live our lives is as if that were not so. We live our lives in a way that separates the pieces, alienates and hurts.
The Buddhist precepts are a teaching on how to live our lives in harmony with the facts described above. When we look at the precepts, we normally think of them in terms of people. Indeed, most of the moral and ethical teachings of the great religions address relationships among people. But these precepts do not exclusively pertain to the human realm. They are talking about the whole universe and we need to see them from that perspective if we are to benefit from what they have to offer, and begin healing the rift between ourselves and the universe.
John Daido Loori, from a talk given at Zen Mountain Monastery, 2003.
---
On Healing
What is it to heal, really? Behind the word heal lurks the Old English and Anglo-Saxon roots meaning "whole." We can see how to heal is to make whole, to bring something that is damaged and not intact back to a state of wholeness. For example, when we have the flu we hope to heal ourselves so we can come back to the way we were before we had the flu. But that model is inaccurate, because that time when we had the flu is completely that time when we had the flu and is as "whole" as that time when we didn't have the flu! Or as the time when later we won't have the flu. So it's a misperception to imagine that we need to be healed from the flu. What needs to be healed is our idea that we are not whole at this moment. Is there anything that is not whole? Right now in this moment, is there anything that is not this moment? Even dying is also being whole—wholly dying. And being dead is also the whole.
Dying is healing. Pain is healing. They're not separate, dying and pain, from healing. And we can see that on the level of our bodies, and on the level of our emotions, on the level of our relationships, in the world and in the communities we live in. If we're able to realize that suffering and death and disability are also part of the whole, whether it applies to us personally, or to the quality of our relationship, or to the way that our community is, then we will not neglect or separate from these aspects. If we're not able to realize this then we're constantly trying to shunt these aspects out of our view, to destroy them.
Think of Michael-Unzan whom so many of us visited in the hospital—how Michael took care of us as we filed in one by one to see him: nervous people who had never visited anyone in the hospital before, and didn't know how to behave, didn't know what to do when the nurses came in. There was Michael, directing us, with his oxygen mask on and off, telling us what to do, giving each of us such an incredible opportunity for compassion. He sent us a note thanking us for visiting him in the hospital, and when I opened it, I thought, Well, thank you, Michael, thank you for giving us your illness so that we could experience the impermanence of our own lives, so that we could see the sick body and not turn away.
Can we remember that pain and weakness and death are not the enemies? That it is our fear and rejection of pain and weakness and death, which are the enemies? That it is that rejection, that casting out that incapacitates us and does not allow us to live life with courage and fearlessness?
Sensei Pat Enkyo O'Hara, from a public talk given at the Village Zendo, December 1999.
---
Put the Mind to Rest
Change is everywhere we look. Every day we are bombarded with news about changes in our world, society and ways of life. It's a struggle to keep up with it all, and sometimes we find ourselves wishing for the "good old days" when things seemed to be more reliable. But in reality there never were any "good old days." Change is the only unchangeable fact of life. Even you and I are continuously changing.
We have problems with change because our conventional mind doesn't like it. The small mind prefers predictability and familiarity. As students of Buddhism, we try to reconcile ourselves with impermanence; but when it comes to things close to our hearts, we still resist change. So it can be unsettling when we notice that our motivation for practice has faded or changed. There is really no need to worry, though; changes in motivation and direction are to be expected when we pursue a spiritual practice for any length of time. Despite time and inevitable change, a subtle undercurrent can persist in our practice—one that we need to rout out eventually. It is the drive to find something to hold on to, something that will make us feel more secure in the midst of so much change.
Perhaps a teacher has told us that seeking itself is the reason we can't find what we're looking for; or maybe we've read that somewhere. Yet it can still take many years of practice before we can see for ourselves that seeking is the problem. This is an essential step, but to give up seeking is still extremely difficult. Continuous seeking is the very nature of our mind. It's just wired in. The small mind is always grasping, wanting, seeking, looking, searching. Always. It's ironic, really. We are looking for answers, but searching is the problem. How can we find peace? The answer is simple, but it's the most difficult thing to do: cease seeking. Stop looking for a solution.
We need to give up the hope that there is something to find. As long as we hold even a thread of hope that just maybe, possibly, eventually, we can find something that satisfies our craving, we will stay on the wheel of suffering. Yet to give up hope is one of our biggest fears. Society, religions, friends and family all teach us to treasure hope above everything else. But the truth is, hope is a trap. It fuels endless seeking. Master Rinzai was famous for telling his students, "All you need to do is put an end to the ceaselessly seeking mind." Then he added, "The only ailment in the world is lack of faith." In order to stop seeking, we have to possess tremendous faith. At first, that may seem contradictory, but it's not. When we've given up hope of finding answers "out there," true faith remains—faith that there really isn't anything to find.
To find liberation and freedom, we have to go against our conditioning, our ideas and everything we've been taught. What imprisons us is never really "out there." We bind ourselves. Until we liberate ourselves from our personal chains, we can have only illusions of freedom. The small mind keeps us imprisoned with endless desires, judgments and preferences—good, bad, right, wrong, me, you, us, them. How can we silence this noisy mind? When we discover how to do that, we have found the key to lasting peace.
Dennis Genpo Merzel, from The Path of the Human Being: Zen Teachings on the Bodhisattva Way (Shambhala Publications, 2003). ©