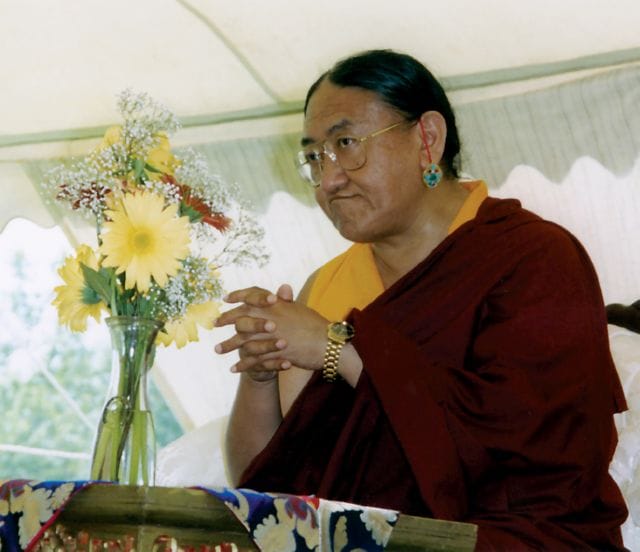 His Holiness the Sakya Trizin. Photo via
HHtheSakyaTrizin.org
.
In December His Holiness the 41st Sakya Trizin announced major changes for the Sakya school of Tibetan Buddhism's approach to leadership. Traditionally, the tenure of the Sakya Trizin or "Sakya Throne-Holder" has lasted for a long period, often till the end of one's life, having been given to a candidate from a household belonging to the Khön family line. Now the post of Sakya Trizin will last only three years, with qualified descendants taking turns leading the school.
"In 2017, the current Sakya Trizin will become emeritus, and whoever will succeed him will become the new Sakya Trizin for three years" explained Lama Migmar Tseten, the founding teacher of the Sakya Center in Cambridge, Massachusetts and a Buddhist Chaplain at Harvard University. "I think at this point his eldest son [HE Ratna Vajra Rinpoche] is most qualified. But only in 2017 will we know who the next Sakya Trizin will be."
Presently there are a number of young masters in training who belong to the Khön family, and the current system will allow each of them to lead the Sakya school once they have completed their formal education. It is also possible that they will have the opportunity to serve as Sakya Trizin more than once in their lifetime.
"The current Sakya leadership wants a smooth transition for the next generation," Lama Migmar noted. "If there is a problem regarding succession, the older family members want to be there to help. The new system is based on the one used by the abbots of Ngor monastery, which is a part of the Sakya school. The great master Dzongsar Khyentse Chökyi Lodrö [1893–1959] once suggested that the Sakya Trizins should follow Ngor's approach, and now they will do that."
The current Sakya Trizin will be touring the USA this spring giving teachings and empowerments. Lama Migmar said that the Shri Chakrasamvara Body Mandala Empowerment that His Holiness is giving in Boston on April 12 is an exceptionally rare empowerment for him to grant; it will be only the second time in his life that he has given it. For more information on his tour schedule, see his official website.
Can you help us at a critical time?

COVID-19 has brought tremendous suffering, uncertainty, fear, and strain to the world.
Our sincere wish is that these Buddhist teachings, guided practices, and stories can be a balm in these difficult times. Over the past month, over 400,000 readers like you have visited our site, reading almost a million pages and streaming over 120,000 hours of video teachings. We want to provide even more Buddhist wisdom but our resources are strained. Can you help us?
No one is free from the pandemic's impact, including Lion's Roar. We rely significantly on advertising and newsstand sales to support our work — both of which have dropped precipitously this year. Can you lend your support to Lion's Roar at this critical time?