Warning: if, for whatever reason, you'd like to steer clear of images of (essentially) nude people, you'll probably want to skip this post. On the other hand, if you'd like to feel a bit empowered about your own body, then by all means… 
It's the picture that Glamour magazine's readers "can't stop talking about:"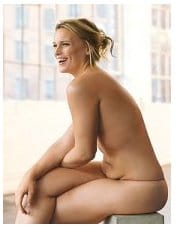 The woman pictured here is a model named Lizzi Miller, and this photo of her was run, I learned yesterday, in the current issue of Glamour. Used to illustrate a story about positive body image, the image only ran 3×3 inches in dimension, but it's made a huge impact already, garnering much praise from readers and media-watchers, who were astonished to see a body like their own where there'd more or less never been one before.
Comments about the photo on Glamour's blog are approaching the 600-mark, and counting, as I write this.

I loved hearing about this story, not least of all because one of the things that bothers me about popular culture is its prevalent sameness; everybody's pretty, but in the same manufactured, predictable ways. Where are the authentic people?  They're out there, consuming the media; shouldn't the media more frequently reflect how and who they truly are?
The story made me happy and proud for Lizzi and women like her, and it made me proud to be part of two great magazines. Granted, the Shambhala Sun and Buddhadharma do more than print magazines (hence our Events, websites, and other initiatives) and we of course walk a very different beat from Glamour's. But the main thing to me is that a magazine and its readers can make a difference — in the pop-culture conversation, and in our everyday lives.
So I made sure to send a link to the CNN story to my Shambhala Sun cohorts, with an upbeat note: See what a magazine can do?
It was moments before I'd heard back from Melvin McLeod, in his abbreviated busy editor-in-chief's email dialect:
we did do it! it's the cover of the new bd. ["bd," here, is shorthand for Buddhadharma: The Practitioner's Quarterly.]
We did do it? I pulled out my copy of the new Buddhadharma, looked, and said, Well, I'll be durned, we did – in a way, at least:
Apparently, I was "too close" to the issue to notice that our art department had chosen to illustrate the new issue's cover story with three very different, very non-Glamour-ous models.  No, they're not naked, but the headline makes up for that in my book: "Your Body: Don't judge it, compare it, or fix it. It's where your meditation begins." (i.e., If I don't learn to appreciate my body, it can't best serve me in my practice.)
These are the bodies of regular people: an older woman, and a woman of color, neither svelte like we expect on magazine covers, but certainly not unhealthy, either! And the guy pictured even has tattoos, which an inked-up dude like myself should have more consciously noticed! So why are they there? Because: shouldn't we reflect how and who our readers truly are? There's a reality to their beauty, and that isn't lost on the people who put our magazines together.
But enough about the magazines. Really, this is about all of us. Glamour has struck a nerve, and I can only hope they'll be smart enough to feature people with Lizzi Miller's natural beauty on their cover, and in their regular fashion-spreads. Because what's more inspiring than someone who, as Glamour's editor in chief describes Miller, looks like they're "comfortable in their own skin"? And couldn't we all use that kind of inspiration?
And maybe others can follow suit. I watch a lot of late-night television (I'm an unashamed Conan nut) but one thing rubs me the wrong way about all the chat-shows: now that so many of us are past racism and class-ism, two groups have moved up to take the heat in the punchlines: the elderly ("Larry King is so ancient…") and the overweight ("Jessica Simpson is so fat…"). Enough! I'm honest to admit that I like a nasty joke now and then (and I'm working on that, really) but who laughs at this stuff? None of us will escape from aging, sickness, and death. Sure, we should have a sense of humor about the inevitable changes we'll all go through, but when it's at the expense of others, all we're doing is showing how easily we'll give up our compassion for a cheap laugh.
That's why I say I'm proud of Lizzi Miller, Glamour, and others who are unafraid to show the beauty of how we really are (Buddhadharma, too): because they've shown that making way for the beauty of reality allows people to connect and feel inspired in a way that so many of us need. By loving our bodies, we can begin to love ourselves, and only then will we begin to skillfully show love and encouragement to others.
And that's what we — us, and you, together — are all about.
Isn't it?