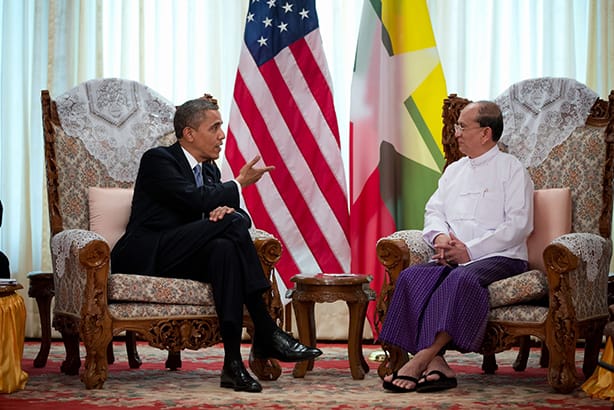 President Barack Obama holds a meeting with President Thein Sein of Burma at the Burma Parliament Building in Rangoon, Burma, Nov. 19, 2012. By
Pete Souza
-
whitehouse.gov
. Licensed under Public domain via
Wikimedia Commons
.
In recent months, we've reported extensively on anti-Muslim violence in Burma. With violence mounting, an election one year away, and President Obama visiting the country next week, the world is watching Burma. Today, the New York Times broke down the situation with a story that skillfully dissects the many complex issues at play. Read that article on the NYT website. Also, see our November 3 update on the situation, "Buddhist teachers plead for Burma in an open letter to Obama."
For more context, read Hozan Alan Senauke's chronicle of the recent history of Burma, "The Fire This Time," and Jack Kornfield's call-to-action from the September Shambhala Sun, "Buddhists Betray the Teachings."
THANK YOU FOR READING LION'S ROAR. CAN WE ASK FOR YOUR HELP?
At Lion's Roar, our mission is to communicate Buddhist wisdom in today's world. The connections we share with you — our readers — are what drive us to fulfill this mission.

Today, we're asking you to make a further connection with Lion's Roar. Can you help us with a donation today?
As an independent nonprofit committed to sharing Buddhist wisdom in all its diversity and breadth, Lion's Roar depends on the support of readers like you. If you have felt the benefit of Buddhist practice and wisdom in your own life, please support our work so that many others can benefit, too.

Please donate today — your support makes all the difference.

Lion's Roar is a registered charity in the US and Canada. All US & Canadian donations are tax deductible to the full extent allowed by law.