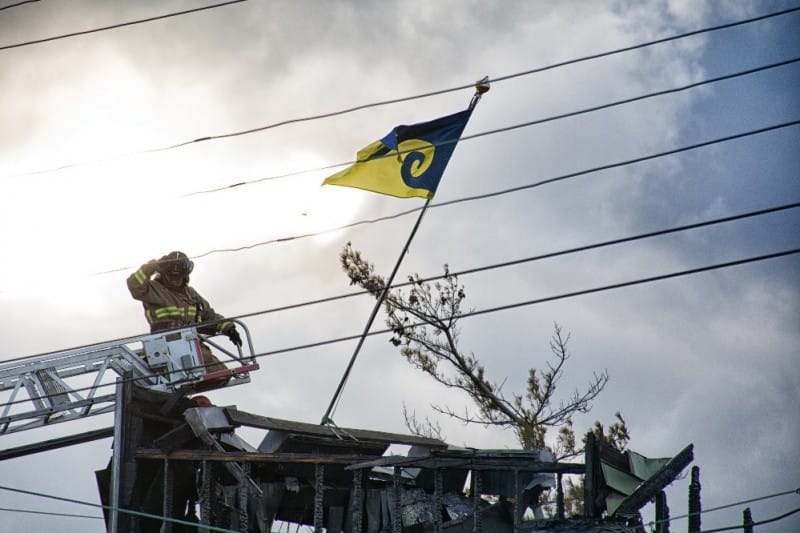 This image from the Columbus KTC GoFundMe page shows that while the center was destroyed, the Karmapa "Dream Flag" found there avoided damage.
Ronnie Lee Carroll II, 19, has been charged with two counts of arson for allegedy setting the fire that caused $455,000 of damages to Karma Thegsum Choling temple in Columbus, Ohio, The Columbus Dispatch reports.
The fire occurred on January 31 of this year, and was assumed to have been intentional. Columbus Fire Division investigators spent months building a case against Carroll. During an interview with him on Friday, he confessed to setting a dumpster fire that spread to the temple.
Kathy Wesley, the lama of Karma Thegsum Choling temple, told The Columbus Dispatch that the arrest has caused mixed feelings.
"It's kind of a mixed feeling because on the one hand we are really relieved that the mystery of who set this fire has been resolved," Wesley said.
"We also feel sorry for the perpetrator who has obviously experienced suffering in his life."
As Lion's Roar previously reported, the temple created a GoFundMe page collecting donations to rebuild the temple after the fire. So far they have raised $114,000, beating their original $108,000 goal, but total repairs will cost a reported $1 million.