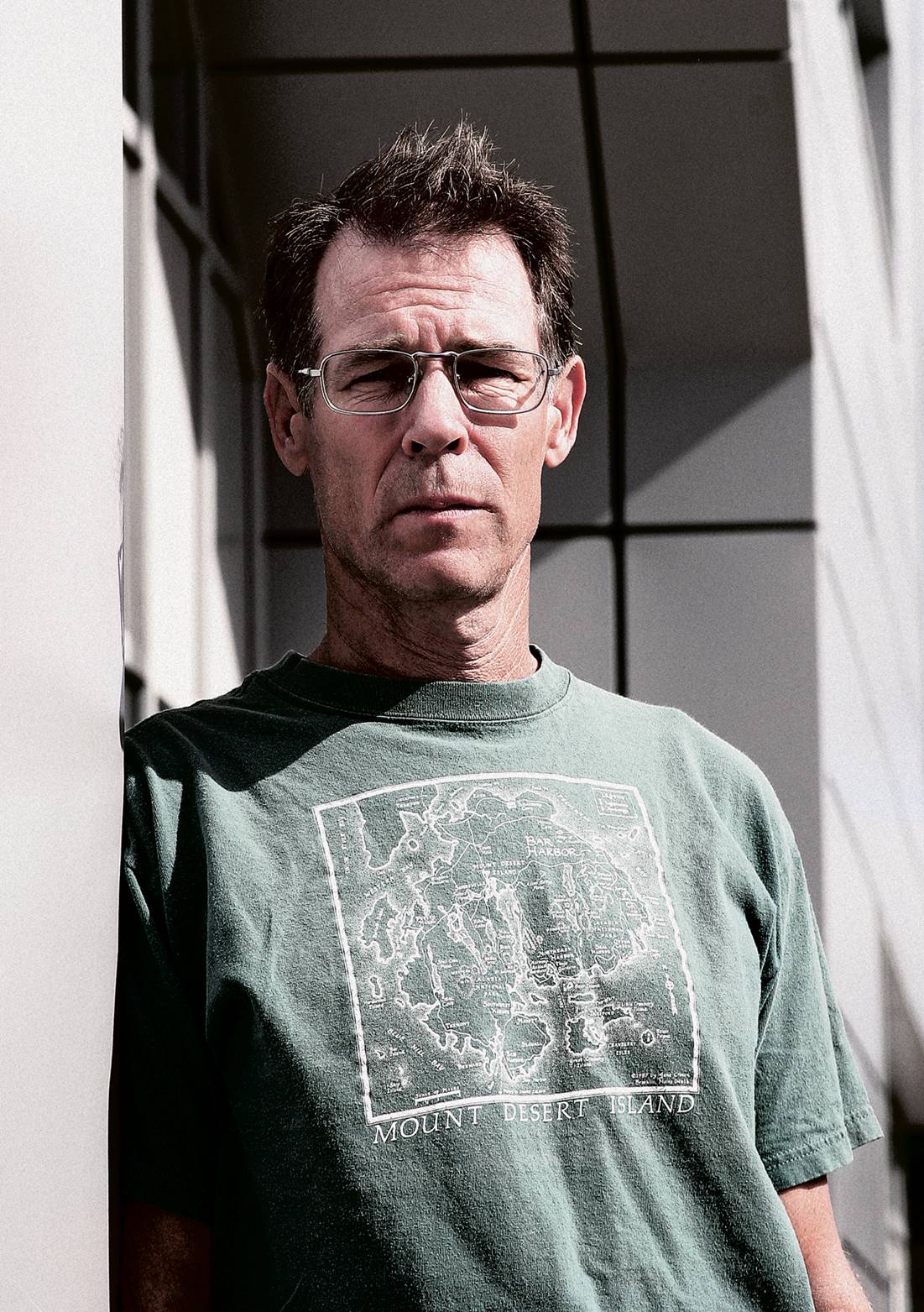 "Literature is my religion," says Kim Stanley Robinson. "The novel is my way of making sense of things." He doesn't meditate, nor does he call himself a Buddhist. Nonetheless, he's quick to acknowledge that Buddhism has had a profound impact on him and his writing. Zen philosophy, in particular, has taught him to stay in the moment, to pay attention to the natural world, and to ground himself in work. In interviews he frequently speaks of the Zen rubric "chop wood, carry water" and claims that it could just as easily be "run five miles, write five pages." In Zen, according to Robinson, there is ritual in daily activities— gardening, washing dishes, looking after little children. "This puts a spark into things, a glow around them," he tells me. "It gives a meaning to life that I appreciate very much."
Robinson is best known for his science fiction trilogy about terraforming Mars: Red Mars, Green Mars, and Blue Mars. Buddhism does not play an obvious role in these titles. It does, however, in his alternative history novel, The Years of Rice and Salt, and in his series about climate change, which kicks off with Forty Signs of Rain. The Years of Rice and Salt is a re-imagining of the Black Death and its aftermath. According to history, the plague wiped out a third of Europe's population; then Europe recovered from the loss and colonized large pockets of the globe. But what if the plague had wiped out 99 percent of all Europeans instead? Perhaps, Robinson posits, Buddhism and Islam would have become the two most influential world religions. The Years of Rice and Salt is the tale of several main characters and their reincarnations, spanning the fourteenth century to the modern age. Over their lifetimes, the characters struggle to better themselves, and between lifetimes they meet in the bardo, the gap between death and rebirth according to the Tibetan Buddhist understanding.
Like Cary Groner, Kim Stanley Robinson is deeply interested in how Buddhism and science intersect, and this is the theme he explores in Forty Signs of Rain. The book opens with the scientist Anna Quibler showing up for work one day at the National Science Foundation and discovering that Khembalung, a country she's never heard of before, has established an embassy in the building. It turns out that Khembalung is a small, new country of exiled Tibetan Buddhists who originally hail from the mythical kingdom of Shambhala, and that among the monks at the embassy is the Panchen Lama. That is, Robinson clarifies, "the real Panchen Lama who the Dalai Lama designated, who the Chinese immediately kidnapped, and who has been disappeared ever since. Well, in my novel he's living under a pseudonym in the NSF building."
Forty Signs of Rain was inspired in part by the Dalai Lama, particularly his thoughts on the common ground shared by science and Buddhism. Scientists and Buddhists both investigate the nature of reality; they both look at the world and ask, How can we make things better? How can we reduce suffering?
"I could not be more impressed by the current Dalai Lama," says Robinson. "He's always a presence in my house—his photo is on the refrigerator and next to my desk." When Robinson read that the Dalai Lama was going to speak in Washington, D.C., he got tickets and flew out. "It was bizarre," says Robinson. "There I was at the Washington Wizards basketball arena with 13,000 people, and the Dalai Lama was speaking. I put this event straight into the novel exactly as it happened. I couldn't help it—it was so incredible."
These days, Robinson writes his novels outdoors in a little courtyard on the north side of his house. It's shady there, so he can see his laptop screen, and he simply puts a tarp overhead if it's raining and bundles up if it's cold. As he puts it, being outdoors transforms writing into an adventure, into an interaction with about fifty little birds, the trees, the clouds, the changing of the seasons.
Nature and ecology have always played a significant role in Robinson's life. When he was a child, the coastal plain of Southern California was orchard country, planted with lemon and orange groves, avocado and eucalyptus. At age ten, Robinson believed he was the Huck Finn of this terrain and he dressed like him, exploring the irrigation ditches and the creeks. But in his teenage years, the bucolic orchards were ripped up and replaced with the concrete of condominiums and freeways. This made science fiction feel eerily familiar when he started reading it. In the rapid change and heavy-duty mechanization of the fictional future worlds, he recognized his own home. "It struck me," says Robinson, "that science fiction was my realism."
In his SF, Robinson strives to convey a sense of hope about the environment, because he feels that despite the bad choices we're making right now, we're not necessarily creating a dystopia or apocalypse. "Science is powerful, people are smart, and there's potential to have both good and bad at once," he says. But people need to think deeply about possible ecological solutions, and fiction can be an accessible foundation for doing so. "I want to leave people with the sense of having had a lot of fun reading a novel, but I also want to lead them to interesting questions. That's really what science fiction always does."
In addition to SF, Robinson resonates with poetry and, when the renowned Beat poet Gary Snyder was teaching at U.C. Davis, he informally audited classes with him. "I was writing my novels at the same time," says Robinson, "so taking a break for Gary's class put extra stress on my novel-writing schedule. But it was worth it because Gary is truly an exemplary figure. I always joke that Zen Buddhism must be good for you—Gary is living proof of it. And he jokes himself about how, after spending ten years sitting on his butt, everything looks good to him ever afterward. But he's a very positive force in a lot of people's lives, including mine. He's informal, but very sharp, very generous. I think he always thought I was an oddball. You know, what is this science fiction author doing in my class writing second-rate nature poetry?"
When Snyder's wife convinced Snyder to try Robinson's Red Mars, and he crunched through the whole trilogy, saying he never knew science fiction could be that good. Snyder is now retired, but the two writers have become friends and they see each other whenever Snyder visits Davis.
According to Robinson, writing is intimately connected to impermanence, to the fleeting present moment. "We're always in the present," he says. "There's a present in which I write sentences. Then later there's a present in which someone else looks at those sentences—the black marks on the page—and at that moment in their mind they make up a story based on the sentences that they read, as well as images from their own life. So there are the black marks on the paper, which are always there and continue year after year to be the same, but the book is only alive when someone's reading it. It's an interesting kind of impermanence. It's similar to music in that you always have the scores but you don't have the performances except when it's being played."
Reading, concludes Robinson, is what makes fiction live.