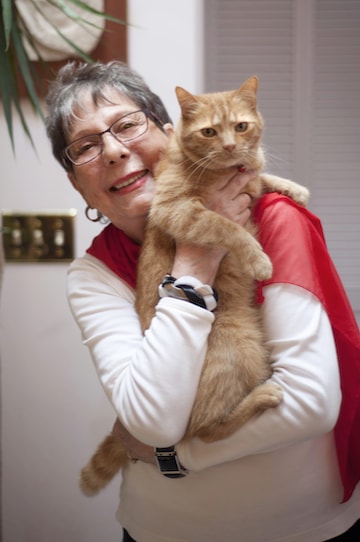 "People find out who they are by writing," says Maryland poet laureate Grace Cavalieri. At 86, Cavalieri tells Hal Atwood, she's still writing.
Grace Cavalieri is a Buddhist, a meditator, and the poet laureate of Maryland. At 86 years old, she is the author of 24 books of poetry and 26 plays. She has hosted a long-standing radio show called The Poet And The Poem through the Library of Congress, on which she has interviewed more than 2,500 poets.
When her husband of 60 years died in 2013, she searched for a community that could support and accept her the way that he did, and she came to Buddhism. Cavalieri tells Hal Atwood about her journey with grief and loss, her Buddhist sangha, and why poetry is a meditation on life.
Hal Atwood: When did you first discover Buddhism?
Grace Cavalieri: It was a very distinct beginning. My husband of 60 years died five years ago. When he died, I said to one of my four daughters, "I need what I had from him. I need community, I need people I can take a journey with." I went to the Unitarian church and they had a notice about a meditation group, which I thought would be fine. I started going, and I don't believe I've ever missed a Sunday.
I felt like death had cut me in half, but I came into a place where people were making peace with it.
The sangha is the most important component of my life right now. This is a place where people come just because they want to be there. How many places must we go for a reason? It's facilitated by Phyllis Culham, who practices with Thich Nhat Hanh's Order of Interbeing. Her husband Bob Ertman is a Soto Zen priest and Haiku master. I take everything I hear from my sangha and apply it to my life or to my teaching.
When you gather together in community, what does your practice look like?
We enter silently and take off our shoes. There are pillows on the floor, but because I'm a little bit older, I sit in a chair. And then we're just silent for a while until the leader rings the gong. She gives a talk, and then we simply meditate for 20 minutes.
After that, people can go around the room and say their name and how the meditation was for them. When we're going to say something, we bow in and we bow out. In that way, we don't step on each other. It's certainly not like a therapy session and it's not like a bridge club. The silence is beautiful, and we have beautiful respect for everything that's said.
I read in a previous article that you found Buddhism after your husband passed because you were looking for someone to fill that supportive void he left behind. Could you tell me more about how the community has supported you?
When I first started coming, I felt like death had cut me in half, but I came into a place where people were making peace with it. I had to cleanse myself with tears. They acknowledged my grief, but no one coddled me or sympathized with me. That wasn't what it was about.
People find out who they are by writing, and I call that poetry.
I really wanted to take a journey with people, the same people, week after week. I wanted people who would change with me and believe what I said, which was what my husband did. I thought there was only one person in the world like him, but I went out and I found 30 people to fill his place.
Do you have a meditation practice?
I do. I can sit with myself for 10 or 20 minutes at a time. I am truly a workaholic; I get up at 5 am to work. I love it and I get energy from it, so not working is a challenge for me. My goal is to get up and meditate for an hour, but right now I'm doing it in smaller increments throughout the day, which I think is okay for me. If I'm going someplace in 20 minutes, I sit down for 15 before I go. If I have five minutes while I'm waiting for something to cook, I'll sit. I can go into myself and be free inside that space.
You mentioned that when you found this Buddhist community your husband's death had broken you open. Usually, when we experience grief, we assume that at some point it's going to go away. Personally, Buddhism has taught me that the grief is always there – it might fade or come back in waves. One of the things that we can do is work with it, sit with it, and then release it. When it comes back again, we do the same thing all over again until we are at peace with it.
I think that is exactly right. I think is sitting with it is key. I know now that I can endure and live with all my pain. I try to tell my children and grandchildren that every moment is a safe place. The one ahead of you may not be, and the one behind you that you're thinking about may not be. Those places are the anxious places, but where you are right now is always a safe place. That's where I go. It's been very, very good for me psychologically.
I read that you instruct your poetry students to think about their lives as buildings where each floor is another year. They can pull inspiration from those floors, specifically from past hurts and past wounds. Could you tell me how you came up with that technique?
I had a spiritual teacher who once imagined that metaphor. He said our lives were like buildings and at the end of our lives we would be on the roof and a helicopter would sweep us away and then the building would crumble. But, until that time, every floor is still intact. For a teacher of poetry, that was like a gold mine.
Every one of my teaching exercises is about humanity. They're not about poetry. People find out who they are by writing, and I call that poetry. When I teach, I always start the class with a meditation. It may sound crazy to start teaching that way, but I ask them to humor me. So far, everyone has been cooperative.
Do you look at poetry as a type of meditation?
Our sangha is based on the teachings of Thich Nhat Hanh. He says he meditates to write poetry. You can't write poetry in a hurry and you can't read poetry in a hurry, because you can't dream in a hurry. Poetry is dreaming on the page – it slows us down.