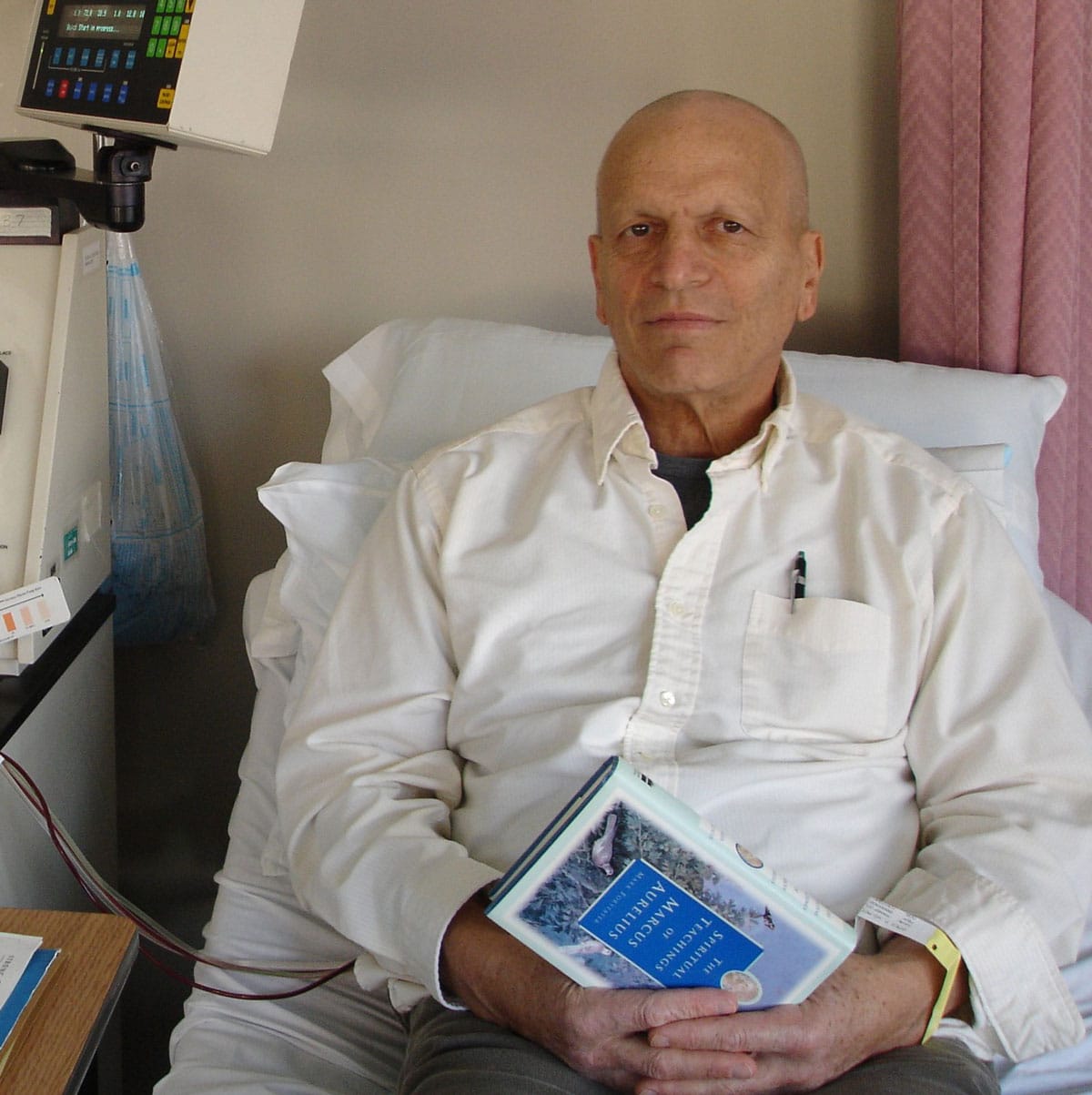 Vic Mansfield during a stem cell harvest.
A week after my husband Vic's first chemotherapy session, Geshe Kunkhen visits. Geshe is a chant master and visiting monk at Namgyal Monastery in Ithaca, New York about half an hour from where we live. His head is shaved, and he wears long maroon robes over a gold sleeveless shirt.
Namgyal is the North American seat of His Holiness the 14th Dalai Lama, so many Tibetan monks and teachers come to Ithaca for extended stays. The title Geshe is reserved for monks and nuns with advanced training in Tibetan Buddhist philosophy and dialectics. Vic, a physics professor who writes about science and Buddhism, teaches workshops at the monastery. Vic and Geshe became friends when they taught together at a Buddhism and science conference. Geshe knows Vic has been diagnosed with incurable lymphoma. He wants to help.
We walk south on a wide trail that leads from our house through open fields to the woods, Vic and I on either side of Geshe. A warm wind caresses our faces and ripples through Geshe's robes. The fields mirror the colors of Tibetan monks' robes, wind-blown goldenrod flowers swaying over an undercover of maroon dogwood leaves.
"This color every year?" Geshe asks in halting English, his eyes gleaming with delight.
"Every year," I say.
We walk down a moss-covered path under mature oaks and head for the place Vic and I call the red oak knoll, a small hill topped with one of the most magnificent oaks in our forest. This is the spot where Vic and I come to pray and find solace and where we imagine our ashes will be scattered. Knowing nothing about our relationship to this wooded hill, Geshe abruptly drops to the earth and sits in meditation posture facing west. Late afternoon sun dapples his body and the earth under him with leaf-filtered light.
Aummmmmm. Long impossibly deep base notes seem to emanate from the earth, harmonized by middle tones and high keening overtones echoing off the treetops, all three sounds coming from one Tibetan chant master's throat. Vic and I drop to the forest floor around him, stunned and silenced. We sit in meditation while the chanting continues for half an hour before Geshe's voice drops off into a falling sound that goes deep and deeper into the bones. Then he rises as suddenly as he sat and continues down the trail as though nothing unusual has happened. He turns and waits for us to catch up.
"What were you chanting?" Vic asks when we're back in the field.
"Chanting for Dakinis. Earth suffer. Dakinis suffer. Chant help forest Dakinis be strong. We help them. They help you." Geshe chanted to the local healing powers of this forest Vic and I have loved and tended for thirty-five years—the Dakinis, goddesses, tree spirits, angels, or whatever names we humans give this ineffable feminine life-force.
We walk back to the house without speaking again. Crows, sacred birds of Tibet, call back and forth from the hedgerows. Inside after sunset, Geshe shows little interest in dinner. He wants to teach us a Tibetan Medicine Buddha healing practice.
I draw back, unsure. Tibetan Medicine Buddha? Is he going to ask me to take part in religious rituals I don't understand? Our first spiritual teacher taught that it was a mistake to limit ourselves to any one religion, but Vic's diagnosis is dire. He needs something to hold, something to believe in. We both need to be receptive to whatever healing forces come to us. Geshe has no doubt. Maybe I can catch a ride on his faith.
"First see Medicine Buddha in mind," he says.
"I don't know what the Medicine Buddha looks like," Vic says with an apologetic shrug. Geshe glances at me with questioning eyes. I shake my head no. I don't know what the Medicine Buddha looks like either.
He pauses, thinking.
"OK. You see Dalai Lama inside?"
"Yes." We both nod.
"Good." Geshe says with a relieved smile. "He your Medicine Buddha."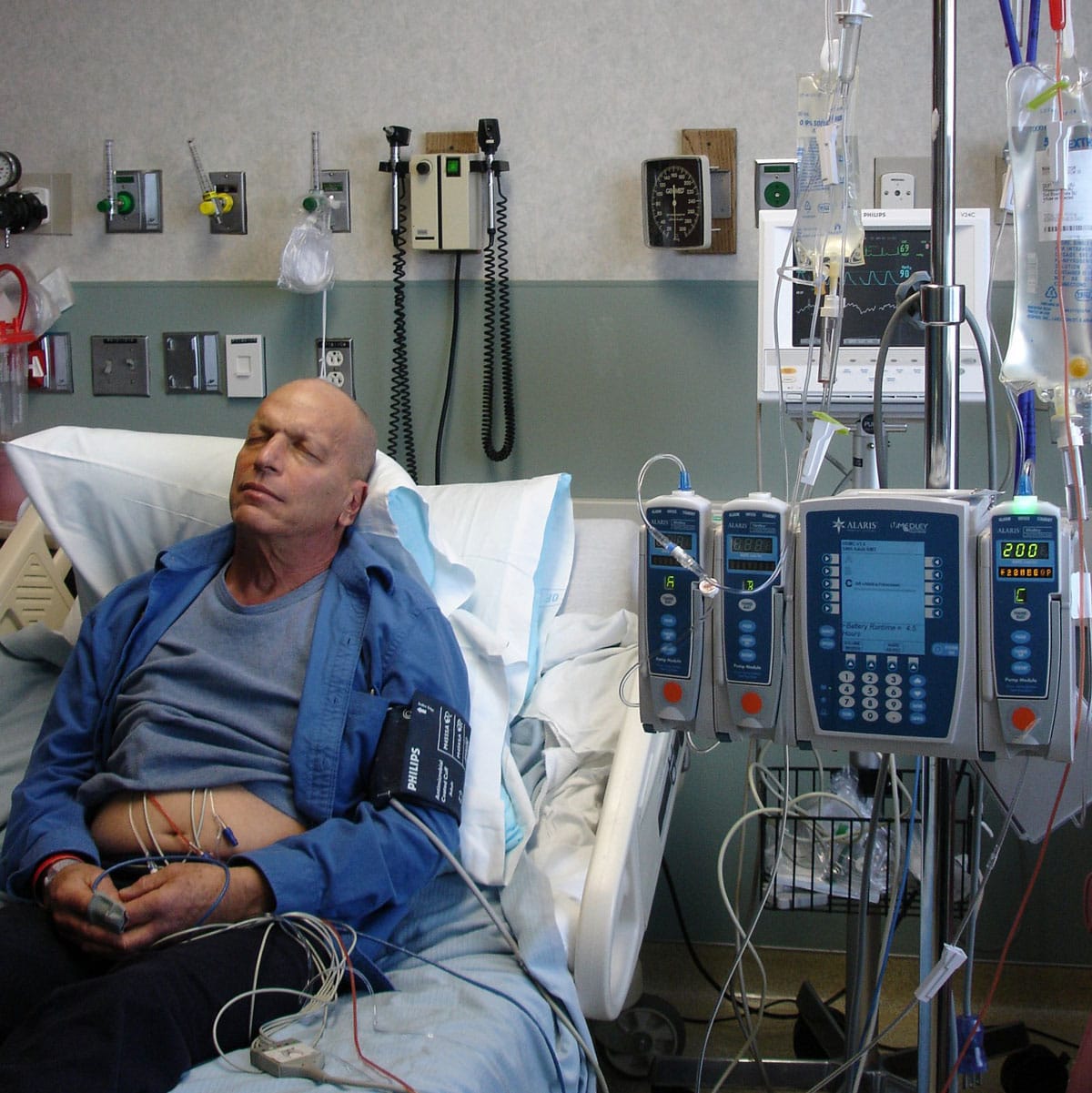 Vic doing the Medicine Buddha ritual while receiving a stem cell infusion.
I'm sold. Geshe's practice leans on the essence of the matter, not the religious details.
"OK? You see Dalai Lama Medicine Buddha?"
"Yes."
"Around you see four Dakinis?" Geshe draws a circle in the air around his body, but we are perplexed again. We don't know what Dakinis look like.
"Four directions?" Vic suggests.
"Female powers of the earth?" I try.
"Good," Geshe says. "See that. Important part now. Medicine Buddha has bowl, blue healing water." He raises his cupped hands over the crown of his head as though he is baptizing himself with water held in his palms. "Pour it on top. Goes inside and outside body to feet. Wash sickness into earth."
"The sickness goes into the earth?" I ask.
"No worry. It's OK. Boddhisattvas under earth make enlightenment from sickness. No worry about sickness in earth. Clear water comes up and fills Vic with health. Good?"
"Good."
"Enough. Do every day. Do many times for chemotherapy. It works."
We don't ask how it works or on what level. It doesn't matter. We're grateful to receive a healing practice from this learned Geshe of the sacred voice. Vic and I do the Medicine Buddha practice daily to begin our morning meditation. We fit in more visualization time through the day and before bed. During chemotherapy treatments, I sit on a straight chair next to Vic's recliner and touch him with my hands or feet. I imagine the color of the Medicine Buddha's healing liquid as pastel yellow and pink, the colors of the medicines that drip into Vic's veins. Together, we focus on the clear clean water rising from the earth to fill Vic with health. We don't demand that the practice cure Vic's body. It helps us accept the chemotherapy toxins as healing elixirs, and that's enough.
After Vic's second round of chemotherapy, I dream that I stand on the upstairs landing of our home wearing my sleeping shirt. I descend the stairs in the darkness of night, my bare feet slowly feeling their way down the wooden steps. At the bottom of the stairs, I pause at the doorway of the room where Vic sleeps and listen for the sound of his breathing. I hear his dream voice, deep with sleep: "I don't want to die. I don't want to die."
Vic has managed the first chemotherapy treatments well, but prednisone is part of the chemical cocktail. Steroids make Vic restless, especially at night, so he sleeps downstairs. Even when he falls asleep next to me, he's gone by morning. When I wake in the night, I often walk down the stairs in bare feet, stand at the door of the room where he sleeps, and listen to him breathe. I need to make sure he's alive.
A few days after this dream, Vic and I attend a workshop where we explore dream images. Imagining myself walking down the wooden stairs in total darkness, I experience solidity and safety in the soles of my bare feet as they feel their way through the dark unknown. Hearing the deep, resolute tone of Vic's dream voice fills me with courage to help him fight.
"I didn't know you were watching over me at night," Vic says after I share my dream and my midnight listening practice at the workshop. "Thank you, E."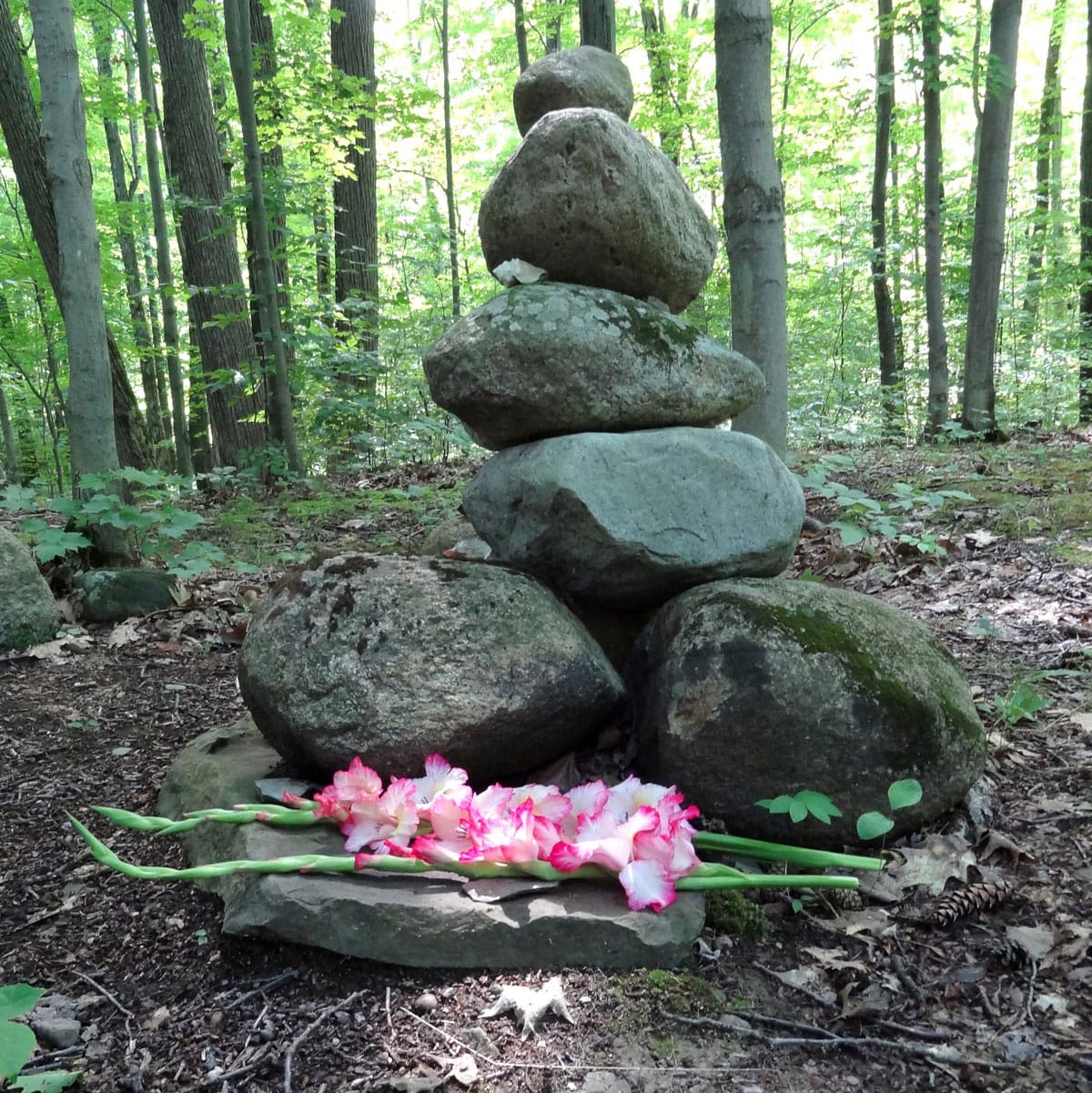 The cairn where Vic's ashes are buried in the woods, and where Geshe Kunkhen chanted to the Dakinis.
After the workshop, I combine the dream image with my Medicine Buddha practice. When my energy spins toward anxiety, I focus on the soles of my feet and remember they know the way. When Vic receives chemotherapy infusions in a recliner, I sit next to him in a straight chair and touch the side of his thigh with the bottoms of my feet. When I'm frightened or overwhelmed by what's happening to Vic and our life, I remember the deep tones of dream Vic's voice and Geshe's forest chant. I visualize the purifying healing water, hear the deep reassuring sounds, and focus energy in my feet. Something in me, something greater than me, knows how to navigate this descent into darkness.
As Vic's death closes in on us, I become exhausted by health emergencies and his suffering. I begin the morning Medicine Buddha meditation with a healing meditation for me before turning the practice to Vic's needs. I can't help him if I don't help myself.
Two months after Vic's death, my sons and I bury his ashes under a stone cairn on the red oak knoll where Geshe chanted. Every morning, I walk to the woods and leave tears, flowers, stones, and prayers for the Dakinis. I stand on the knoll, feel the soles of my feet, remember Geshe's deep voice, and visualize blue water washing over my sorrow. I ground myself in this new world of grief and hold on.
This article is an adaptation from Elaine's book Leaning into Love: A Spiritual Journey through Grief (Larson Publications, 2014).